Improving High-Performance Facades Through Post-Occupancy Evaluation
POEs are essential to ensuring building facades are functioning as intended and advancing future design
Sponsored by Ornamental Metal Institute of New York
This test is no longer available for credit
What to Evaluate
Returning to the topic of POEs, once a building is already up and running, the main thing that these studies focus on is any and all assumptions associated with operational energy use and human wellness that the project was designed to achieve.
"The studies often involve an electronic survey that building occupants complete online. In addition, an on-site inspection can be performed to observe building functions and interview occupants to follow up on survey results," explains Thibaudeau. "The most frequent post-occupancy evaluation is monitoring energy use by obtaining energy data and evaluating it and making adjustments to the building."
While performance aspects will vary, Rohlfing explains that the parameters that are usually measured include energy use in annual, monthly, weekly, daily, and 15-minute intervals; thermal comfort compliance per the Center for the Built Environment's Thermal comfort survey; and useable daylight and glare monitoring.
Furthermore, Jauregui emphasizes the importance of studying how the envelope deals with daylight, temperature, moisture, and sound. "For daylight, it is important to look at both how the envelope impacts daylight distribution in the indoor environment and how it impacts glare or visual discomfort. For temperature, many factors impact comfort, so studying air temperature in combination with radiant surface temperature and infrared imaging can give a more accurate picture of comfort."
Sound should also be evaluated, both ambient and occupied conditions, to assess both persistent background noise issues as well as how material surfaces deal with absorption/reflection of sound.
Solar heat gain is of particular interest to buildings in hot climates, according to Julie Hendricks, AIA, LEED Fellow, vice president, director of EcoServices, Kirksey, Houston.
"Shortly after a building has been constructed, we are wondering if the facade is doing its job of avoiding heat gain and keeping the building occupants thermally comfortable," she explains. "We have just begun our explorations into this topic, and right now we have a few tools—our solar radiation meter and our thermal camera—that we use to give us some insight into the facade's performance. The thermal camera gives us some insight into facade leakage and infiltration problems as well."
For buildings incorporating automated building-integrated shading systems that interface with the building management system and involve sensors, controls, blinds or louvers, and software, it is important to rigorously test and validate that all components are performing as designed, adds Patterson.
POEs in Execution
As Hendricks alluded to, Kirksey's solar radiation meter takes measurements in BTU per hour, per square foot by pointing the sensor toward the surface being measured. Two measurements are taken, one inside and one outside the window. "Then we take the ratio of the inside measurement to the outside measurement as an approximate measure of the window's operational SHGC [solar heat gain coefficient]," she says.
By using the solar radiation meter, Hendricks' team can also see how effective any shading devices might be in combination with the high-performance glass.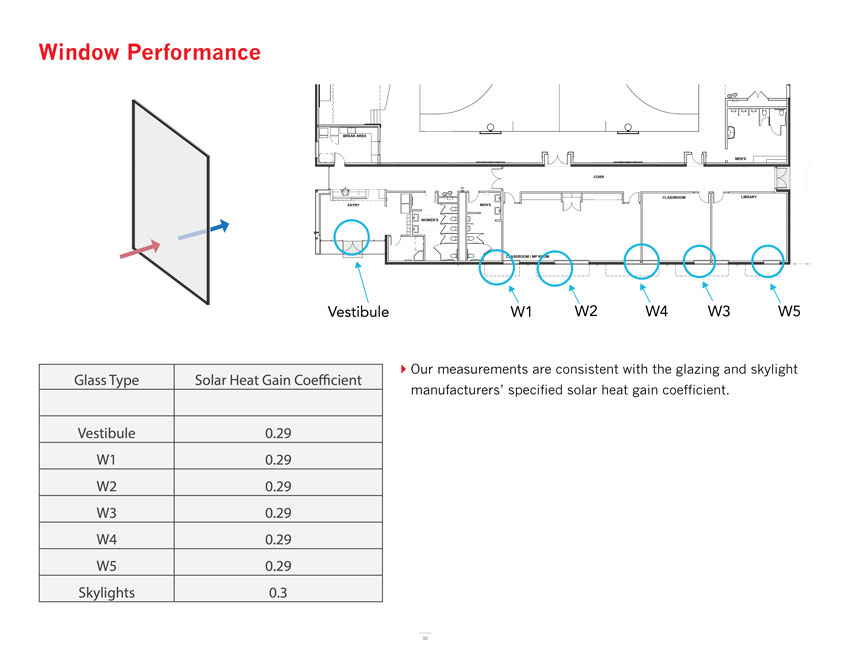 Image courtesy of Kirsky Architecture
As part of the Burnett Bayland Gym POE, Kirksy tested the glazing's SHGC and found it to be consistent with the published manufacturer values.
"The other thing that we do is take thermal camera images of the facades. Infrared thermography detects the infrared energy that is emitted or reflected by materials and creates images that display the surface temperature of objects," she explains. "Thermal camera images can be used to study heat differences in building materials, which may be caused by thermal bridging, infiltration, or moisture. It is a helpful tool to locate and assess areas of concern in a building facade. We have used our thermal camera to locate moisture leaks in walls and roofs and improperly installed insulation, among other issues."
To better understand the kinds of scenarios that a thorough POE can help ascertain, Sonntag lays out a number of examples:
The temperatures and humidity levels when the vents open for natural ventilation
The solar radiation levels when shading elements are closed to reduce glare issues and overheating
Within multilayer facades, e.g., closed-cavity facades, the cavity temperatures/humidity levels that would require mechanical-induced air flushing and/or electrical components to be shut down to prevent overheating and damage
The point where waste heat and heat buildup is ready to be reused by switching from active to passive mode of a building operation
The wind protection levels of sensitive facade components; e.g., design of exterior skin that allows for the shading system to be operated at windy conditions
In addition to all the technical aspects of operation, the other important aspect of POEs is evaluating users' comfort and observations.
"A well-designed questionnaire can assess peoples' perception and satisfaction with how the indoor environment is performing, but this should be aligned with quantitative data assessing actual building performance," Jauregui explains.
The challenge with actual building performance is there are many variables that may impact how a building is performing, and these may vary significantly over time. Consequently, limiting variables as much as possible and studying an environment for an extended period of time can improve the value of the data collected.
To gather this kind of valuable data, Gensler developed its own pre- and post-occupancy survey tool called the Workplace Performance Index. This can both gather employee input on workplace performance factors before a project is designed in order to inform design decisions and also measure the success of the design solution after the project's completion.
In particular, the tool assesses four work modes that are considered fundamental to knowledge work: focus, collaborate, learn, and socialize. The tool also contains questions that help the firm's clients connect workplace design to key business drivers such as employee engagement, satisfaction, and organizational commitment.
The WPI measures the quality of 28 attributes of physical space, such as layout, acoustics, privacy, light, air, and furniture comfort. Information gathered through the survey then informs what is working well and what should be improved by a new design.
Originally published in Architectural Record
Originally published in November 2018
Notice