Facade designs are key to meeting stringent New York City carbon reduction requirements
Sponsored by the Ornamental Metal Institute of New York
REPLACING THE FACADE
While quite costly, in order to comply with Local Law 97 carbon levels by 2030, many buildings, particularly older ones, will require a full facade upgrade.
"This facelift brings an updated architectural character as well as opening the door for thermally improved glazing systems, opaque rainscreen cladding with thermally improved brackets and a continuous insulation layer, and carefully designed details that mitigate thermal bridging," says Schober.
Owners may also want to consider building-integrated photovoltaics as opaque cladding, as window shading devices, or incorporating into the glass itself. These solutions will require wiring, AC/DC conversion and perhaps energy storage.
Offering some background on why aging New York City facades are in need of retrofits, Mic Patterson, PhD., LEED AP, ambassador of innovation & collaboration for the Facade Tectonics Institute, explains that the mid-20th century tall curtain wall buildings were largely experimental in nature and very little consideration was given to their extended durability as the buildings themselves were only expected to operate for 20 to 30 years.
"Now, 50 to 60 years later, these buildings are still in service and badly in need of facade retrofits," he says. "Because their original design failed to recognize and accommodate the need for future retrofit, the renovation team is often left with very few options beyond stripping the entire facade system from the building and replacing it with a new one."
When reglazing the facade, Vivian Loftness, professor and former school of head of architecture at Carnegie Mellon University in Pittsburgh, recommends selecting the highest thermal resistance/R values with no thermal bridges—i.e., Passive House standards—and maximum airtightness, the highest visible transmission/VLT possible—greater than 60 percent—and the appropriate shading coefficient/SHGC by climate and facade orientation without compromising visible transmission.
"While you might want to have low solar gain on the east and west facades, you may also want high solar gain on south facades for free solar heating in cooler climates, adding fixed or seasonal shading devices for summer," she says.
Taking things a step further, building teams can overclad the entire building, a common best practice in Europe.
While a facade facelift or a full building overclad are highly effective carbon reduction strategies, cost and disruption to ongoing building operations are significant obstacles.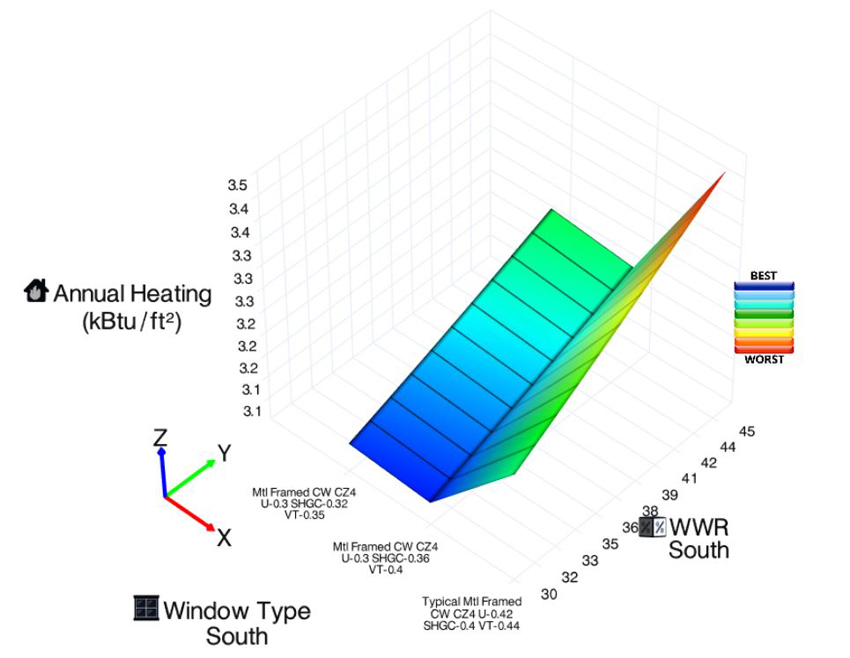 Image courtesy of Perkins and Will
This recladding example shows an existing building with exposed slab edges and spandrel beams with a new unitized curtain wall overcladding.
Further, if owners decide to invest in such aggressive strategies, it is important to future-proof the design. "This would include best-in-class thermally broken framing; triple pane, low-e coated, warm-edge glazing package; and perhaps a double skin, with effective exterior solar shading," instructs Sanders. "It would employ strategies to mitigate thermal bridging; include durable long-service life with easily serviceable components; and ideally, orientation specific design balancing energy performance, daylight admission, comfort, and resiliency."
Patterson agrees that new building facades and retrofits must be designed to accommodate future retrofit cycles. Consequently, designs should make it easy for these facade systems to adopt new higher performing glazing products and insulated panels as they become available in the future.
Ultimately, Patterson says, "Building lifecycle carbon performance and resilience will both depend on the capability of our buildings and their facade systems to adapt to these accelerating socio-technological and aesthetic changes, as well as to the uncertainties of climate change into the future."
Working from the other end of the carbon equation, building owners should consider generating their own electricity through solar power, integrated photovoltaics, and thermal and electric power storage.
"In addition, net zero for the nation will require some level of carbon sequestration in our building materials," adds Loftness. "We need to design with biological materials for structure, infill, rainscreens, and even insulation, e.g., wood that is sustainably harvested. We need to seek out alternatives and innovations in concrete, steel, aluminum, and synthetic insulation. Eliminating embodied carbon is the next frontier."
FUNDING
While carbon reduction is clearly beneficial, there is no denying that these retrofits come with a hefty price tag. Further complicating matters is the general state of the economy amidst a pandemic.
To ease the burden, the city is introducing a new finance mechanism called the Commercial Property Assessed Clean Energy program, which offers owners low interest loans for energy improvements.
"The reason why they're low interest is they're collected on the building's property tax bill, so they are a more highly securitized risk," explains Mandyck. "The other benefit is the loan stays with the building, so if the building is sold, the loan goes to the new owner."
In addition, New York State offers incentives through the New York State Energy Research Development Authority, NYSERDA, and some incentives are available from utilities like ConEdison.
Another long-standing option is energy service performance contracts with third-party energy service contract organizations, ESCOs, who finance the upgrade and then share energy savings with the owner.
Selkowitz adds that high-performing, comfortable buildings ultimately make a significant contribution to employee well being and productivity, which is an important variable in an owner's return on investment. "Remember that productivity is worth 100 times the cost of energy, so a design enhancement that improves comfort and productivity can help justify a new investment in better performing solutions," he says.
Even so, Roberts says government funding will be needed to ensure that implementation is successful, both to fund proper regulation and provide additional incentives to owners.
But despite these mechanisms and programs, the fact remains that companies are struggling under today's economic conditions. However, the current situation does seem to have some positive aspects.
For starters, the required Local Law 97 upgrades are anticipated to stimulate economic activity in the construction industry. In fact, Urban Green estimates that if all buildings choose efficiency to meet the carbon caps, this presents a $16.6 billion to $24.3 billion energy retrofit market opportunity in the city by 2030. In comparison, New York building owners invested just $235 million in building improvements to save energy in 2018. Consequently, LL97 could trigger a 13-fold increase in energy upgrades depending on how soon owners begin investing in their properties. In the short term, Urban Green predicts that owners will invest $2.2 billion to meet 2024 targets.
Woods also anticipates that implementing changes at the scale required of LL97 will create positive pressure on all kinds of industries to design and sell the best products and processes to achieve these goals. "This will certainly advance the technology available to architects and building owners to improve building performance," he asserts.
Bringing up a logistical issue, Wolf recommends staggering this construction as much as possible to spread out the unavoidable disruptions, particularly when entire neighborhoods require retrofits. In the absence of strategic planning, he cautions, "Crowding of job sites—possibly one next to the other for blocks—will slow retrofitting rates due to the local decrease in resources: material, spatial and temporal, and competition for workers skilled in constructing high-performance buildings."
For the moment, owners are investing in boosting the indoor air quality in their buildings. This includes better filtration systems, improved sterilization, and anti-microbial materials to battle COVID-19, all of which contribute to sustainability in buildings, explains Leveratto.
In a similar vein, Olsen states, "COVID-19 has greatly heightened the public's awareness of the impact of the indoor built environment on their daily life. This awareness can be leveraged to increase awareness of the need to act to meet the requirements."
Mandyck suggests that the pandemic has introduced a unique learning opportunity to better understand energy use patterns.
Take Rudin Management, for example. The property management company owns 16 commercial buildings totaling 10.2 million square feet in the city. While the company's buildings have been at 10 percent capacity through the shutdown, they only saw a 30 percent drop in energy consumption. With computers, refrigerators, copiers, and the like still plugged in, there is a lot of phantom energy being wasted. Additionally, servers have continued operating to support people working from home.
"This is a learning moment. It is an opportunity for owners to have discussions with their tenants. It is my hope that we can take this opportunity to learn about building energy use patterns to make improvements for the future," says Mandyck.
Andow notes that ventilation rates and energy efficiency have always been at odds, but the COVID-19 pandemic has shifted priorities in favor of increased outside air to dilute potentially contaminated indoor air. "Satisfying new expectations for indoor air quality while reducing carbon emissions will instigate conflicts between near-term safety and long-term climate hazards," he observes.
In the grand scheme of things, Bocra reiterates that the pandemic is a near-term crisis whereas climate change is a long-term crisis that cannot be ignored. The city remains steadfast and warns that the longer society waits to make these changes, the more it is going to cost.
Putting things into perspective, Mandyck points out that the city has 3 trillion dollars of insured coastal properties, which is twice the gross domestic product of the entire country of Canada. "That is what is at risk. Superstorm Sandy hit NYC as a tropical storm, it was not even a hurricane, and it left a $20 billion bill. So I would argue that we are going to pay for climate change one way or another and if we do not make the investments today to lower our carbon emissions, we are in for it tenfold in climate catastrophes and events that we will not be able to overcome from a weather standpoint down the road."
TAKING THE LEAD
Another question is whether New York City's efforts to fight climate change might impact other cities domestically and globally. The consensus seems to be that it will in fact make an impression.
"One of the primary aims of AIA New York and other groups who advocated for the passage of LL97 was to set an example for cities throughout the country. NYC is undeniably a leader of architecture and the ambition is that the law will be imitated subsequently by other cities," says Roberts.
"As LL97's carbon emission caps become more rigorous over time, it will serve as an exemplary case study," agrees Yasemin Kologlu, RIBA, LEED AP BD+C, design director, SOM, New York. "It will offer us the opportunity to monitor the actual change in carbon emissions over the years, and learn from this to enhance new ways to improve building performance and related carbon emissions. And it could—and should—set a precedent for all cities to follow in the future."
For example, Mandyck suggests there is a lot to learn from the city's proactive policy solutions like carbon trading and commercial PACE funding, particularly in the absence of a federal solution. (For more, see sidebar, "Carbon Trading.") He also observes that New York is serving as a strong example of cities playing a leading role in battling climate change, particularly in the absence of a federal solution.
"The passing and implementation of the law has and will continue to demonstrate the value of high-performance design," agrees Woods. "It is also critically important to make building performance data accessible to the public and to other cities that stand to learn from and improve what New York City is doing."
At this point, a number of cities have laid the groundwork for implementing a law like LL97. For instance, energy benchmarking is seen as a prerequisite to adopting carbon emission targets as it provides the key data and a reporting infrastructure. To date, 19 U.S. cities—including Chicago, Boston, Washington, D.C., Pittsburgh, Philadelphia, Atlanta, Los Angeles, San Francisco, Seattle, Austin, and Denver—have established building energy benchmarking ordinances.
Further, Washington, D.C.'s +100 percent renewable energy portfolio program is projected to reduce even more carbon emissions, per capita, of LL97.
As for other cities, these energy benchmarking laws, will position them to move into implementing a law like Local Law 97, says Bocra. "We are very excited about paving the way and hopefully we have an implementation program that is as successful as it can be and we can share that with other cities."
At the same time, she points out that efforts like LL97 are all a work in progress. Along these lines, there are a number of factors that still require standardization such as how to calculate on-site distributed energy storage and combined heat and power systems, and accounting for things like on-site solar energy panels. The city is consulting with an advisory board and working on a national level to better standardize how emissions are calculated in buildings.
Originally published in Architectural Record
Originally published in November 2020
Notice