About Face: Giving Existing Towers a Modern Edge With Recladding
Using new curtain walls to improve high-rise façades for better design, value, and performance
This course is no longer active
Sponsored by the Ornamental Metal Institute of New York
▶ Façade replacement This approach is the most complete in that it involves the complete removal of the existing façade and related building components, often down to the building structure. With the old materials cleared away, a completely new curtain wall façade system can be designed and installed. This new system will likely have little if any resemblance to the old one in terms of appearance and performance. This is usually the intent of the full replacement—to create a completely different, modernized look that also meets the current user and performance demands for the building.
▶ Recladding This approach does not require a full replacement; rather the retrofit can be limited to the replacement of selective façade or cladding materials. An assessment of the building may determine that there are some substandard or obsolete cladding components that sit next to other components that are still quite usable and serviceable. The intent is to keep and work with the ones that are in good condition and replace the poor ones with new and better-performing materials. An example of a curtain wall recladding of this type might be to replace old single-pane glazing materials with new high-performance insulated glass units (IGUs). Often portions of the curtain wall system, such as original framing and opaque wall sections, can be retained while glazing, seals, and trim can be replaced with new. Similarly, anchorages may be retained, added, or reinforced as required by the final recladding design.
▶ Over-clad system A different approach to removing anything from the existing façade involves creating a custom framing and/or panel system designed to be applied directly over the existing one. This saves on selective demolition costs and can help retain some of the positive properties of an existing system with less disruption to adjacent building construction. As with recladding, outdated glass panel materials including vision glass panels are often replaced with high-performance IGUs. Anchorages for the new over-clad system may be added or existing ones can be reinforced as required, all working within the limits and confines of the existing building structure. The new system is then trimmed out to the interior as necessary to provide a finished product.
▶ Double-skin systems This design strategy can be considered a variant of the over-clad method since it involves the addition of a new second skin to an existing façade. However it is distinguished as unique in that this second skin is separated by some distance from the first, thus creating an intentional cavity between old and new. The cavity can then be used in a variety of ways to impact the performance of the building envelope. As an added layer, the double skin can temper the exposure of the building's interior to the weather and elements. With appropriately specified new glazing over an existing skin, it can help reduce glare, adjust visible light transmittance, and control solar heat gain. Through the use of well-designed air inlets and outlets, the cavity can be used to temper fresh air used in HVAC systems. This approach may work particularly well where innovative approaches are needed to notably improve energy performance of an existing building. It may not be appropriate where the existing building is already constructed along lot lines or zoning setback lines that will not allow the added depth of the building of the double skin façade.
▶ Hybrid system When one of the four strategies above is not deemed to be the best solution by itself, then it may be appropriate to combine them. This can be particularly true where different sides or portions of a building have different needs. Different orientations (south, north, east, west) will have different sunlight conditions that may dictate different design needs. High-rise buildings often have different wind and pressure demands on higher stories compared to lower stories, indicating different curtain wall systems to be specified accordingly. A combination hybrid system can also be appropriate where the existing building has different massing conditions due to zoning setbacks, etc., suggesting different approaches to the different conditions encountered. The point is that one strategy does not need to exclude the use of others in the quest to determine the best overall solution for the building.
The determination of the best design strategy for a particular building comes about by using the feasibility study and an integrated design process that can examine each strategy for its comparative strengths and weaknesses compared to the others.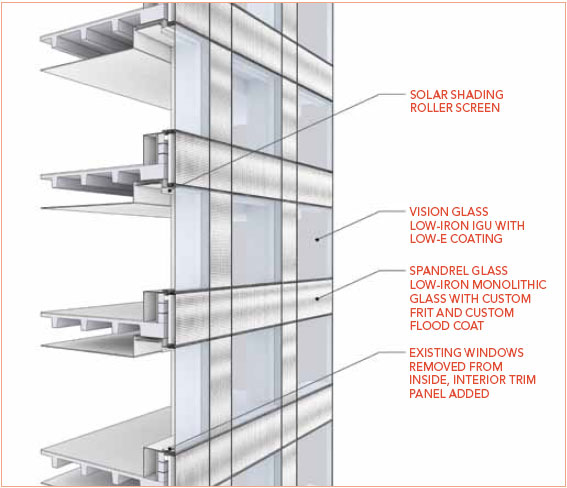 Image courtesy of Pelli Clarke Pelli Architects
The process of renovating an existing façade requires an initial feasibility assessment of the existing building conditions and an analysis of the design options available.
Construction Techniques
With the design fully developed and the specified system fabricated, the task of installing new curtain walls on existing buildings comes down to finding the best ways to get the construction work done. There are several techniques that are viable and commonly used. The typical approach is to use a crane and/or scaffolding with a construction elevator to move materials and personnel to the needed areas of the building façade for installation of the curtain wall system. Panels can be raised from the ground and lowered to the locations where workers are stationed. In existing buildings, it may also be possible to use building elevators to facilitate movement of people and tools if acceptable to the building owner. Alternatively, a movable scaffold can be employed which uses a motorized platform that runs up and down the building. This is similar to a window washing system used on high-rise buildings and may be the least disruptive method. It is possible that any of these construction techniques can be incorporated in multiple locations around the building to allow for concurrent activity and shorter overall construction times.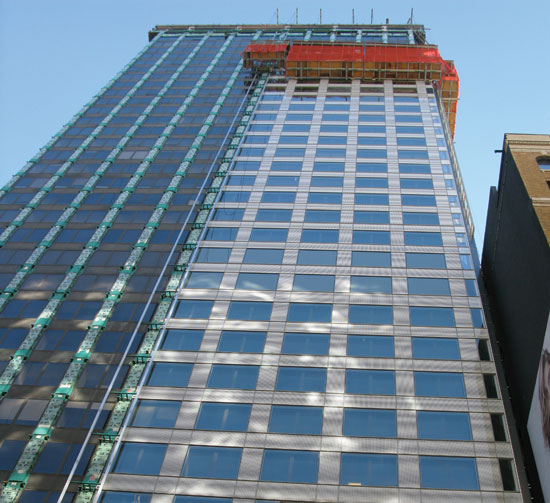 Image courtesy of Pelli Clarke Pelli Architects
Movable scaffolding on the outside of a building is often the most efficient and least disruptive method to provide replacement or over-clad curtain wall systems on existing buildings.
Originally published in Architectural Record
Originally published in May 2015
Notice