Designing with American Hardwoods: A Sustainable, Versatile Material Choice
This course is no longer active
Advertorial course provided by The Hardwood Council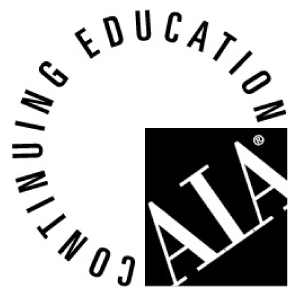 Continuing Education
Learning Objectives - After this course, you should be able to:
Explore environmentally preferable uses of American hardwoods.
Specify and use American hardwoods more effectively and sustainably.
Understand how life cycle thinking facilitates green building products assessment.
Credits:
Versatile, durable and sustainable, American hardwoods have served builders, architects, cabinetmakers and homeowners for centuries. Nontoxic, natural hardwoods bring desirable physical properties, eco-effectiveness and a warm aesthetic to floors, furniture, cabinetry and architectural millwork. Architects and designers often specify American hardwoods because they embody sustainability better than many exotic woods, or newly synthesized materials meant to imitate them.
American hardwoods have long been valued for their warm-toned aesthetics and utility, applicable in residential, commercial, educational, healthcare and institutional settings. Yet, sustainability concerns cause some architects to question traditional assumptions about natural materials. Design professionals recognize that natural materials enrich the built environment and enhance design projects. However, the impulse to protect natural resources may make some architects hesitant to specify them.
As green design evolves into a standard requirement, the process of selecting and specifying materials and products has become increasingly demanding. The meanings of "sustainable" and "environmentally preferable" are not always crystal clear.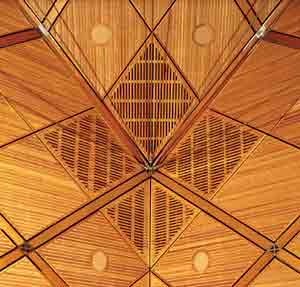 Haberdasher's Hall, London, uses American white oak to blend traditional materials and building techniques in a 21st century venue. Architect: Michael Hopkins and Partners. Client: Haberdasher's Company.
Many building products and materials bear "sustainable" labels from across the globe, but this has only clouded the issue. Some products are less green than they claim, while some manufacturers use an "environmentally preferable" label based on only one positive attribute. Exaggerated, misleading or false marketing claims are common hazards when reviewing green products.
Caution is essential in assessing the multitude of low-cost, globally sourced products, synthetic and exotic materials, and related environmental concerns. Available information is often imperfect and incomplete. Trade-offs are inevitable and choices often are not obvious. Selecting and specifying green materials and products requires research and understanding of all product design criteria.
American hardwoods are renewable, sustainable resources that do not introduce toxins or unrecyclable materials into the built environment or the waste stream. Nonetheless, some architects who want to use them still may question their suitability in green buildings. For reassurance, design professionals often turn to product certification systems, because they represent a third-party corroboration of sustainability claims.
Originally published in Architectural Record.
Notice