Designing with Texas Limestone
A cost-effective natural product with high durability and many design opportunities
Sponsored by Texas Quarries – An Acme Brick Company
This test is no longer available for credit
DESIGN OPTIONS AND OPPORTUNITIES
When designing with Texas limestone, a common approach is to seek to match the design vision of the building with the appropriate technical capabilities of the limestone. Of course, all of that needs to be accomplished in a manner that stays within the project budget. While it is easy to think that achieving all of that is difficult, the reality is that there are enough options and choices available that architects can find it easier than anticipated. The key is to talk with suppliers and fabricators ahead of time to understand the different types of limestone available and the different aspects that can drive or control the cost. In this way, informed design decisions can be made to achieve the desired appearance, assure proper long term performance, and stay within budget parameters.
One option to consider, in cases where lighter weight and cost control are important, is the use of thin veneer limestone. Thin stone units are approximately 1¼ inches thick, and their overall face size is comparatively small to make them easy to install. Their relative light weight, roughly 15 pounds or less per square foot, allows them to be laid much like wall tile. They are very versatile in how they can be used since they can be installed over a variety of different types of substrate surfaces. Any masonry, such as brick, block, or concrete, works well for the thin stone veneer to be applied directly to the surface. In framed wall assemblies, 18-gauge metal framing is typically recommended, but all other wall details are typical. There is no need for any additional structural support like there might be for full-depth stone pieces. For existing walls that are painted, it is advisable to remove the paint using conventional paint stripping or sand blasting to assure that the stone remains secured to the surface.
The surface texture and color of thin veneer limestone can be varied just like full-thickness stone panels. Split face texture is standard among some suppliers, but it can be ordered in sawn or honed textures as well. Corner pieces are available with 90-degree returns to replicate the corner conditions of full-depth stone. This allows for the appearance of thicker stone being used, just for notably less cost. Thin veneer limestone can also be ordered in all of the same colors as full-thickness limestone. Overall, it is reasonable option to consider for many different types of buildings, both on the interior and exterior.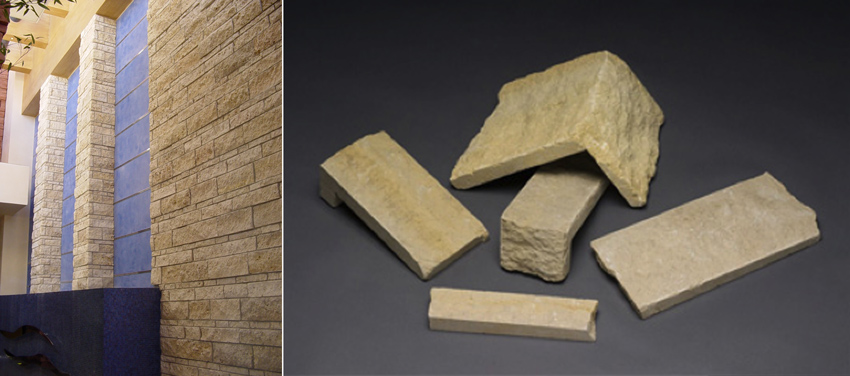 Thin stone veneer is available that reduces the weight and cost of the stone, while still maintaining the appearance and natural qualities for a building design, as shown here in the Red Rock Casino in Las Vegas, Nevada.
Commercial and Institutional Buildings
Texas limestone has found a home in many commercial and institutional buildings in a variety of locations. Typically, stone products are most economically installed when they don't need to be shipped long distances. However, some quarries have supplied stone to projects around the world by working with the building designers to find appropriate uses and applications of limestone that can absorb the shipping costs. Sometimes this means using limestone in limited parts of a building, or it may mean finding cost-effective fabricating and finishing, which can make up for added transportation costs. It may also mean using thin veneer to reduce the weight and cut down on shipping costs accordingly.
Texas limestone of all types and sizes can be used for both exterior and interior applications in commercial and institutional buildings. This is true for stand-alone buildings, such as government or private offices or K-12 schools. Some building types with multiple locations, such as bank branches or libraries, are great candidates for Texas limestone since it can create a consistent, identifying appearance for these facilities. It can also be particularly appropriate to use it on higher-education campuses or other multi-building settings where a consistent use of building materials is sought for a unified look and coordinated facilities programs.
Residential Buildings
Texas limestone has been used on homes that seek distinguishing design features and the beauty of natural architectural stone work. Residences often incorporate chopped stone and favor thin veneer installations for both exterior and interior walls to create texture and color, while remaining within budget. However, some details can also be created that might be very ornate, such as custom entry surrounds and fireplaces. This is another case where the options and choices available can allow for the creation of a distinctive design but still keep within the overall project budget.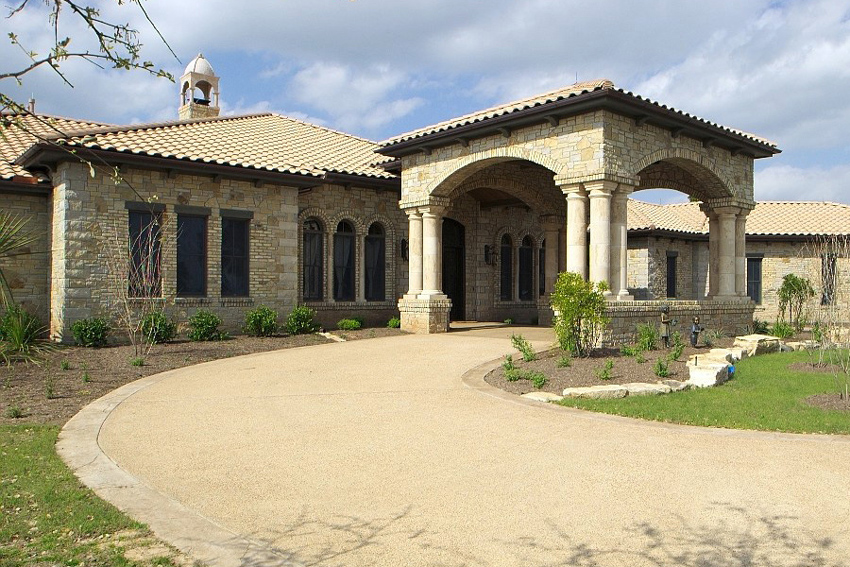 Texas limestone has been used successfully not only on commercial buildings but on custom residential projects as well.
Full-thickness units can also be used on the exterior that are the depth of brick veneer, 3¼ to 4 inches. This can allow them to be easily used in conjunction with brick or on their own with standard detailing. The full range of colors and textures is available for residences so designers can find equally creative and appropriate solutions as for commercial applications. In some cases, a distinctive rough back finish, which uses the natural edge of the limestone deposit, is available. Since the limestone edge is in contact with other materials, it offers a deeper variety of colors, including rich buffs, golds, oranges, and browns, which are sometimes popular in residential design.
Originally published in Architectural Record
Notice