Less Is More with Lightweight Honeycomb Reinforced Stone and Porcelain Panels
Engineered panel systems use real stone or porcelain and produce less weight, less labor, less environmental impact, and less cost creating more attractive design solutions.
Sponsored by TerraCORE Panels, LLC
This test is no longer available for credit
Design Applications
Whether faced with stone or porcelain, lightweight reinforced panels are very suitable for a full range of building design applications. In terms of overall performance, it should be recognized that the panels are designed to be somewhat flexible, so they can withstand building movement, seismic racking, and shear forces without damaging the overall panel, the faces, or the building. Due to the use of non-combustible materials, most reinforced stone and porcelain panel products meet or exceed all fire-testing criteria and fire-related code requirements. Honeycomb reinforced panels are similarly tested to resist large missile impacts and hurricane loading and have been found to have up to 60 times the impact strength of 3-cm solid dimensional stone. They are impervious to water penetration, making them suitable for both interior and exterior installations even in wet locations. For example, they have become very popular in hotel bathrooms that seek their durability and water resistance.
Stone and porcelain have been popular choices in high-traffic commercial and institutional buildings where durability has been needed along with great aesthetics. Therefore, any such location can benefit by selecting lightweight honeycomb reinforced panels instead of dimension stone or full thickness porcelain. Hotels, corporate headquarters, banks, retail settings, and car dealerships fit this profile often with the desire to create eye-catching facades that also exude refinement and quality. Public or common areas of condominiums and other multifamily residential buildings also seek the durability of the panels but often welcome the cost-saving benefits. Institutional buildings such as governmental complexes, health care facilities, universities, and churches typically expect to own and operate their buildings for a long time so they are particularly sensitive to the low maintenance, long-lasting qualities of these products. An overall life cycle assessment of lightweight panels will commonly show just how favorable they can be compared to heavier stone or masonry options.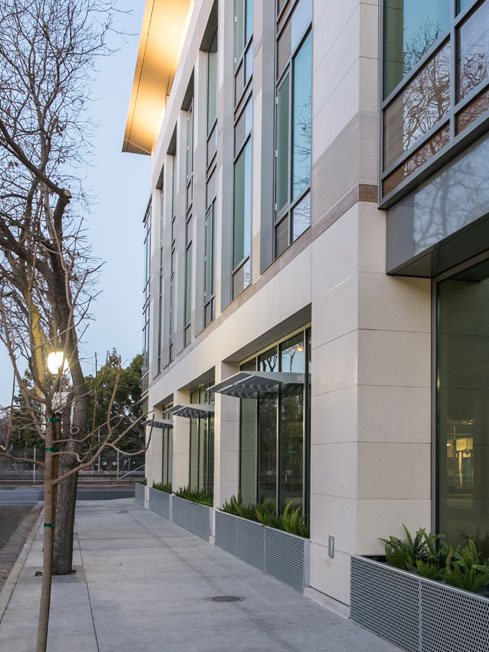 Photo courtesy of TerraCORE Panels, LLC
Lightweight reinforced stone panel systems are appropriate and attractive for use on a wide range of building types.
There are also some other specific design applications where honeycomb reinforced panels can emerge as the preferred choice. In particular, renovation and rehabilitation projects are ideally suited for their use since it is likely that costly structural alterations can be avoided. And the custom sizing capabilities of the panels means that they can be readily fit into almost any existing building of any of the types discussed above. Interior applications make a lot of sense for these reinforced panels too. It is easy to see why they would be popular in high-visibility, high-use interior spaces such as lobbies and gathering places, but they can also be used in a wide variety of other specialty interior applications too such as elevator cabs, restrooms, corridors, etc. In elevator cabs in particular, lightweight reinforced stone panels can be used for new or retrofit construction to save thousands of dollars in mechanical equipment costs, recalibration, and time compared to dimensional stone. Using these panels that are 80% less weight, longer lasting, impact resistant, and can be prefabricated for immediate installation on any wall, floor or ceiling without the use of mortar, often emerges as the right choice.
Rounding out any design application, it should also be noted that complementary detail pieces of stone or porcelain can be used. These include things like smaller in-fill panels on exterior or interior walls. It can also include fabricated detail elements such as soffits, canopies, fascia, cantilevers, cornices, columns, and accent bands. Depending on the design, these details might be made out of the same reinforced panel system or out of separate pieces of stone. Consultation with a manufacturer during the design stages can help identify the best combination of products and choices to create the desired outcomes.
Green Building Contributions
The U.S. Green Building Council (USGBC) has developed the LEED® rating system for green buildings which has been recognized as the leading green building standard in this country. The LEED 2009 system is in place until the year 2015 which overlaps with LEED version 4 introduced late in 2013. Since buildings are currently being designed under both systems, credits available for both are summarized below related to the use of lightweight honeycomb reinforced stone and porcelain panels.
Sustainable Sites
Under LEED 2009, credit SS 7.2 is available for reducing the heat island effect. This is primarily for roofing systems and makes 1 point available. However, many light-colored stone wall panels may meet the criteria to reflect heat and thus reduce the heat island effect. Under an innovation credit, it may be possible to show that the heat reflective qualities are available in the specified wall panels and therefore help reduce environmental heat build-up.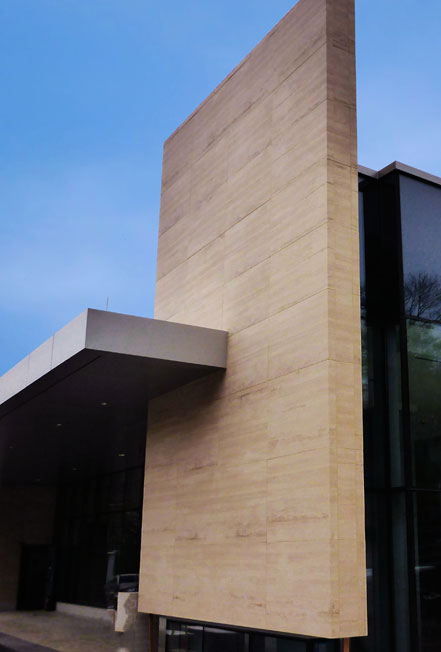 Photo courtesy of TerraCORE Panels, LLC
Using light colored stone panels can help reduce heat island effects when green building design is being pursued.
Optimize Energy Performance
Both LEED 2009 and LEED v. 4 place a strong emphasis on reducing the use of fossil fuels and increasing the use of non-polluting renewable energy. Reflective stone and porcelain products can contribute to improved thermal performance by reflecting away unwanted heat from the building, particularly in warm climates. In order to receive points in this credit category the building must demonstrate a percentage increase in energy savings in accordance with ASHRAE standards. The number of points available depends on the degree of energy savings.
Materials and Resources
This area has changed dramatically between the different versions of the LEED® rating system. LEED 2009 includes four areas where lightweight reinforced wall panels can contribute to an overall green building:
• Credit 1.1: Building Reuse: Maintain 55%, 75% or 95% of Existing Walls, Floors and Roof (1-3 points). If reinforced wall panels already exist in a building being renovated, they may be able to be salvaged and re-used since their life expectancy is very long.

• Credit 2: Construction Waste Management (1 -2 points). The nature of custom fabricated wall panels limits scrap material and reduces construction site waste accordingly.

• Credit 3: Materials Reuse: 5% or 10% (1 or 2 points). When stone or porcelain faced reinforced panels are reclaimed from other installations, they can be re-used in another building and contribute directly to this credit.

• Credit 4: Recycled Content: 10% and 20% (1 – 2 points). The stone and porcelain portion of the panels are most commonly new materials. However, the aluminum honeycomb backer can be made from 100% recycled aluminum and can contribute directly to this credit.

• Credit 5: Regional Materials (1 – 2 points). Many reinforced lightweight wall panels are manufactured in the USA meaning a regional material contribution is possible depending on proximity to the building.
Notice