Unique and Affordable Multifamily Concepts
These projects set a high bar for affordable multifamily housing.
Sponsored by TAMLYN
Learning Objectives:
Examine multifamily housing trends in each project area and how these properties help meet demands.
Explain the cost considerations and impacts of the innovative design for the XS House project.
Describe two approaches used by the 72Foster project to integrate multifamily housing into the surrounding communities and businesses.
Discuss the benefits of community collaboration on multifamily, affordable housing projects.
This course is part of the Multifamily Housing Academy
This webinar is part of the Multifamily Housing Academy
Listen in as our presenters discuss the design constraints, challenges, as well as their solutions, for these unique multifamily projects.
Be sure to join the moderated discussion after the presentations in which the panelists will answer your questions about their projects and are available to address a variety of issues, including cost and affordability, community concerns, unit design and common space.
Brian Phillips, AIA, LEED AP is a founding Principal and Creative Director of ISA (Interface Studio Architects) and will present the XS House project in Philadelphia, Pennsylvania, an affordable multifamily concept that took advantage of a leftover city lot. XS House serves as a model for inventiveness and spatial efficiency that can benefit other dense urban environments.
Kim Wilson, AIA, Quality Director at Holst, and Jake Watkins, Job Captain, will present the 72Foster project in Portland, Oregon. This project relied on collaboration over many years with a nonprofit developer and a social services agency and has also become a model for the greater Portland area. 72Foster bridges affordable housing with a single-family neighborhood and a commercial corridor and in the process enhances the entire community. In addition, they will discuss Argyle Gardens, a modular affordable housing development.
The presentations will be followed by a moderated discussion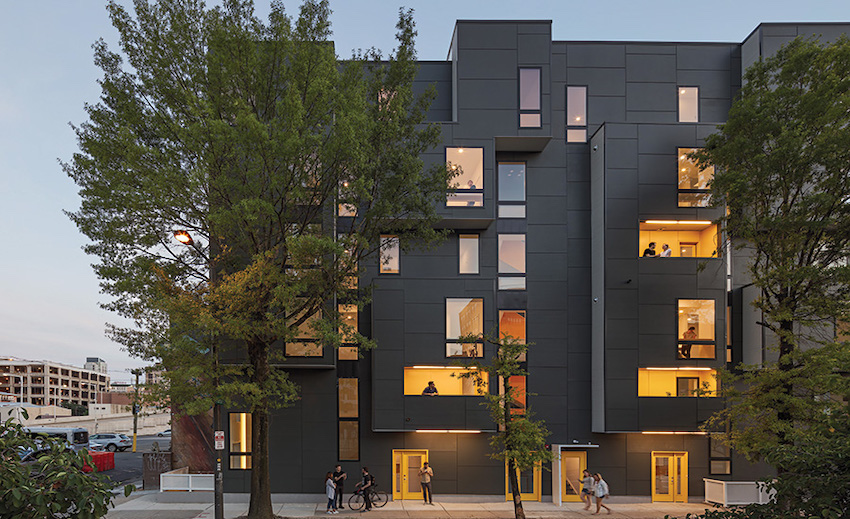 Photo courtesy of Interface Studio Architects LLC
| | |
| --- | --- |
| | Brian Phillips is founding Principal and creative director of ISA, a design and research office engaged with projects in cities across the U.S. ISA has leveraged the opportunities and challenges of its home city to drive a busy, innovative and thought-leading practice that takes on the complex context of the post-industrial American city. The firm designs buildings, master plans, installations, and conversations that address changing climates, lifestyles, technologies, and urban environments. Brian earned his MA from the University of Pennsylvania and BS from the University of Oklahoma. He has lectured widely on urbanism, housing and the work of ISA. The firm's work has been featured in ARCHITECT, Architectural Record, DWELL, Metropolis, The Boston Globe, The Philadelphia Inquirer, The New York Times, and on NPR Radio. |
| | Kim Wilson AIA, as President and Quality Director, Kim has been instrumental to Holst's growth over her two decades with the firm and key in establishing the studio's reputation for quality design and execution. As Quality Director, she translates her high standards for quality into ongoing technical training and mentoring. Kim has a Master of Architecture from the University of Kansas and a Bachelor of Science from Oklahoma City University. |
| | Jake Watkins, Designer, Jake joined Holst in 2016 after graduating with a Master of Architecture from the University of Oregon and a Bachelor of Science from the University of Vermont. He served as job captain for 72Foster, leading the implementation of a carefully detailed building envelope that supports long term energy efficiency. |
| | |
| --- | --- |
| | TAMLYN is a family-owned company with 50 years in the building products industry and has placed a great deal of recent focus on building science, especially moisture management. This direction led to the development of their TamlynWrap® line, Drainable with its 1.5mm bonded filament creating an enhanced WRB, and RainScreen 6.3 (1/4") and 10.1 (3/8"). TamlynWrap® RainScreen is a multi-layer water management system, intended for use over existing WRB or coated sheathing, of cavity spaces that are non-compressible and act as a furring matrix to promote enhanced drainage and drying, paired with improved installation efficiency. |
Originally published in February 2020
Notice