Integrated Water-Intrusion Management Solutions for Multifamily Properties
Single-source products for various facade options
Sponsored by TAMLYN

1 AIA LU/HSW; 1 AIBD P-CE; 0.1 IACET CEU*; AAA 1 Structured Learning Hour; AANB 1 Hour of Core Learning; AAPEI 1 Structured Learning Hour; This course can be self-reported to the AIBC, as per their CE Guidelines.; MAA 1 Structured Learning Hour; NLAA 1 Hour of Core Learning; NSAA 1 Hour of Core Learning; NWTAA 1 Structured Learning Hour; OAA 1 Learning Hour; SAA 1 Hour of Core Learning
Learning Objectives:
Describe the relationship between rainscreens and water-resistant barriers (WRBs) in multifamily residential units, and how they add to the health, safety, and well-being of building occupants.
Identify how new permeable WRBs integrated with drainage materials can be used with multiple siding/facade applications in a successful building envelope strategy that keeps moisture out and the indoor air quality safe for occupants.
Explain the properties and benefits of using extruded aluminum trim on multifamily residential project exteriors.
Discuss how extruded aluminum trim can complement an integrated water-intrusion management strategy for multifamily residential projects, and in so doing improve the overall health, safety, and well-being of occupants.
This course is part of the Multifamily Housing Academy
Aluminum Trim Properties
Before we dig into how extruded aluminum trim complements a water intrusion strategy, it helps to understand some of the basics about why extruded aluminum is a popular material for architectural projects. There are several reasons, which range from it being readily available in both raw and recycled forms to its overall versatility. Aluminum is derived from mined bauxite and processed into billets that can eventually be heated and rolled, extruded, or formed into a wide range of shapes for any number of different functions. Older aluminum can also be melted down and reused, which adds to the overall sustainability.
Aluminum's qualities of being lightweight, durable, and recyclable all contribute to a project's sustainability goals. Lightweight aluminum products have lower shipping costs than other heavier materials, and this can lower project costs overall. Aluminum is also highly resistant to rust, especially when coated properly, so when an aluminum product is used on a project, it is understood that it will last a long time.
Aluminum production is fairly straightforward, with heated aluminum billets that are then extruded through specially shaped dies to form architectural components such as trim. Typically, these extruded trim products are made from one of two different methods, each of which may be used for different aspects of an architectural project. Type 6063, for example, is an alloy of magnesium and silicon, where as Type 6063-T5 is a special architectural alloy that is significantly stronger thanks to an artificial aging process and heat treatment. Architecturally, alloy is useful because it can easily be finished in a way that best suits the project in which it is being used, whether that means painted, color coated, or anodized.
Benefits of Using Extruded Aluminum Trim
6063-T aluminum is a great choice for extruded aluminum trim profiles and a good fit for multifamily residential projects for several reasons. First, the material itself is lightweight, strong, and durable. Second, aluminum trim can easily accept finishes that enhance the material's durability, all while adding to the aesthetic of the project. Extruded aluminum trim is typically available with finishes that meet most project budgets and styles, with standard pre-colored finishes, primed and ready-to-paint options for custom colors, and anodized finishes for a more metallic look. Regardless of the finish, extruded aluminum trim profiles easily add to the overall aesthetic and performance of the building.
In addition to its durability and aesthetics, aluminum is good for architectural products because it is weather tolerant, rust resistant, and noncombustible. In comparison to other materials that may not even offer these benefits, aluminum is also fairly inexpensive. All of these characteristics are desirable for buildings in general, and they add to the goals of multifamily residential properties that need to be designed for longevity and long-term sustainability, energy efficiency, and moisture management.
Extruded aluminum trim profiles are typically available in a range of different profiles that can address different design styles and exterior panel materials. Profiles will include both vertical and horizontal options, as well as inside and outside corners.
Extruded Aluminum Trim as Part of an Integrated Moisture Management System in Multifamily Residential Projects
While extruded aluminum trim profiles function as a key design aesthetic to provide clean lines and corners, they can also play a role in an overall water-intrusion management system in multifamily units and other larger projects. Extruded aluminum trim can include vertical drain channels on vertical profiles and shingle-style design for horizontal profiles. These profiles, along with two-piece systems, can provide an important piece of a water management system. Some manufacturers are now providing trim profiles that are designed to be easily integrated with their rainscreen systems.
These new systems:
make installation quicker and easier for builders;
reduce overall project costs;
provide a a one-stop shop from a single manufacturer;
allow architects to design aesthetically clean exteriors that also help protect the building structure; and
meet building code requirements for water-intrusion management.
To recap, managing water intrusion is a challenge for most buildings, and multifamily projects are no exception. In fact, some multifamily designs make moisture management from external sources more challenging than for single-family homes or other projects. Whether larger, apartment-style buildings or townhouses, structures built with appropriate moisture management systems that include rainscreens and properly installed WRBs that enhance drainage tend to have fewer moisture-related problems and last longer than buildings that ignore this critical aspect of design. Moreover, projects that take advantage of integrated systems from a single supplier benefit from knowing that components are designed to work together, which tends to mean no surprises during installation and thus overall quicker installation. Extruded aluminum trim fits into the integrated water-intrusion management system as well.
Extruded aluminum trim is available in a wide range of profiles and finishes, and it can be used as a design feature that breaks up the monotony of exterior cladding and as a moisture management feature for a variety of different siding styles. Most often, multifamily projects have fiber cement panels as their siding, but some projects include stucco, metal, composites, wood, or brick. Out of these materials, extruded aluminum trim can be used with all except for brick. Most manufacturers have developed extruded aluminum profiles to work with fiber cement, but the profiles can be paired with other materials as well.
One of the main benefits of two-piece extruded aluminum trim is that it is easy to use for different applications and claddings, which makes it a good choice for multifamily residential projects, especially when moisture management is a big concern. Two-piece extruded aluminum systems make on-site installation easy, even when there are different sidings being used. The simple process of installing the base trim component and being able to easily insert the second piece speeds up the installation time and reduces errors.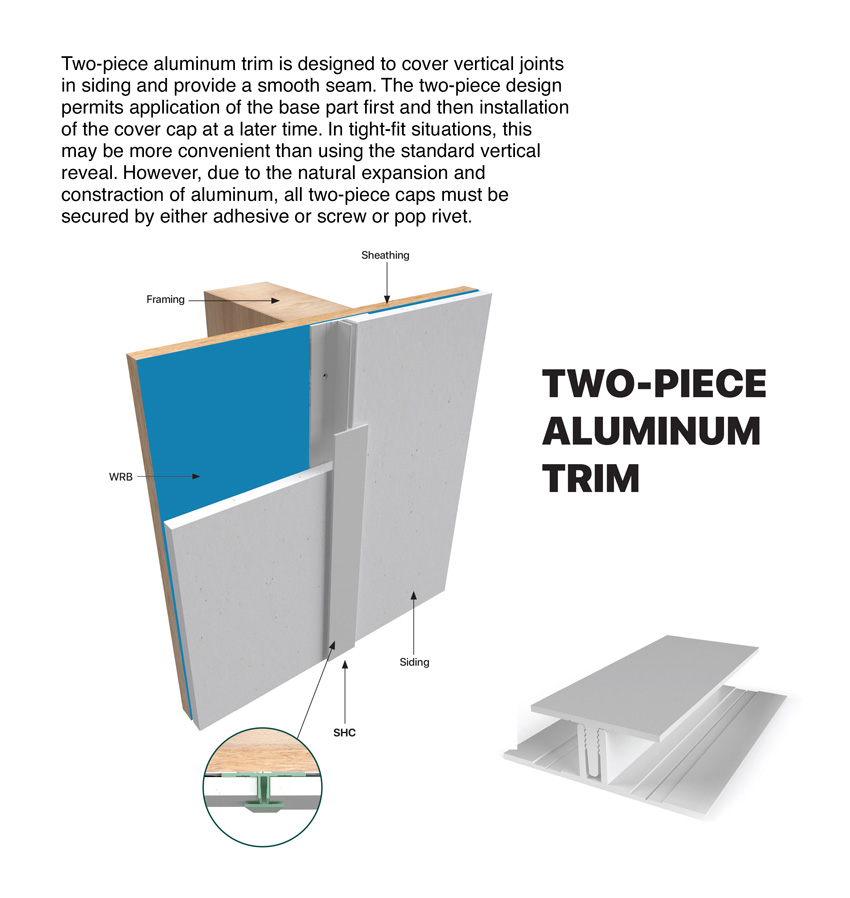 Two-piece aluminum trim works to protect vertical joints in siding and provides a clean, smooth seam. Two-piece trim is also easy to install.
Two-Piece Extruded Aluminum Trim in Action
Let's look at two different situations where a two-piece aluminum trim situation would be beneficial. On the smaller building scale, a garden-style building provides a good case of where aluminum trim can play an important role in a moisture management system. Garden-style buildings are often used for condominiums and rental apartments and designed in a townhouse style. Most importantly, they usually are complemented with basement units. Garden-style buildings may have units connected or built very close together; either way, water runoff tends to be a problem. If, for example, the roof is connected, there is a possibility of water pooling in between units, and eventually that water will get into the building. Alternatively, adjacent buildings may suffer from water runoff from neighboring buildings splashing against siding or not being properly drained away. An integrated moisture management system that includes a vapor-permeable, quick-drying WRB and exterior cladding detailed with extruded aluminum trim designed to prevent pooling and direct water runoff away from the building can help preserve the overall life of the building. In doing so, it also helps prevent basement units from water intrusion.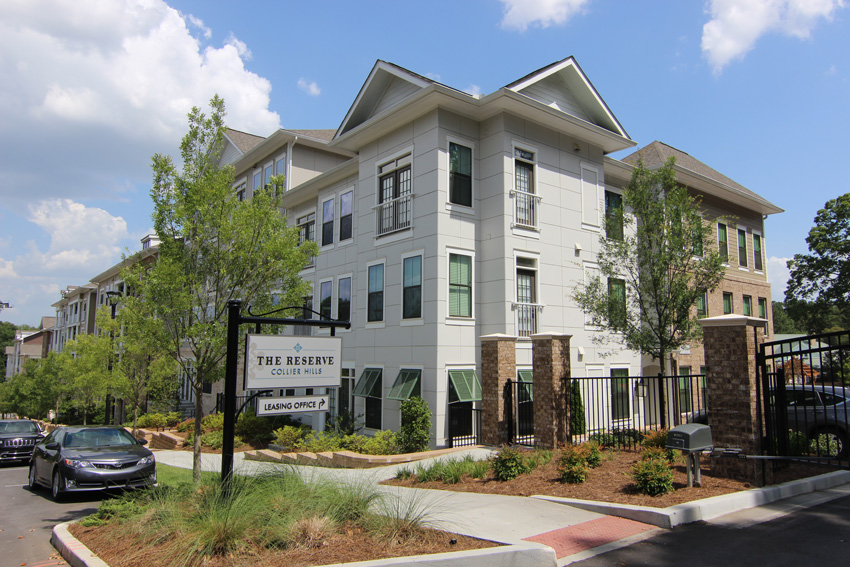 Garden-style buildings benefit greatly from thoughtful moisture management systems that include quick-drying WRBs and exterior cladding with extruded aluminum trim.
A larger-scale building such as a midsize or high-rise condominium development may have different priorities. A building with a large exposed surface, clad in rainscreen panels, has two issues. One is that panel and trim installation will take up a considerable amount of build time if products end up being incompatible or if trim installation requires different techniques for different parts of the building. If a two-part aluminum trim is used—specified from the same manufacturer that supplied the rainscreen system—the risk of delays is likely to be reduced. Second, some water will inevitably be pushed off of the building face and into the gaps between rainscreen panels. If the water is not properly channeled off, it can make its way into vulnerable areas between the rainscreen and the WRB, where it may pool and eventually cause problems. Corner and vertical extruded aluminum trim profiles, however, are designed to complement the rainscreen system by channeling water down and out of the building structure. These two systems can work together to help keep the building dry.
Originally published in Architectural Record
Originally published in March 2020
Notice