Future Trends for Multifamily Housing Exteriors
Moisture management and architectural trim and reveal options
Sponsored by TAMLYN

1 AIA LU/Elective; 1 AIBD P-CE; 0.1 IACET CEU*; AAA 1 Structured Learning Hour; AANB 1 Hour of Core Learning; AAPEI 1 Structured Learning Hour; This course can be self-reported to the AIBC, as per their CE Guidelines.; MAA 1 Structured Learning Hour; NLAA 1 Hour of Core Learning; NSAA 1 Hour of Core Learning; NWTAA 1 Structured Learning Hour; OAA 1 Learning Hour; SAA 1 Hour of Core Learning
Learning Objectives:
Describe how the increased emphasis on tightening buildings has magnified the importance of moisture management, which has led to an increase in the use of drainable weather-resistive barriers (WRBs) and new steps in the creation of rainscreens.
Identify standards for rainscreens, and explain how these moisture management strategies create new options for the designers to consider innovative reveals and metal trim in multifamily housing units.
Discuss how reveals and metal trim give new refinement and detail to common and traditional siding materials, such as wood, lap sidings, composites, and others.
Describe new shapes and finishes for metal trims and reveals, and how these add interest to exteriors.
This course is part of the Multifamily Housing Academy
Horizontal Board Reveal Profile Type
This type of profile creates a broad horizontal accent within the plane of the wall without protruding beyond that plane. It creates a sleek and modern aesthetic with a visually impactful extruded aluminum reveal. The retention leg on the back prevents flexing with installation. This type of reveal was specified for the 3900 Aldine project featured in the accompanying case study.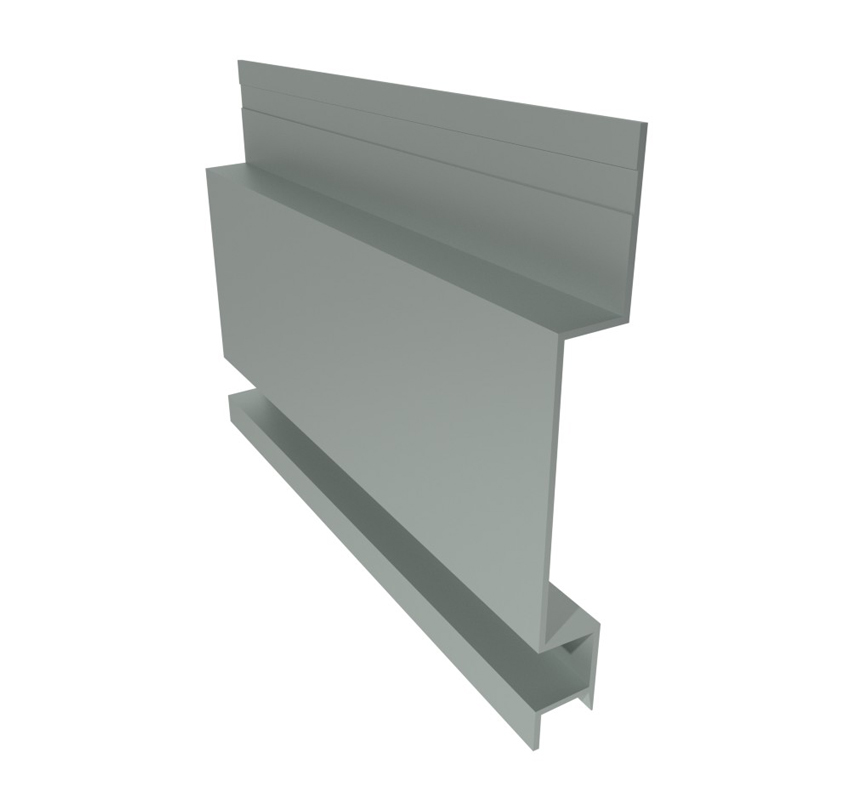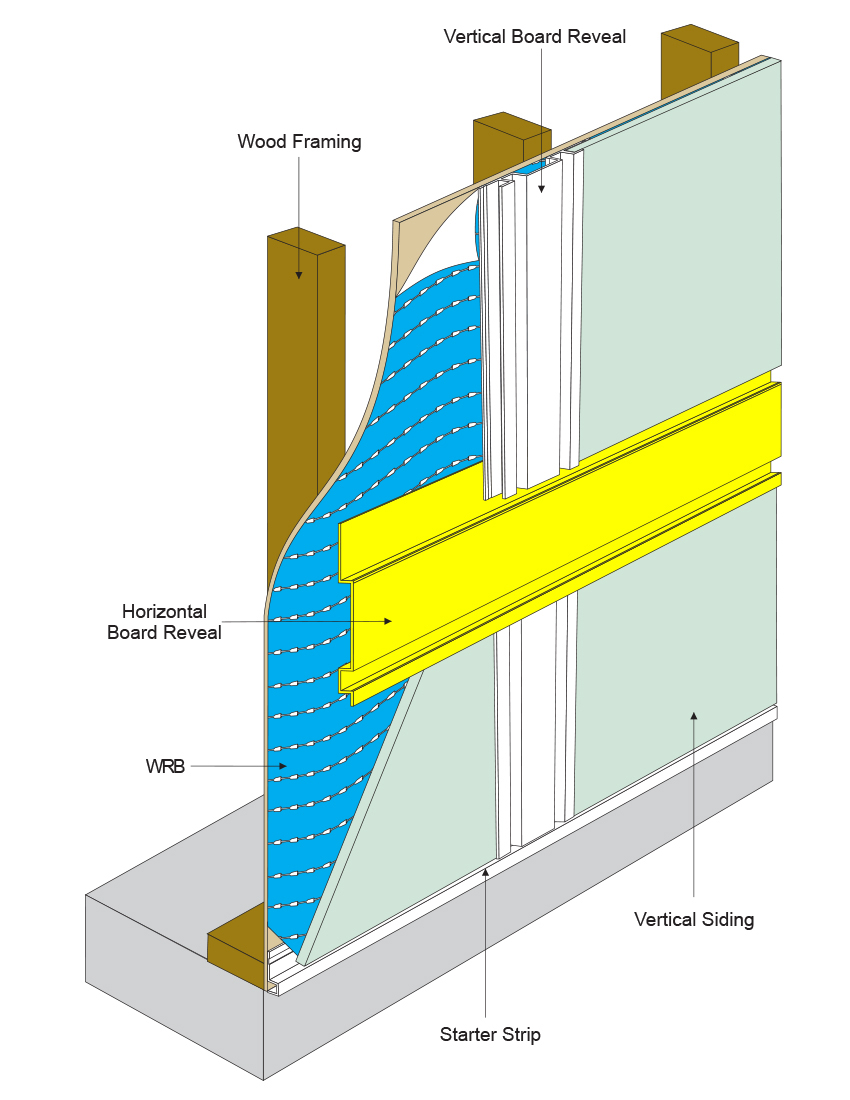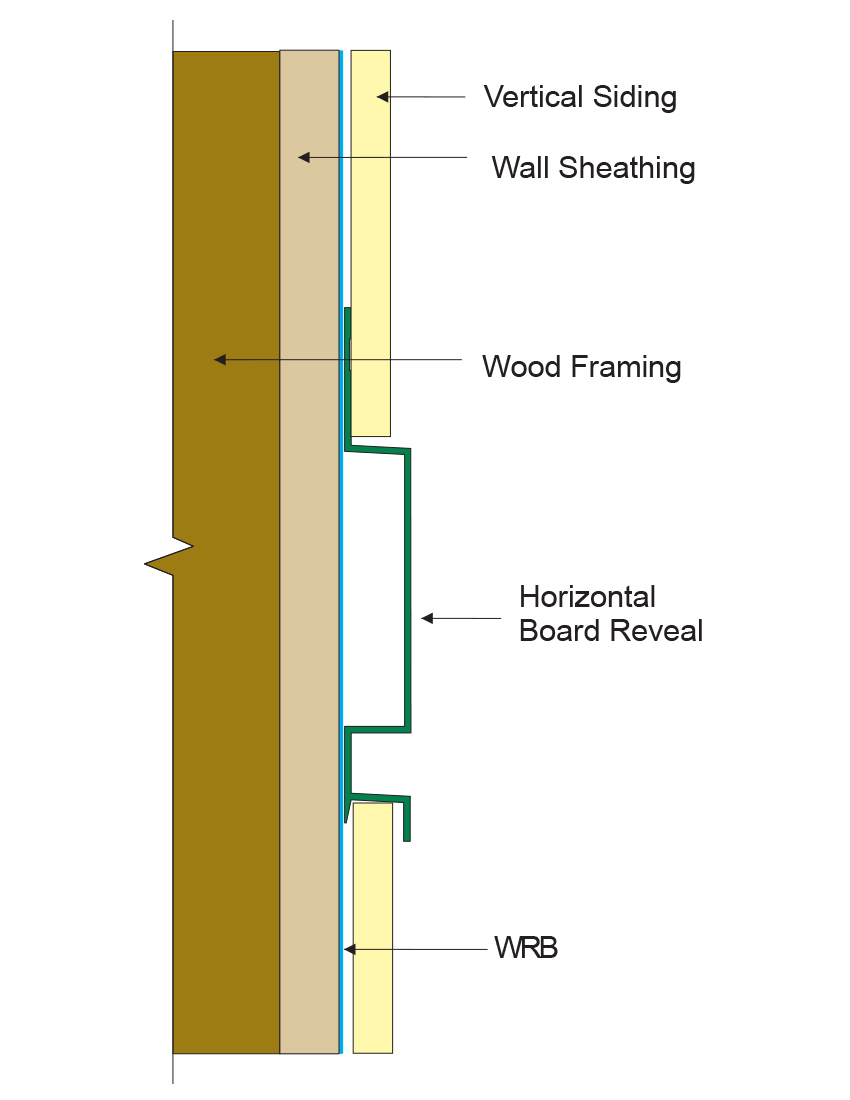 Shown is a horizontal bead type of reveal. This is how this type of reveal profile integrates into a wall assembly.
Outside Corner Reveal Profile Types
This type of extruded aluminum trim creates a clean and simple modern look for durable outside corners that will not or degrade. This type of product with a black anodized finish was specified for the 17 Walnut modern lofts project in Boulder, Colorado. According to the architects who designed the project, Studio Architecture, the City of Boulder uses this project as an example of the type of buildings it wants developed in the city.6

A low-profile extruded aluminum corner piece with black anodized finish was specified for the 17 Walnut lofts in Boulder, Colorado.
Another profile that adds modern interest to an exterior is a reveal outside corner, which is a corner that steps back. Depending on the manufacturer, it may be available in different sizes to work with different panel and lap products. A corner trim with this profile was specified for the Cortona at Forest Park project in St. Louis. It was designed by Humphreys & Partners Architects, which has offices all over the world and specializes in multifamily projects. The colorful project has 278 units in five stories. The project won many awards, including a 2015 Gold Nugget Award of Merit in the category of Best Multifamily Housing Community, 2015 City of St. Louis Property of the Year, and was named one of the top five new residential developments of 2014 in St. Louis by St. Louis Magazine.7

Cortona at Forest Park in St. Louis is a colorful multifamily housing project that features distinctive corner trim made of extruded aluminum. A clear anodized finish provides an out-of-the-ordinary aesthetic.
Transition Profile Types
Creating a smooth transition between different types of exterior cladding is a challenge many designers face. While a single cladding type eliminates this issue, that kind of design decision can make for a building that lacks interest. These types of profiles provide a smooth transition from different cladding types, such as from vertical siding panels to lap siding. A low-profile outside corner design may authentically duplicate the look of a wood corner piece without the maintenance headaches. An inside corner option may eliminate a wooden inside corner piece that could split/rot over time.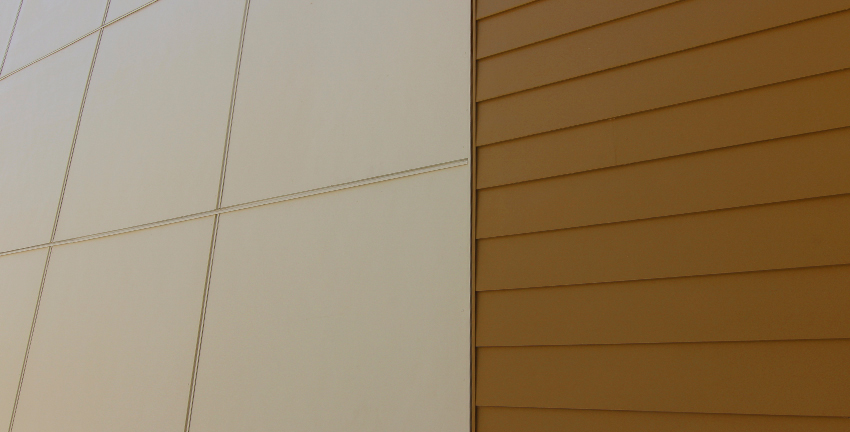 This trim provides a transition between different types of cladding.
One project whose designer specified inside corner trim made of extruded aluminum is the Goldsmith Village Townhomes in Denver. The 35 units were built in 1979 and renovated using Low-Income Housing Tax Credits.8 The redevelopment project architect was Gensler, and the owner is the Denver Housing Authority. New exterior siding was part of the overall upgrade, and the blend of panels and lap siding gives the project architectural interest. The architects specified the inside corner trim in a clear anodized finish to create a transition between the differing materials. The new exterior siding, along with other energy-efficient features such as new windows and doors and high-efficiency water heaters, helped the project earn an Enterprise Green Built Communities certification.

Trim pieces made of extruded aluminum with a clear anodized finish were specified for the inside corner transitions at Goldsmith Village Townhomes in Denver.
Installation of Extruded Aluminum Architectural Reveals
For proper installation, always check with the manufacturer's instructions. Typically, though, stainless steel fasteners are recommended for extruded aluminum pieces. Trim profiles may be secured in place with a few stainless steel nails until fastened through panels and into sheathing during panel or plank fastening per siding manufacturer's instructions. Also very commonly used and accepted are galvanized fasteners.
It is recommended by most manufacturers that inset fiber cement panels be fastened to the wall with stainless steel Torx head screws or hot-dipped galvanized siding nails.
As per manufacturer's instructions, sealant is likely recommended between butt joints where two trims come together. Further protection may be created by use of a piece of flashing behind the butt joint or with a metal flasher behind the joint.
LEED and Green Building
Depending on the manufacturer, extruded aluminum trim may be made from up to 75–100 percent post-industrial and post-consumer scrap. It's good to remember that extruded aluminum is extremely durable and should outlast caulk by generations. The installation process itself is inherently sustainable, as it saves some cutting and ripping of siding materials. These factors may help the building achieve credits from LEED or other green building rating systems. For LEED certification, aluminum trims and reveals can earn or contribute to credits in the Materials and Resources 4.1 and 4.2 categories. These credits require a minimum percentage of the value of the building materials to be recycled.
Originally published in Architectural Record.
Notice