First Impressions
The latest in glass, aluminum, aluminum composite, structural steel, and wood present an extensive design palette of opportunity for building facade designers
Sponsored by Cladiators; CRL-U.S. Aluminum; EXTECH/Exterior Technologies, Inc.; Longboard® Products a Division of Mayne Coatings Corp.; New Millennium Building Systems; Prodema; TAMLYN; TILE EZE; and W&W Glass, LLC
Developments in Kinetic Facades
While glass curtain walls are a popular and effective solution, kinetic facades—defined as the ability to respond and adapt to the changing environmental conditions—take designs a step further by employing the facade as an active system, capable of reducing energy costs and HVAC requirements through enhanced daylighting and natural ventilation.
A marriage of form and function, these visually captivating facades reduce solar heat gain by shielding the building from direct sunlight, while still supporting natural ventilation within the structure. Kinetic facades are designed to proactively respond to changing conditions, thereby enabling the facade to function more efficiently.
"By actuating the facades and making them dynamic, they can now better adapt to the conditions and provide for improved comfort of the occupants by providing for more of the tasks at a higher level of performance," explains Ryan Hansanuwat, faculty of the school of architecture, University of Southern California, in a paper titled "Kinetic Facades as Environmental Control Systems: Using Kinetic Facades to Increase Energy Efficiency and Building Performance in Office Buildings." "The building can be constantly working toward a better environment for the user as opposed to simply protecting them from it."
By partnering with a kinetic facade provider early in a project, building teams can more effectively meet structural requirements due to the inherent lightness and energy efficiency of kinetic wall systems. Additionally, a kinetic facade's aesthetic qualities may help municipalities save money on Arts in Transit and percent-for-art compliance.
For example, kinetic facades elevate the quality of the ridership experience and disrupt the monotony of commuting by providing a dynamic, interesting sight.
Case in point, for the Logan Airport Parking Expansion project in Boston, Arrowstreet partnered with one of these providers to create a kinetic wall based around 6-inch square curved aluminum 'flappers.' Elevating the parking lot into an art installation, the flappers were assembled into 350 unitized panels to capture the dynamic patterns of the wind coming off the Atlantic Ocean. Because of the facade's innovation and novelty, the fabricator provided several mockups and prototypes to ensure the flappers would meet the design intent.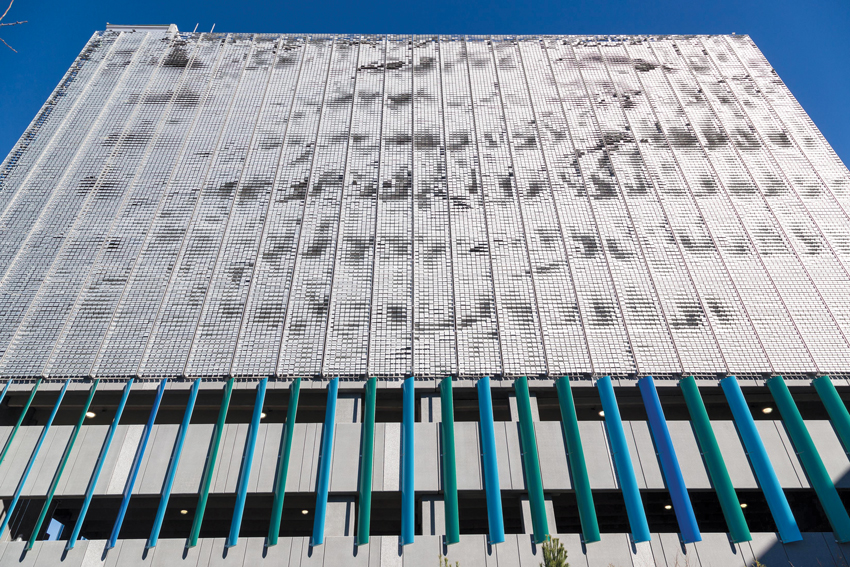 Photo courtesy of EXTECH/Exterior Technologies, Inc.
Designing a kinetic facade for the Logan Airport Parking Expansion in Boston, Arrowstreet selected curved aluminum 'flappers' inside unitized panels to capture the dynamic patterns of the wind coming off the Atlantic Ocean.
"The kinetic facade provides a visual representation of an unseen and unpredictable natural phenomenon—the wind," relates Jim Leslie, general manager, EXTECH/Exterior Technologies, Inc., Pittsburgh.
A total of 48,000 custom-made flappers, spanning eight stories high and 290 feet wide, deliver an array of cost and sustainability benefits: they allow air to flow through and ventilate the building, they permit visibility from the inside, and they deflect solar heat gain. Furthermore, the panels deliver an eye-catching aesthetic of the wind rippling across the flappers.
On another project designed by Anmahian Winton Architects for Community Rowing's Harry Parker Boathouse and Ruth W. Somerville Sculling Pavilion in Brighton, Massachusetts, a wood-faced operable paneled facade evokes the look of New England's traditional covered bridges and tobacco barns, while delivering superior insulation and ventilation for the largest rowing company in the country.
A CNC router was used to fabricate the panels in a variety of unique shapes, and aluminum extrusions support the wood panels in their various orientations. Meanwhile, panels of 16-foot-high operable windows are hinged at the top and bottom and open in the centers, driven by rack and pinion hardware. Designed to be easily operable and efficient, as many as 30 glass panels can be opened by a single drive mechanism.
In addition to the wood facade and operable wall panels, unique aluminum clips were fabricated to support a shingled glass wall on the adjoining sculling pavilion.
Some custom facade fabricators are capable of "delving so completely into the conceptual objectives of a project that it produces unexpected solutions that have the power to redefine a project for the better," explains Alex Anmahian, principal, Anmahian-Winton Architects, Cambridge.
The Facade's Many Roles
From aluminum to steel to wood to glass, building facades play a very key role within buildings, serving a variety of essential functions.
"While the facade is an elegant component that helps to define the unique architectural aesthetics of the building, it also has the critical role related to energy performance and interior function of a building," confirmed Dudley McFarquhar, Ph.D., PE, McFarquhar Group Inc., Mesquite, Texas, in a "Role of the Building Facade" white paper for the Building Enclosure Science & Technology (BEST3) Conference.
He concludes, "As technology continues to improve, different options for improvement become available for incorporation into building facades."
Originally published in Architectural Record
Begin Quiz
Notice