First Impressions
The latest in glass, aluminum, aluminum composite, structural steel, and wood present an extensive design palette of opportunity for building facade designers
Sponsored by Cladiators; CRL-U.S. Aluminum; EXTECH/Exterior Technologies, Inc.; Longboard® Products a Division of Mayne Coatings Corp.; New Millennium Building Systems; Prodema; TAMLYN; TILE EZE; and W&W Glass, LLC
The All-Glass Facade
In addition to aluminum cladding and siding, steel decking, and specialized cladding attachment systems, glass curtain wall is an increasingly popular facade option, promoting daylighting, views, and a high-end aesthetic.
Whether it's stick-built curtain wall, unitized facades, point-supported structural systems, storefront, or window wall, these transparent systems deliver a modern, inviting entry point to any building.
"Today's glazing system designs are pushing the envelope in many ways. From energy and acoustical performance, blast resistance, and ever increasing glass panel sizes," states Jeff Haber, managing partner, W&W Glass, Nanuet, New York. "It is critical to stay on top of the latest trends in technology and manufacturing and marry these to the engineering of the products themselves to ensure the highest level of performance and quality."
It's important to understand some key differences and applications between the different glass facade systems. Unitized curtain wall is made up of large factory-glazed glass units. The panels can be erected in a third of the time of a stick-built system, making it well suited for taller structures, where higher field labor costs exists, higher performance is needed, or where a large volume of repetitive prefabricated panel sizes are required.
Otherwise, the vast majority of low to mid-rise curtain walls utilize stick-built systems, which have long vertical pieces of aluminum spanning in front of floors with horizontal members spanning between vertical members to support and transfer the load of the glass back to structure. Unlike fabricated unitized curtain wall, most of the glazing and erection must be done on-site. However, the lead time is much shorter, less up front staging is required, and stick-built systems are a good fit for facades with lower required volumes and complicated conditions.
Meanwhile, window wall is an aluminum facade system that spans in between slabs, making it a good choice for small- to medium-height buildings with window sizes at 10 feet or less. Because window walls can be glazed from the floor slabs on the inside of the building, this is helpful for speed and ease of installation, as a head track and sill track is mounted to the slabs and the preassembled window wall panels are set into place. Any moisture in the system then drains out at the sill track at the base.
A less-expensive alternative to curtain wall and window wall, storefront systems are typically used for lighter-duty applications at the base of buildings. Glazed on the interior or exterior, these one-floor systems create a storefront at the retail level or entrance to a building.
Point-supported structural glass systems—a popular choice for highly transparent facades, entrances, atriums, and lobbies—are made from tempered glass panels (with or without holes) attached with bolted or clamped fittings to the structure. The face glass is usually hung off of the backup structure, which can be glass fins, steel members, or stainless steel cables.
The biggest difference between these systems and a typical structurally glazed aluminum curtain wall system is the way the point-supported systems are supported, which is anchorage at specific points. This requires that the glass support a greater temporary deflection and resistance to uneven loading at edges and stress at hole/clamp locations, but it also requires thicker glass than standard curtain wall.
When specifying point-supported systems, it's important to consider a fully tested system and bringing in a sole-source provider with a turnkey package, as opposed to amalgamated parts and pieces of tempered glass with holes, spider fittings, etc. Some of these manufacturers can also tighten specific fabrication tolerances and minimize roller-wave distortion tolerance to produce flatter tempered glass sometimes required by higher-end projects.
When submitting design plans to these fabricators, it's important to include details on the wind loading, live load deflection, backup structure, renderings, plans, elevations, sections, inelastic seismic drift (to determine what panel sizes may work based on movement during an earthquake), glass performance requirements (i.e., low-e, silk-screen, tint), and special requirements, such as hurricane-impact or blast resistance.
All of these inputs are important to determine what panel size, fitting size, and structural glass system configurations will work best for the project.
Because the curtain wall system is also tied into the building enclosure, serving as the first line of defense for air, moisture, and water infiltration, it's important to utilize an experienced installer with expertise in erecting weathertight complex glass systems. Also, failing to hire an expert system fabricator can result in poor tempering of the heavy tempered glass used in structural glass applications, thereby showing visual defects, such as high roller-wave distortion and bow and warp in the glass.
A high-profile example of bringing in an experienced curtain wall system fabricator and installer team to engineer, manufacture, and assemble a complex project is the point-supported structural glass systems at Hudson Yards Tower C, 10 Hudson Yards in Manhattan's west side.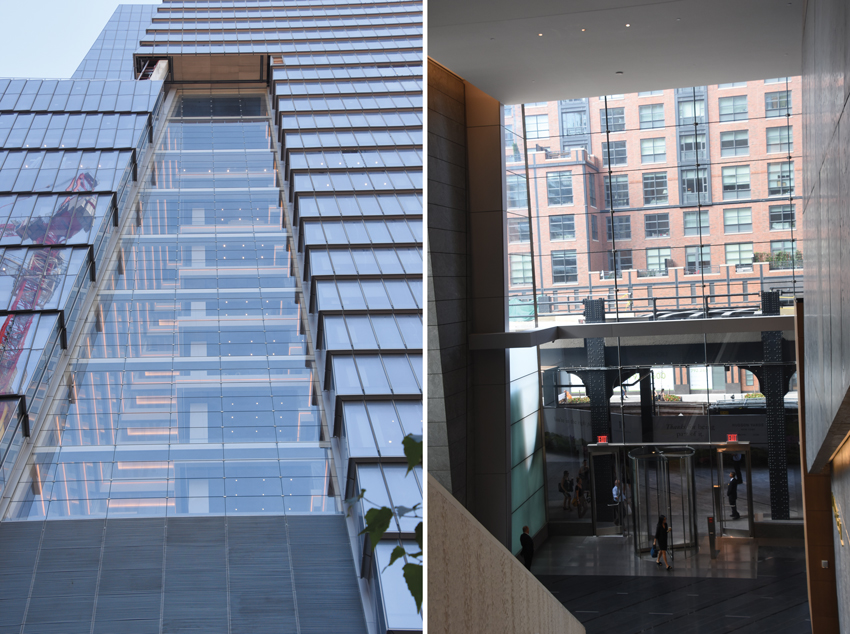 Photos courtesy of W&W Glass, LLC
For the Kohn Pedersen Fox-designed 10 Hudson Yards in Manhattan, a point-supported structural glass system clads the 82-foot-tall cable wall lobby facade and a trapezoidal 207-foot-tall atrium cable wall for the 52-story high-rise.
The 52-story high-rise features an 82-foot-tall cable wall lobby facade and a trapezoidal 207-foot-tall atrium cable wall rising from the sixth floor to the 21st floor. Both walls were made from 10-foot-wide modules, which is quite large for a structural glass facade.
The lobby walls also incorporate two full-height structureless corners supported with a special thin stainless steel angled bar located directly behind each corner.
In order to limit solar heat gain, Kohn Pedersen Fox required low-e coatings in some areas. Working with the glass fabrication engineers, approximately 1-inch-thick low-iron laminated glass was specified.
Glass Entrance Systems
To better achieve the sought after all-glass profile, technological advances are focusing on enhancing sightlines while maintaining thermal performance. As a result, architecture today is pushing the boundaries of aesthetics and function.
One area where this is evident is with entryways, which are being designed as key facade focal points. For example, one of the latest entrance systems to hit the market supports door handle hardware on 1-inch insulating glass panels using innovative through-glass fittings. The result is an attractive "floating on air" appearance. The system also delivers an ultra-thin door stile width of 11/8 inches and an overall depth of 21/2 inches, significantly reducing the amount of visible hardware. This creates a striking aesthetic that showcases the beauty of glass.
Facades must not only provide aesthetic excitement, they must also deliver exceptional thermal performance due to increasingly stringent energy codes. Despite the entrance system's thin frame, it features heavy-duty, thermally broken cladding that produces U-factors as low as 0.33. Its clamping system also accommodates all high-solar and energy-efficient glass options. In all, the progressive entrance system provides the unique combination of all-glass aesthetics with full-frame performance.
Highlighting the key role that a well-engineered entryway can play in a facade's overall aesthetic is the new 9001 Cypress Waters office space in North Dallas. The 215,000-square-foot facility, owned by the Billingsley Company, was designed by GFF Architects and features a monumental, four-story trellis composed of layered aluminum tubing. Surrounding concrete panels are peeled back to reveal a delicate, thermally broken curtain wall behind the trellis, with unique T-shaped mullions and extended face caps. This creates clean, streamlined glass spans that maximize daylighting and views to an adjacent park.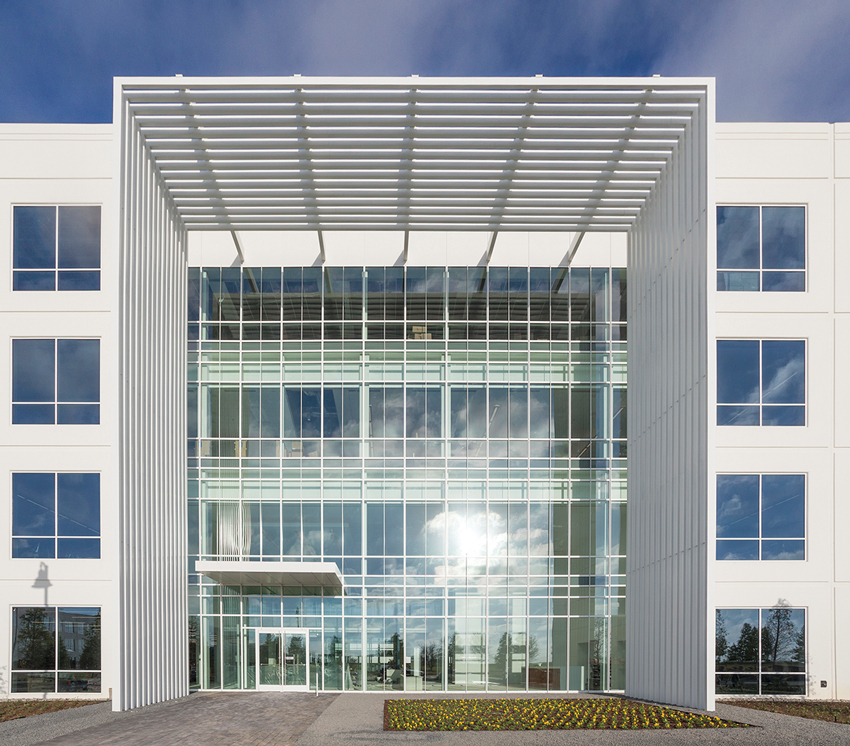 Photo courtesy of Andrew Adkison, GFF
This GFF Architects-designed thermally broken curtain wall at the 9001 Cypress Waters office space in North Dallas, Texas, features unique T-shaped mullions and extended face caps.
To complete the grand entryway, GFF Architects selected a thermally broken, all-glass entrance system to boost thermal performance and enhance aesthetics. The system is engineered to meet air and water infiltration requirements as well.
GFF teamed up with contractor Adolfson & Peterson Construction and glazing contractor Denison Glass & Mirror Inc. to deliver the project.
"When we're thinking about the design of a building that is speculative in nature, we're looking at ways to amplify the impact of the primary elements composing the facade, and we consider how these elements can be articulated to meet the need for maximizing daylight and thermal efficiency," states Maria A. Gomez, principal, GFF Architects, Dallas. "The doors at the main entrance solved the requirement for thermal performance and weather protection, while maintaining an upscale look that complements the clean facade."
It's to the architect's advantage to select single-source manufacturers that are capable of delivering a full range of facade solutions, including windows, entrance systems, storefronts, and curtain walls. Some glazing manufacturers also offer metal systems (e.g., sunshades, railings, windscreens, point-supported structural fittings, metal cladding, perforated panels, etc.) in order to present a complete selection of facade options.
"A successful facade design relies on the architect's coordination of different products to achieve the aesthetic and functional goals of their client. We've experienced success in our ability to simplify this process by supplying a wide variety of systems, options, and upgrades that accomplish the design intent while meeting performance requirements," says George Heflin, sales director, CRL-U.S. Aluminum, Dallas.
Originally published in Architectural Record
Notice