First Impressions
The latest in glass, aluminum, aluminum composite, structural steel, and wood present an extensive design palette of opportunity for building facade designers
Sponsored by Cladiators; CRL-U.S. Aluminum; EXTECH/Exterior Technologies, Inc.; Longboard® Products a Division of Mayne Coatings Corp.; New Millennium Building Systems; Prodema; TAMLYN; TILE EZE; and W&W Glass, LLC
The Warmth of Natural Wood
While the offerings of cladding materials abound, the beauty and warmth of natural wood evokes a special feeling, making it a desirable facade option.
Of course, the typical maintenance requirements associated with real wood is often a stumbling block for design teams. Fortunately, these concerns are greatly minimized with the availability of high-pressure laminate (HPL) panels finished with natural wood, delivering the aesthetic of real wood without the hassle of maintenance. While other wood materials require a high level of regular maintenance (i.e., varnishing, sanding, cleaning, etc.), these rainscreen HPL panels now afford architects a high degree of imaginative design and offer clients a maintenance-free facade dressed in a genuine wood aesthetic.
More so, these materials are designed as a ventilated facade, contributing to the building's performance, energy efficiencies, and sustainability. These panels are prefinished, ready to install with conventional woodworking tools, and meet code fire requirements for any building height and construction type. These systems are primarily specified for facades but are often used as soffits or as a louver system and screen walls. And because the panels can be cut to any size and curved and supplied with the wood veneer on both faces of the panel, this affords architects boundless design freedom.
Looking to showcase the allure of wood, architect Jean-Marc Bonfils was actively looking for a wood cladding product to symbolically serve as the door to the city of Beirut for his East Village condo project (not pictured). Looking to retake the language of the traditional 1920s wooden houses surrounding the neighborhood, Bonfils selected HPL wood-faced panels to clad the facade, which was also decorated by vertical gardens.
"Suddenly, we found ourselves with the possibility to have a very vivid building with a very natural material and use it in a very contemporary way," says Bonfils, Jean-Marc Bonfils & Associates, Lebanon. "That vivid feature of wood is absolutely extraordinary."
Incorporating wooden brise-soleil panels into the design, the East Village facade texture changes with the sun and rain, creating a dynamic look.
Offering some perspective on the trend, Lourdes Hidalgo-Gato, sales manager, Prodema North America, relates that building envelope design has seen a significant transformation, especially in the United States and Canada, over the past decade. "Building science has taken a prominent role in response to higher standards for R-value requirements, resulting in a focus and growth of high-performance facade systems."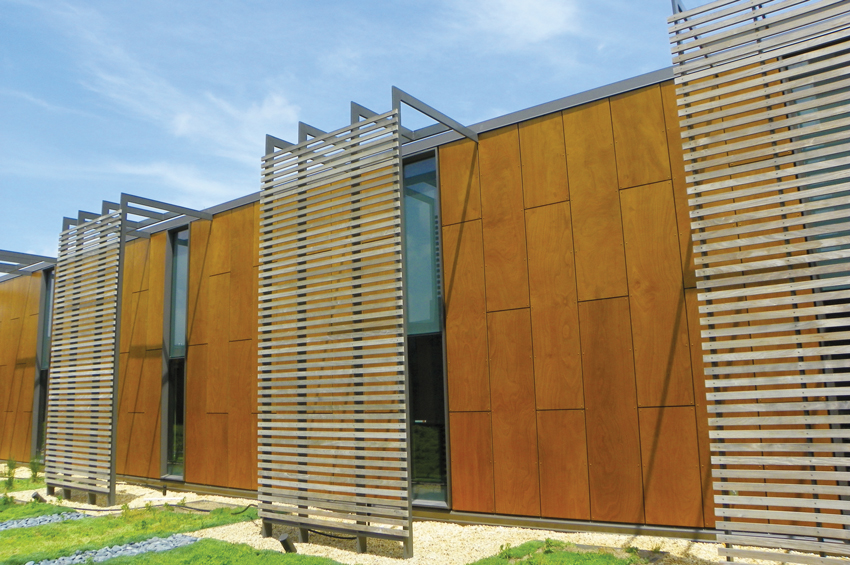 Photo courtesy of Prodema
At the Owensboro Medical Health System in Owensboro, Kentucky, a natural wood rainscreen panel was designed to help support the image of a healthy, sustainable hospital.
Anchoring it Down
One important aspect of installing the various cladding materials available to the architect is the application of an effective anchoring system. While there are many choices in the market, not all offer a fully concealed system, which can be key to supporting the project's aesthetics.
It's also import to select a system that supports the positioning of undercut anchor on the back of the panel without constraints. Of course, these anchors must also pass required testing for facade panel attachment, ultimately supporting a high load capacity without stressing the facade panel by lateral bracing. Fortunately, some concealed anchoring systems are capable of delivering a safety factor that is much higher than traditional mortar, dowels, or visible clips.
Finding a system that can support thin facades—even as thin as 6 millimeters—is an added bonus in terms of supporting a higher level of design creativity. This capability was key for Daniel Libeskind's Vanke Pavilion exhibition designed for the 2015 Milan Expo. The striking free-form metallic facade is a flowing organic shape, originating from the architect's free-hand sketch.
More than 4,200 tiles—a mixture of clays, quartzes, and feldspars—produce a dynamic, metallic glaze which creates an iridescent threedimensional effect. Depending on time of day, light incidence, and viewing angle, the facade shifts from deep red to shimmering gold.
But in order to attach this sculptural creation to the facade, invisible and secure anchors were essential. To achieve this, steel squares are anchored to the pavilion structure and welded to round calendered steel rods. Positioned on the back of the tiles, a special drill bit was used to produce the cylindrical hole and conical undercut in one step. This created the basis for the attachment of the undercut anchor—an anchor sleeve and a hex screw.
Upon inserting the screw, the anchor sleeve successfully settled into the undercut hole with a positive fit and free from stress. The various diameters of hole and undercut ensure a secure hold without loading the tile, thereby avoiding stress cracks.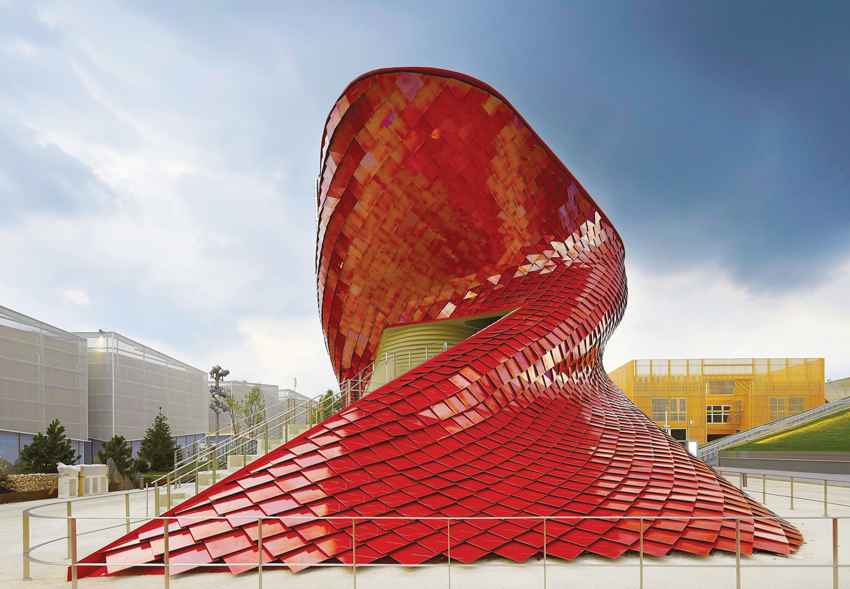 Photo courtesy of TILE EZE
For Daniel Libeskind's Vanke Pavilion exhibition designed for the 2015 Milan Expo, invisible structural anchors were used to attach more than 4,200 tiles made from clay, quartz and feldspar within the free-form metallic facade.
Originally published in Architectural Record
Notice