First Impressions
The latest in glass, aluminum, aluminum composite, structural steel, and wood present an extensive design palette of opportunity for building facade designers
Sponsored by Cladiators; CRL-U.S. Aluminum; EXTECH/Exterior Technologies, Inc.; Longboard® Products a Division of Mayne Coatings Corp.; New Millennium Building Systems; Prodema; TAMLYN; TILE EZE; and W&W Glass, LLC
The Beauty of Aluminum Trims
Another popular aluminum cladding choice is the application of extruded aluminum trims for assorted panel systems. Enhancing aesthetics and the creation of modern architectural lines, these trims are lightweight, durable, sustainable, noncombustible, easy to install, and available for both exterior and interior use.
Architects can choose from a wide variety of exterior detailing options, such as wide horizontal breaks, verticals that are accented or fade into a monolithic form, and corners that offer open reveals or closed sharp angles.
While galvanized trims frequently offer a lower first cost, aluminum delivers longer-term longevity and ultimately a better life-cycle cost, particularly when powder coated, anodized and/or primed, and ready-to-accept paint finishes are applied.
"Using extruded aluminum trim between panel joints becomes an architectural element and is a way of expressing the joints and defining their deliberate placement. It adds a level of architectural refinement," says Russell A. Hruska, AIA, principal and co-founder, Intexure Architects, Houston. "In our climate, stucco often requires additional oversight to be correctly executed. Aluminum trim, when used with fiber cement panels or lapped siding, is more cost effective than stucco and provides long-term durability while achieving our design aesthetic."
For example, Houston architect Val Glitsch, FAIA, selected extruded aluminum trim to create reveals in the panel and lap, inside and outside corner conditions, and between materials for the city's New Hope Housing project.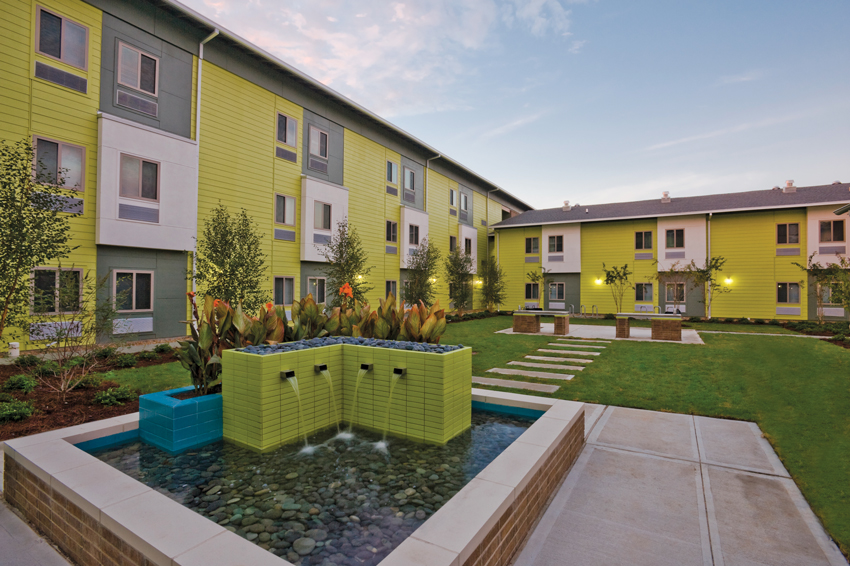 Photo courtesy of TAMLYN
Extruded aluminum trim creates reveals in the panel and lap, inside and outside corner conditions, and between materials at the New Hope Housing project in Houston.
Glitsch chose not to go with wood trim, as it is a bulkier product and for water infiltration purposes can only be used for vertical joints. The panels themselves are a mix of fiber cement panel and lap, stucco, and brick.
Sharing some project details, Glitsch states, "We could have had a metal shop make up the trim pieces, but that's not always a good way to get a quality, consistent, and cost-effective product. And the heavier-weight trim we used makes it easier to install the product properly.
Another recent example in the Lone Star State is Texan26, off-campus living for University of Texas students in Austin. For this project, in addition to the fiber cement panel and extruded aluminum used to create a reveal system, the building team added a drainable wrap to create a micro-rainscreen effect. The particular product chosen effectively maintains a 11/2-millimeter gap between the wrap's primary surface and the cladding material thanks to an integrated filament. As a result, the wrap can remove 96 percent of the moisture that accumulates on the facade.
The omni-directional wrap also offered the Texan26 contractors an easier installation process. Together with a double-sided tape, as opposed to typical seam tapes, this enabled the installers to maintain a positive shingle installation throughout, which is best practice preached by the building science community.
As a side note, the codes are starting to catch up with accumulating research and building science expertise, stressing the importance of a building's ability to effectively drain its walls in order to protect the integrity and performance of the building envelope. As a result, it is anticipated that housewraps will increasingly be judged by how effectively they provide positive drainage of water from the wall.
The Structural Steel Decking Option
Architectural metals, such as aluminum and aluminum composite, are a frequent choice for building facades because they are included in the Construction Specifications Institute's Division 7, which addresses thermal and moisture protection.
However, an often over-looked option, tucked away in CSI's Division 5 Metal Construction section, is exposed structural steel decking systems, which offer the distinct advantage of doubling as a structural system, thereby addressing form and function. By transferring load forces into the structure, this directly contributes to the building's integrity, thereby reducing the overall project cost.
Available in curved, smooth, ribbed, or lineal plank patterned to create attractive exteriors, the exposed design also supports spacious interiors. With the open plenum design, lighting, electrical, plumbing, and fire suppression can be readily integrated, and by taking advantage of coated and textured options, such as bold fluted and smooth lineal textures, longevity is enhanced. Acoustical treatments are also available to help absorb sound energy.
With all these benefits, architectural decking is increasingly used as ceiling and cladding solutions for stadium exteriors and roofs, natatorium ceilings, open-air walkways, screens, and canopies.
Putting this into practice, the architect Populous chose an exposed architectural steel deck for the Minnesota Twins' Target Field's exterior cladding system, breaking away from the application of high-end, high-cost architectural metal exteriors.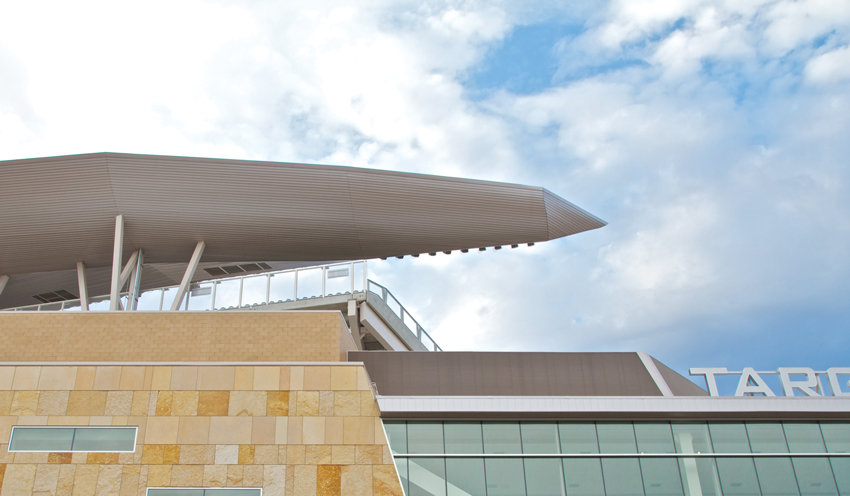 Photo courtesy of New Millennium Building Systems
Looking for an alternative to high-cost architectural metal exteriors, Populous specified exposed architectural steel deck for the new exterior cladding system at the Minnesota Twins' Target Field, capturing cost savings and adding to the canopy's structural integrity.
"Populous was looking for an alternative, lower-cost cladding system," recalls Marty Williams, design development manager, New Millennium Building Systems. "They were surprised to learn that an exposed structural steel deck system would address their aesthetic needs and more."
Ultimately, a 2-inch-deep, dovetail-shaped steel decking system not only optimized design and cost, but the system added to the structural integrity of the canopy.
The installation crew closely coordinated with the fabricator to provide detailed drawings and scaled structural models showing how the customized trim sections would integrate with the dovetail steel decking system. Installation was then efficiently directed with the steel decking arriving in staged deliveries. Deck sections spanning up to 15 feet were protected by a strippable film, enabling the installers to position, strip, and install each section without mars or scratches.
The trim pieces, brake formed by the installer, utilized the same steel coil as the decking. Furthermore, PVDF factory-finished, galvanized steel coil provided a 20-year protection rating to the finished system.
Ultimately, selecting a structural steel cladding system delivered key form and function benefits, an outcome derived from getting off of the Division 7 beaten path.
Originally published in Architectural Record
Notice