Extruded Aluminum Shines in Multifamily and Commercial Building Projects
Advances in extruded aluminum lead to design flexibility, lower costs and less lead times, pandemic solutions, and sustainability
Sponsored by TAMLYN
Extruded Aluminum Can Lend Itself to Healthier Buildings
The recent pandemic has led to a wider discussion in the fields of architecture and construction about how pathogens and people intersect in the built environment. This conversation has led to exciting ideas about current research and development that focuses on the way that building materials and construction can produce healthier spaces, both now and into the future.
In this section, we will look at the ways in which aluminum is easier to sanitize compared to other materials, and how anodized and powder-coated finishes often show lower pathogen collection. We also will list a few studies and new technologies that show potential for furthering public health, which is important when it comes to spaces where multiple families live and commercial buildings where a variety of workers share space for long periods of time.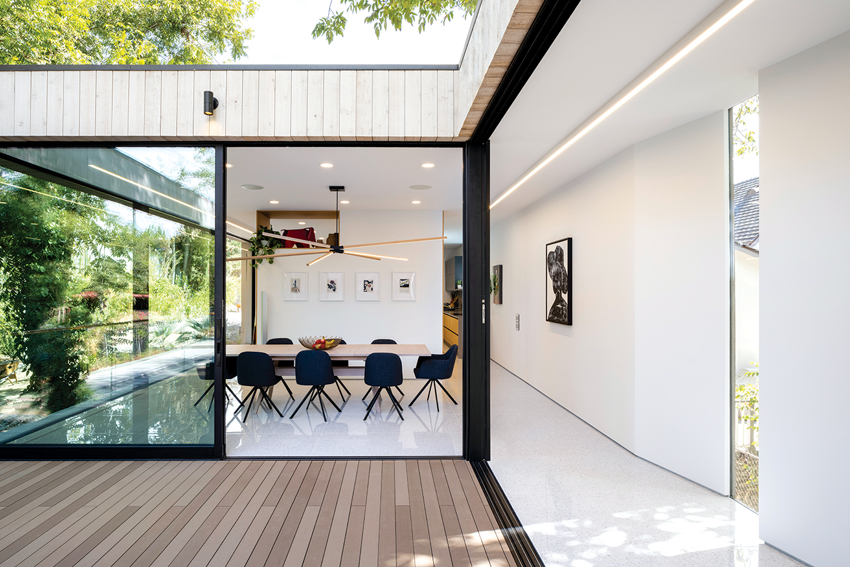 The recent pandemic has prompted more focused efforts to choose building materials such as extruded aluminum that can help mitigate the spread of viruses, bacteria, and infectious diseases in public and shared spaces.
Extruded Aluminum and Clean Surfaces
The recent pandemic has prompted more focused efforts to ensure clean surfaces. Even though COVID-19 now appears to spread through aerosol more so than on surfaces, considerations about how chosen building materials might impact the spread of viruses, bacteria, and infectious diseases in public and shared spaces has now become part of the larger conversation.
Regulated spaces such as hospitals and schools where viruses easily can pass from person to person likely will be looking for building solutions that provide an extra advantage in sanitation. Aluminum surfaces are easier to clean than many other surfaces because they are smooth, and their natural durability and corrosion-resistance allows them to endure long-term cleaning protocols. According to the Aluminum Association, soap and water, disinfectant wipes, and chemical solutions are all appropriate cleaning products to kill coronavirus on aluminum without damaging it or introducing other unhealthy culprits. The high thermal conductivity of aluminum makes it dry faster and therefore allows less time for bacteria to accumulate on the surface.
Low Pathogen Collection
In addition to its easy-to-clean surfaces, aluminum appears to inhibit the longevity of bacteria and viruses. This is because aluminum is inherently porous, creating microscopic pockets that can trap a virus and prevent it from transferring to other objects, including people's skin. Research continues to shed light on the topic, but in multiple studies, the porous aspect of aluminum has shown an advantage.
A major study by researchers at the University of Greifswald's Institute for Hygiene and Environmental Medicine in Greifswald, Germany, and the Ruhr University's Department of Molecular and Medical Virology in Bochum, Germany, compared coronavirus's ability to survive on various material surfaces. Two human strains of coronavirus were tested on several different types of surfaces. The results showed a virus survival time of only a few hours (2 to 8) on aluminum as opposed to multiple days (two to six) on other materials.
Anti-Pathogen Enhancement
New technologies in powder-coated and anodized finishes look promising for providing another layer of defense against pathogens. These finishing technologies can include additives that make the surface of aluminum even more inhospitable to bacteria and viruses. These antibacterial technologies still are being explored and require further scrutiny for how they impact humans and the environment, but the potential for pathogen-fighting finishes on surfaces such as aluminum that are already bacteria resistant seems to be on the horizon.
General Health
Beyond aluminum's potential for safer surfaces, the material itself poses no health or physical hazards. It is fire resistant and noncombustible, and even at extremely high temperatures does not produce toxic fumes. According to the Occupational Safety and Health Administration (OSHA), aluminum products are safe enough to be classified as "articles," which means they do not require published safety data sheets.
Expanded Finish Capabilities
When it comes to extruded aluminum, architects and designers have the luxury of an extensive array of choices for finishes and polishes. Extruded aluminum already has been fortified by the extrusion process itself in which an oxide film is formed that prevents corrosion. However, for aesthetic enhancement, extruded aluminum products can be finished with liquid paint or powder coating, anodization, or a mechanical finishing process, such as brushing or sand blasting.
As discussed earlier, the ability to find flexible and aesthetically rich designs for multifamily residences and commercial properties has become an important quality for builders. This section will outline the possibilities for extruded aluminum finishes, focusing on some of the more recently expanded capabilities of finish technology.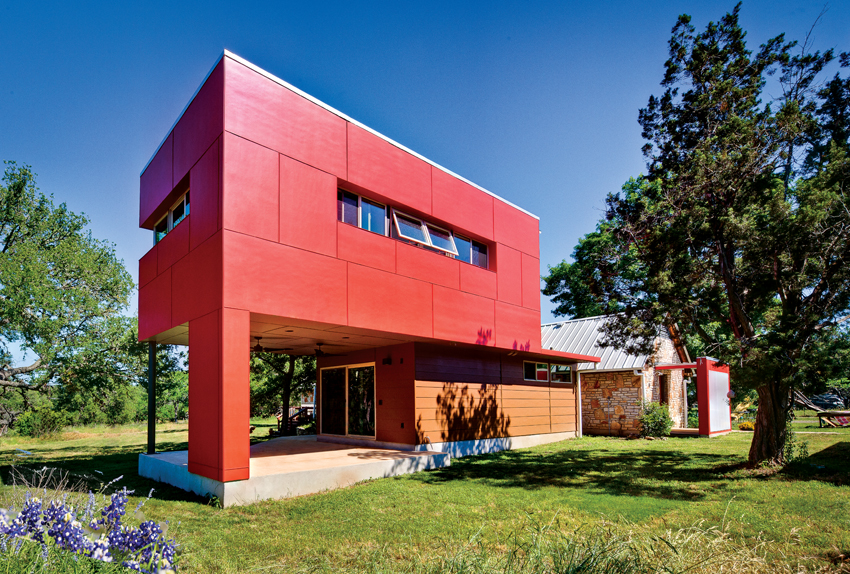 Powder-coated finish is popular not only because it is extremely high quality but also because it has a virtually limitless range of beautiful colors.
Color Design in Powder Coating
Aluminum products are available in a variety of finishes, including ready-to-paint finishes for custom color matching using liquid paints, such as acrylics, alkyds, polyester, and others, or powder coatings. They are also available in clear and colored-anodized finishes.
One of the more popular finishing options for extruded aluminum is a powder-coated finish. In fact, more than 15 percent of the total industrial finishing market uses powder-coated finishes. The finish is popular not only because it is extremely high quality but also because it has a virtually limitless range of beautiful colors.
Part of powder coating's popularity stems from how it is produced and the resiliency of the final product. These coatings are based on polymer resin systems blended with curatives, pigments, leveling agents, flow modifiers, and other additives. The ingredients are melt mixed, cooled, and then ground into a powder. Once the powder is formed, it is applied to the aluminum substrate in a process known as electrostatic spray deposition (ESD). After the powder is applied, the substrate is heat cured; during this process, the coating chemically reacts to produce long molecular chains that are very strong and do not break down easily. This coating is much more durable than liquid paints. Where liquid paints are prone to eventual diminished quality from exposure to moisture, harsh weather, chemicals, and ultraviolet light, powder-coated aluminum is much stronger. As a more durable finish, powder coating resists scratches, chipping, corrosion, fading, and other wear issues that are known to negatively impact liquid-painted surfaces.
An advantage of powder coating is that its colors can be predictable and consistent. High-quality powder is a key factor in keeping batches consistent, and better ingredients result in closer color matches and generally better aesthetics.
AAMA 2604 powder coatings are formulated with super durable or modified polyester resins. This finish provides good color and gloss retention for approximately five years of exposure. AAMA 2605 is the high-performance exterior specification. These finishes are resistant to moisture, weathering, ozone, and ultraviolet radiation.
It is not just about the powder quality. Application processing and equipment also play a role in the consistency and vibrancy of powder-coated products. Processing a full job on the same coating line without much interruption is key to consistency, and this is an advantage of in-house powder-coating operations.
Recent advances in powder-coated finishes allow companies to provide a variety of looks beyond pure color. For instance, there are new powder coatings for matte and chrome finishes that provide exciting design elements to all major siding colors.
Liquid Paint
Liquid paint is one of the more popular finishes for extruded aluminum products because of the vast array of available colors. In fact, it tends to offer more colors than other finishing processes because the paint can be mixed as an artist mixes colors on a palette, making options nearly endless. Besides the variety of color, liquid paint finishes are available in a wide array of paint types, including acrylics, polyesters, silicone polyesters, and PVDF.
Liquid paint also does not require large-batch production. The ease in which you can find the color you need makes it easy to match whatever you are looking for.
There are a few drawbacks to liquid paint compared to powder coating. Liquid paint contains solvents with volatile organic compounds (VOCs) that are harmful to humans and not good for the environment. Because they are harmful in the application process, manufacturers must use abatement systems to use liquid paint, and this drives up the cost for the product. In comparison to powder coating, liquid paint is sometimes slightly more wasteful because any oversprayed paint cannot be reused. Finally, though they offer more color options than powder coating, liquid paint finishes can vary in appearance because of day-to-day variations in process, equipment, and general conditions.
Originally published in Architectural Record
Originally published in May 2021
Notice