Extruded Aluminum Shines in Multifamily and Commercial Building Projects
Advances in extruded aluminum lead to design flexibility, lower costs and less lead times, pandemic solutions, and sustainability
Sponsored by TAMLYN
Learning Objectives:
Describe the ways in which extruded aluminum is a versatile material that can be used in multiple products for multifamily and commercial projects.
Explain how extruded aluminum can lend itself to healthier buildings.
Review the expansive finish options and aesthetic capabilities for extruded aluminum.
Discuss how incorporating extruded aluminum into multifamily and commercial projects is a sustainable solution.
Credits:
This course can be self-reported to the AIBC, as per their CE Guidelines.
This course is approved as a Structured Course
This course can be self-reported to the AANB, as per their CE Guidelines
Approved for structured learning
Approved for Core Learning
This course can be self-reported to the NLAA
Course may qualify for Learning Hours with NWTAA
Course eligible for OAA Learning Hours
This course is approved as a core course
This course can be self-reported for Learning Units to the Architectural Institute of British Columbia
Extruded aluminum is unlike many other building materials because it does not need to fit standard profiles. It can be shaped to fit the design and structural needs of a given project, and this flexibility is beneficial for multifamily and commercial properties. The popular material provides high-quality practical shapes, forms, and profiles that have the appearance of fine metal craft and can be easily integrated into other surfaces for significantly less than custom metal work. Its clean appearance works well with modern designs.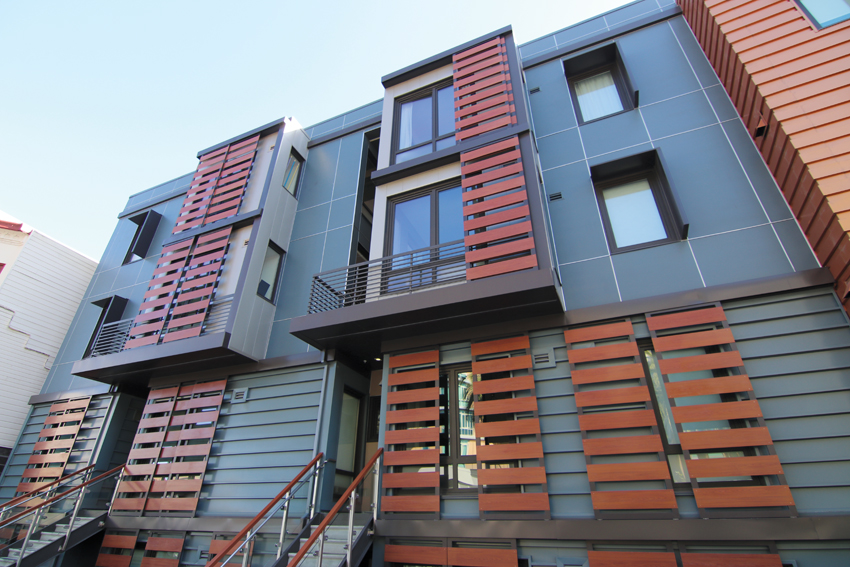 All photos courtesy of Tamlyn
Aluminum lasts a long time before it needs to be replaced, and its lightweight quality and ability to be recycled make it an ideal green building material.
This section of the course will focus on the flexible design elements of aluminum, and why it is a good material for multifamily and commercial properties. It will discuss the design preferences of groups such as Baby Boomers and Millennials who often occupy multifamily residences, as well as the material's beneficial physical properties.
Modern Design Aesthetics in Multifamily Residential Properties
Before we go any deeper into the flexible characteristics of aluminum, it helps to get a better sense of how design trends have changed recently, with two key demographics moving into the multifamily residential market.
Baby Boomers and Millennials have had an impressive impact on multifamily residential properties, not only in terms of the features and amenities but also in the meaning of the space. Apartments and condominiums are no longer just places to live, but rather they reflect—and sometimes provide—aspects of the occupants' lifestyles. For example, new building projects may incorporate ways to promote community through shared indoor or outdoor spaces. And building occupants value their individual residential units as a way to highlight their unique style. Many developers are taking on a "resident-first" tactic to project design, and this approach includes elements of new modern design aesthetics.
One trend that lends itself well to extruded aluminum is mixed-material design. Millennials in particular tend to be happy to mix older, more rustic materials with sleek, modern styles. Aluminum is versatile enough that it can accomplish either look: a clear anodized finish, for example, can keep the natural metal look, while a custom-color powder coating can add a splash of color into a space of plain drywall.
Also worth considering is dwelling size. Baby Boomers are in a downsizing stage of life while Millennials tend to be minimalists, so both demographics benefit from creative techniques that can fit added design features into the structure of a space. Walls that look like they are floating or with deliberate shadow lines built in, for example, can add a unique look to a small apartment or condominium unit. This attention to detail makes a multifamily project stand out from other buildings and may help draw tenants. As we will see, the variety of aluminum profiles and finishes can play an important role in a design, while also keeping projects within a fixed income or renter budget.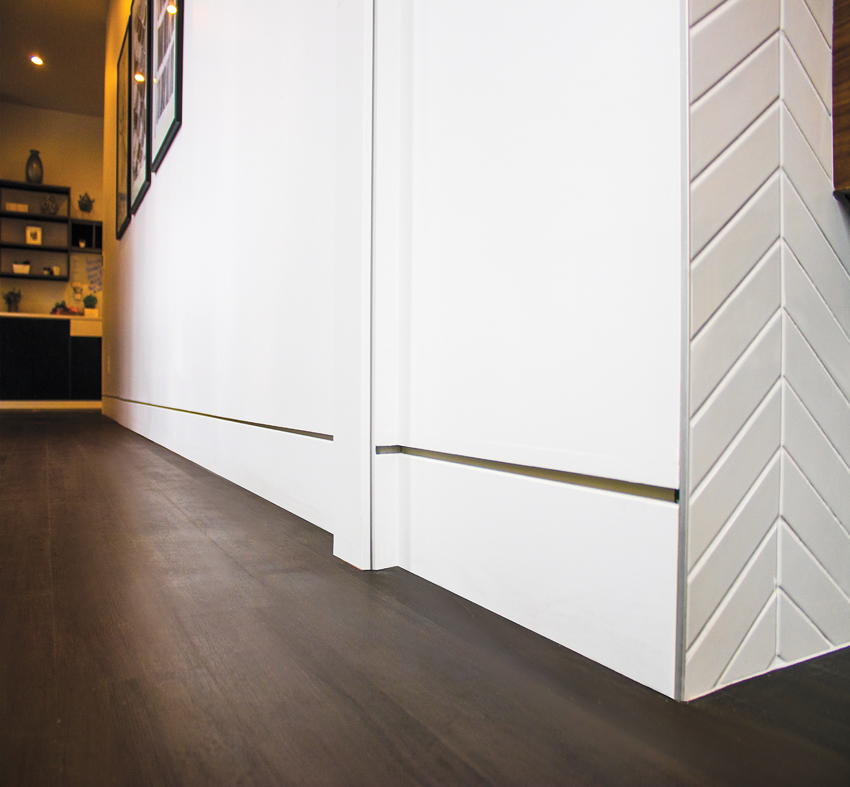 When used for interior architectural purposes, aluminum trim can withstand daily use and long-term wear and tear better than most other materials.
What Is Extruded Aluminum?
Aluminum is the most abundant metal in the earth's crust. It is always found as a compound and often with bauxite ore, which contains around 30–60 percent aluminum oxide (known as alumina). Aluminum can be extracted from the bauxite and then smelted to form the aluminum metal that most people know. Because it is lightweight and durable, works in alloys, and is readily available through new extractions and recycled materials, aluminum is widely used in the transportation, packaging, and construction industries. It resists corrosion and is tolerant of high temperatures, making it ideal for commercial aircraft. It also is nontoxic and has low reactivity to light, water, and oxygen, which is ideal for food packaging as well as construction purposes—from windows and roofing to structural frames, gutters, and external and interior trim.
To get these versatile products, alumina first must undergo smelting and alloying. During this process, solid billets of cast metal are created, and these are later extruded through specialized forms to create the finished product. Following the extrusion process, the material is finished with anodizing or painting. The finishing process provides a range of colors, textures, and brightness to the aluminum.
Most extruded shapes used for architectural purposes are made from Type 6063-T5 aluminum. This aluminum alloy made with magnesium and silicon is commonly referred to as the "architectural alloy." It has a very smooth surface that is well suited for anodizing applications. The T5 designation indicates that it has been artificially aged and moderately heat treated for strength.
Characteristics of Extruded Aluminum
Extruded aluminum is frequently referred to as the "miracle metal" because it has such an extensive list of favorable properties. These properties make it ideal not only for transportation uses such as commercial aircraft and trucking or food packaging but also for many different applications in the building industry.
Aluminum's physical properties and characteristics are at the core of its versatility. As a material, it is strong, durable, and resilient—all while being lightweight. Where some materials are damaged on impact, aluminum can spring back (or be pushed back) to its original form. And unlike other metals, it does not rust, thanks to its own naturally occurring oxide film.
When used for interior architectural purposes, aluminum trim can withstand daily use and long-term wear and tear better than most other materials, which makes it a great option for multifamily residential projects. For example, it is tough enough to protect corners and bases, but unlike trim made from either PVC or wood, it will not deteriorate, warp, or be prone to insect damage. Extruded aluminum trim is also lightweight and very easy to install, and these features alone can be a great time and money saver during construction.
Aluminum ranks high in health and safety benefits, which we will cover in a later section. It also is strong in terms of sustainability (see Extruded Aluminum as a Green Solution sidebar). Given its physical characteristics, health and safety benefits, and overall sustainability, it is nice to know that aluminum is aesthetically versatile in terms of the forms and shapes that can be created, as well as the finishes and polishes. Extruded aluminum can be made into highly detailed designs and unique shapes that can be finished in a wide variety of textures, colors, and polishes. This versatility means that designers working on interiors easily can match the finishes of doors, windows, frames, and other interior features to create a unified interior design theme.
Originally published in Architectural Record
Originally published in May 2021
Notice