Fabric components in sustainable architecture design
Sponsored by Sunbrella®
Learning Objectives:
Discuss innovations and futuristic objectives for using shade structures constructed with fabric in commercial architecture.
Explain how shade structures made of fabric can add both appealing design and functionality to building structures.
Define the benefits of shade structures for personal health and UV protection.
Discuss how the use of textiles in shade structures can positively impact thermal performance and energy efficiency.
List LEED credits to which awnings and solar shades can contribute directly.
Credits:
This test is no longer available for credit
Shade is arguably one of the vital elements in modern life, though not something that typically takes center stage in the design dialogue. Until recently, fabric shade structures were an appendage to a building, an afterthought, an accessory.
Increasingly though, shade structures begin the design conversation. This is particularly so in commercial buildings, those in sunny climates, those which will inhabit a warming planet (this one), and by architects looking for new ways to create built environments in harmony with nature's forces. The future includes a conscious intention toward shade structures.
"I think architects are interested in the future of shade because it's a natural phenomenon that we can control. It's predictable," says Marc Kushner, a practicing architect with Hollwich Kushner (HWKN) in Manhattan and CEO of Architizer. "And in a world where a lot of nature is becoming increasingly unpredictable, the sun follows the same path year after year, day after day. And we can respond to that and start to sculpt that to create the right environments."
What Is the Future of Shade?
In a globally announced design competition called the "Future of Shade," architects were asked to submit innovative ideas for using fabric in shade designs. Of the more than 140 entries submitted on the Architizer platform, three judges selected three standout concepts and a number of notable designs. The winners all reflected what the judges saw as the intersection between stylish design and benefits for humankind.
Fred Bernstein, an architecture writer and critic and one of the judges, says of a project: "It's much more than just beauty. It's beautiful in the way it looks, but it's also beautiful in the way it behaves, in the way it helps people's lives."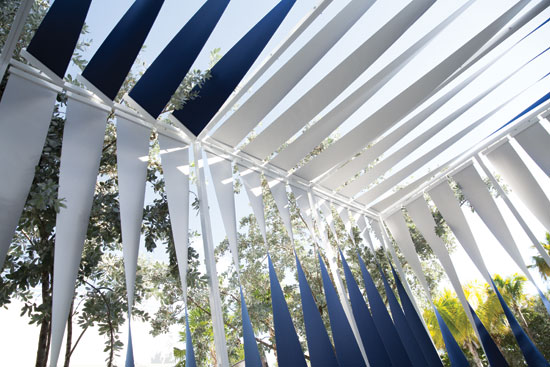 Photo courtesy of Sunbrella
"Twisty," an innovative and flexible shading system, won a 2013 competition on the future of shade. An installation of Twisty was brought to life at The James Royal Palm in Miami Beach.
Submissions included shade concepts from small shade structures for bus stops and bridges, to massive installations for train stations and beaches, and designs with multiple purposes: shade and water collection, art installation, and protection from the elements.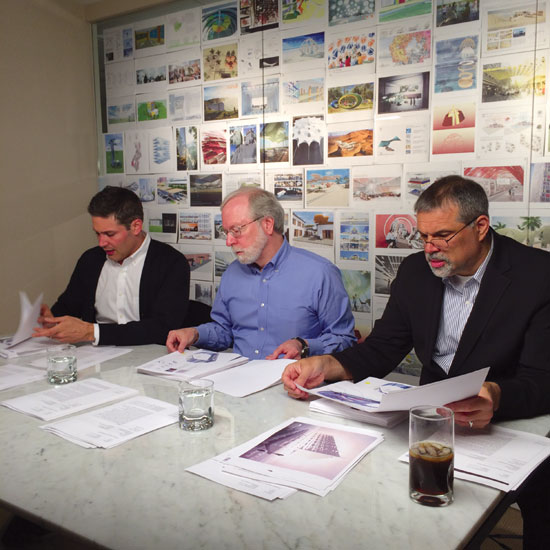 Photo courtesy of Sunbrella
The three judges for a recent design competition on the future of shade were, from left, Marc Kushner, practicing architect and CEO of Architizer; Scott Campbell, president of Rainier Industries, and architectural writer and critic Fred Bernstein.
"I love seeing architects and designers connect with a topic like shade and push themselves to come up with new designs and solutions for shade," says Kushner.
For Kushner, the most important criteria was innovation: "How can we take this topic of protection from the sun and explore it, expand it and see what the potential of the built environment in shade is? I was also looking at other topics as we were judging. I was interested in how the softness of the materials could be exploited by architects and designers."
The third judge for the competition was Scott Campbell, president of Rainier Industries, whose experience leaned toward the practicality of manufacturing potential winning entries.
"The winning entries all have an element of simplicity," Campbell notes. "Even though they may have looked complex, they were easy to fabricate, or to be fabricated. Some of them required a little more engineering and weren't fully fleshed out, but all of them had a core simplicity that made them eminently practical."
And for Bernstein as well, innovation was the key winning element.
"I was looking for something much more architectural, something that used shading fabric in a novel way, in a way we hadn't seen before, in a way that curves, maybe twists, that really creates architecture, that enhances some of the trends I'm seeing in contemporary architecture, but using fabric rather than hard materials."
Originally published in Architectural Record
Originally published in November 2014
Notice