Sustainable Buildings on Demand
Originally engineered to solve the problems of relocatable or temporary shelter, tensioned membrane structures are now a sustainable choice for permanent, habitable structures, providing fast, energy-efficient and affordable building solutions.
Sponsored by Sprung Instant Structures, Inc.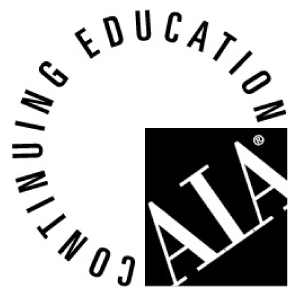 Continuing Education
Learning Objectives - After this course, you should be able to:
Identify and design the components of a permanent, habitable tensioned membrane structure.
Review the sustainability engineered into these monolithic structures including energy efficiency, daylighting, and fire safety.
Integrate components such as windows, doors, lobbies, and interior partitions within a self-supporting framed structure all within a system that is designed for the maximum reduction of construction waste and transportation costs.
Discuss the flexibility, cost-effectiveness, and durability of these structures.
Credits:
Tensioned membrane buildings provide an opportunity for a new sustainable design approach for any building program that requires column-free and open-span floor plates. New tensioned membrane buildings are sited in deserts as well as snow-covered mountains with segmented grace. These buildings can provide instant, cost-effective alternatives to conventional construction, for facilities that range from dormitories, churches, and offices, to gymnasiums. Tensioned membrane structures have been around since the 1960s, often used by the military. When oil and gas companies required shelters for both arctic and desert climates that could be easily transported across the world, engineers developed an energy-efficient portable building system.
Their solution has been refined and developed into a new building type-permanent, habitable tensioned membrane structures. These buildings can be erected quickly and cost-effectively, maintaining similar performance and aesthetic values to conventional structures, but with a lower cost basis of thirty-five to fifty percent. Architects who have worked with these forms can attest to the difference and quality of these durable, affordable, flexible and energy-efficient buildings.
This course will review the aesthetics and attributes of tensioned membrane buildings and provide information on how they can fit into a sustainable design portfolio in any climate, delivering energy efficiency and durability for clients who need affordable and immediate building solutions with an optional insulation package.
In the introduction to the Whole Building Design Guide , a program of the National Institute of Building Sciences, Richard Rush is quoted as defining an integrated building system by only four systems: structure, envelope, mechanical and interior. "The envelope has to respond both to natural forces and human values. The natural forces include rain, snow, wind and sun. Human concerns include safety, security, and task success. The envelope provides protection by enclosure and by balancing internal and external environmental forces. To achieve protection it allows for careful control of penetrations. A symbol of the envelope might be a large bubble that would keep the weather out and the interior climate in."1 Tensioned membrane structures provide many environmental, as well as aesthetic, advantages in an integrated building system.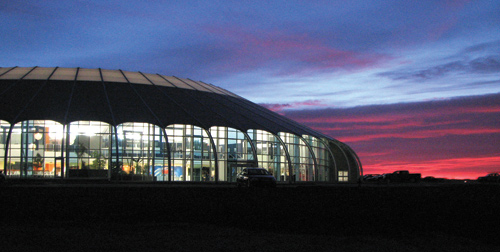 Illuminated, permanent and habitable, this structure is an example of a tensioned membrane building at sunrise.
Photo: Sprung Instant Structures, Inc.
Originally published in Architectural Record
Notice