Revolutionary, Permanent Tensioned Membrane Aluminum Frame Supported Structures
Unique tensioned membrane aluminum frame supported structures are a permanent solution for architects seeking rapid, cost-effective construction, sustainability, and energy efficiency
Sponsored by Sprung Instant Structures, Inc.
This test is no longer available for credit
View of the Rockies
Completed in 2007, one of the factories of this membrane manufacturer is located on 100 acres in Alberta, Canada. This 150,000-square-foot fully insulated tensioned membrane aluminum frame supported structure includes two manufacturing wings and office space. The building is fully insulated with R-30 formaldehyde-free insulation. Translucent panels are set into the peak of the architectural membrane.
The center core of the facility includes a 30-foot-high glazing wall that provides breathtaking views of the Rocky Mountains. The facility includes a restaurant, gymnasium, indoor gardens, lounge, athletic center, and corporate offices. The two wings of the structure house state-of-the-art manufacturing facilities for aluminum and membrane fabrication. The open plan of this office complex provides views through the building. Most employees have direct access to natural daylight, and high translucent skylights provide additional natural light. This facility feels as though one is working in a large botanical conservatory with high-end atmospheric and environmental controls.
The building is open and welcoming. An arcade of aluminum arches that surrounds the membrane allows for large windows. The two-story core of the building provides additional offices, meeting rooms, and balconies that overlook the gardens and first floor offices and lobbies. The campus also includes a new greenhouse that grows up to 17,000 plants 365 days a year for employees and local restaurants. The temperatures in Alberta, Canada, can range from 35 degrees Celsius (95 degrees Fahrenheit) in the summer to a frigid -40 degrees Celsius (-40 degrees Fahrenheit) in winter. The buildings are energy efficient and meet high-performance standards as well as environmental standards for the comfort of its occupants.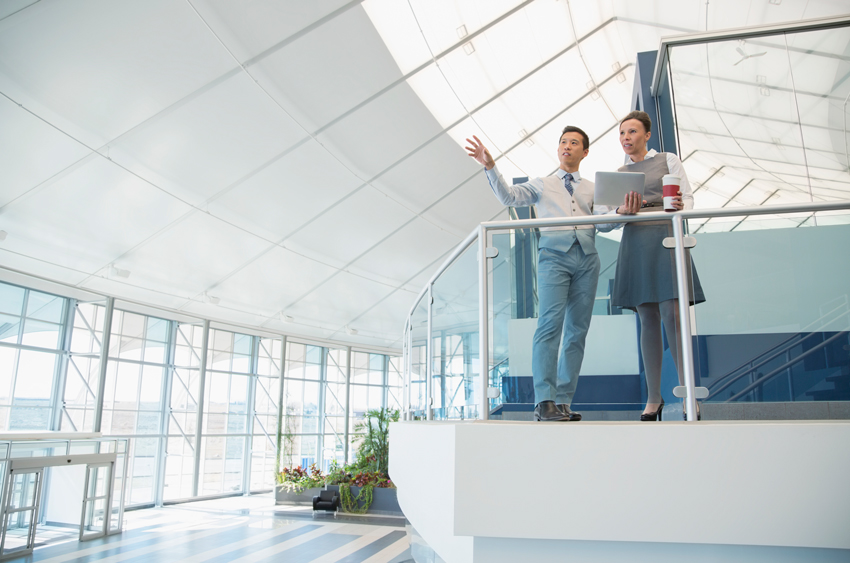 Photo courtesy of Sprung Instant Structures, Inc.
Shown is the garden interior of the membrane manufacturer's Canadian headquarters.
Aesthetic Revolution
Tensioned membrane aluminum frame supported structures are part of a 21st century aesthetic and engineering revolution. There are many designers challenging the norms of construction and working with engineers to find new sustainable solutions to modern-day problems. Breakthroughs in prefabrication, material science, and engineering are creating new building types with high-performance energy ratings.
The uses range from high-end office buildings to manufacturing. Portable, affordable, and permanent membrane structures are being used to support disaster assistance and homeless shelters throughout the world. As Musk discovered, tensioned membrane aluminum frame supported structures can provide the same functions as traditional buildings at a lower cost and faster construction time.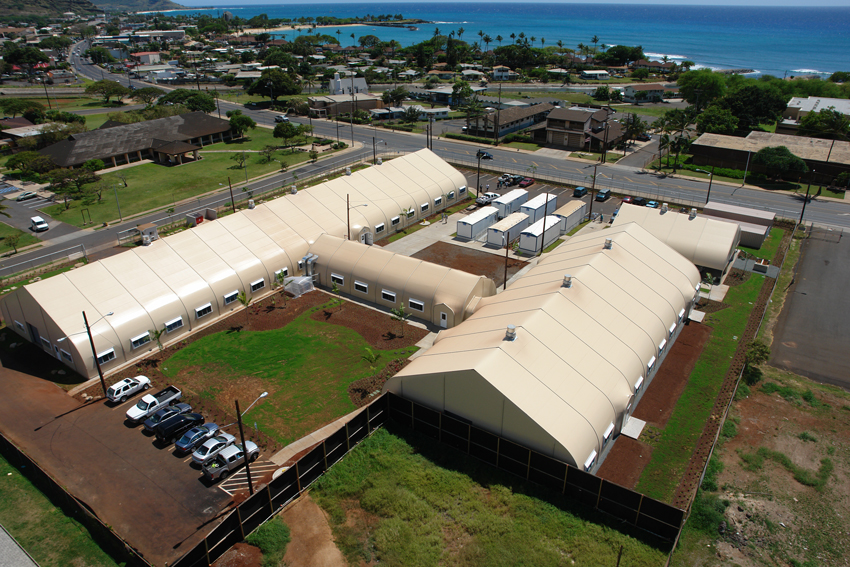 Photo courtesy of Sprung Instant Structures, Inc.
The 234,000-square-foot Leeward Coast Homeless Shelter in Hawaii is composed of four buildings quickly constructed to meet a growing population.
These buildings provide expansive natural light both as part of a window or skylight system but also by providing an overall translucent light throughout the structure that maximizes occupant well-being. They provide a superior building enclosure that's airtight and energy efficient. They are modular and can be deconstructed for relocation. They can provide large, open clear-span spaces used in facilities such as pools, gymnasiums, hockey rinks, aviation sheds, and even manufacturing plants. A structure up to 160 feet wide where appropriate soil conditions exist can be built on an existing parking lot. They are affordable and can be leased, or purchased.
Membrane supported aluminum structures are a sustainable alternative to traditional construction for the future. As Musk points out while discussing the new TESLA plant: "If conventional thinking makes your mission impossible, then unconventional thinking is necessary."
End Notes
1Design for Modular Construction: Modular Construction. National Institute of Building Sciences. The American Institute of Architects. Web. 2 April 2019.
2Boudette, Neal E. "Inside Tesla's Audacious Push to Reinvent the Way Cars Are Made." The New York Times. 30 June 2018. Web. 2 April 2019.
3Lesley Stahl. Tesla CEO Elon Musk: The 60 Minutes Interview. CBS News. 9 Dec. 2018. Web. 2 April 2019.
4The South Carolina Code of Laws Unannotated. Title 48 – Environmental Protection and Conservation. South Carolina Legislature. Web. 2 April 2019.
Celeste Allen Novak, FAIA, LEED AP, is a Michigan architect, author, and advocate for sustainability and universal design. www.linkedin.com/in/celestenovak
| | |
| --- | --- |
| | Sprung is the world leader in the design and manufacture of engineered frame supported tension membrane structures. Significant advantages over conventional construction include speed to market, energy efficiency, long term flexibility and lower overall project costs. |
Originally published in Architectural Record
Originally published in June 2019
Notice