Interior glass partitions: solving the open versus private workstation dilemma
Sponsored by Space Plus, a division of The Sliding Door Company
This test is no longer available for credit
Acoustics
Acoustics, in fact, has been touted as one of the bigger concerns impacting well-being and productivity in offices.
Toward this end, one of the most often-referenced studies, "Disruption of office-related tasks by speech and office noise," published by the British Journal of Psychology, revealed a compelling 66 percent drop in worker productivity when employees could overhear conversations. In a follow-up Ergonomics journal study by the same group of British professors, 99 percent of those surveyed identified office noise, such as ringing phones and background speech, as impairing their concentration.
From the outset, for projects involving glass enclosures, designers need to work with owners to determine the acoustics required by the space. Once a Sound Transmission Class (STC) rating is selected, specifiers can then choose between single-glazed and double-glazed units or different ranges of glass thickness to achieve desired sound dampening.
However, Scott Colson, associate principal, HGA, San Jose, points out that STC ratings and decibel levels are quite abstract for end-users, so designers should communicate in easily understood terms based upon an expected result. "It's important to keep in mind that achieving desired sound levels may include a whole system of considerations—door seals, appropriate floor, wall, and ceiling materials," he says. "Openings in any of these surfaces will also create leaks that effect sound performance, such as HVAC ducting and wire penetrations."
That said, Hai-Ami points out that the glass, even heavy glass, is not capable of serving as a proper soundproofing product. "They will, however, muffle the sound and offer some sound reduction," she says. "The main function for areas that require privacy is to restrict foot traffic and offer visual privacy."
For a sound proofing boost, Bernard recommends a tunable, zoned, high-quality sound masking system.
Ultimately, for more complex projects, and for testing acoustic levels once the wall, ceiling, and floor assemblies are in place, a licensed acoustician is the best way to go.
"The individual STC ratings of each assembly might be one thing in a lab, but they generally do not have the same rating once put in place and are typically lower," states Antoinette Ayres, lead interior designer, EYP Architecture & Engineering, Washington, D.C.
Accessibility
Yet another important aspect of specifying interior glass enclosures is ADA accessibility, as Brett states, "I would never specify a sliding glass door system that does not meet or exceed ADA standards."
Of course, the main issue here is ensuring that the doors can be easily opened and closed, so the weight, handles, and gliding mechanisms are critical factors. Fortunately, the "actuating weight" for most sliding doors is less than five pounds of force required to move the door, and this meets ADA requirements.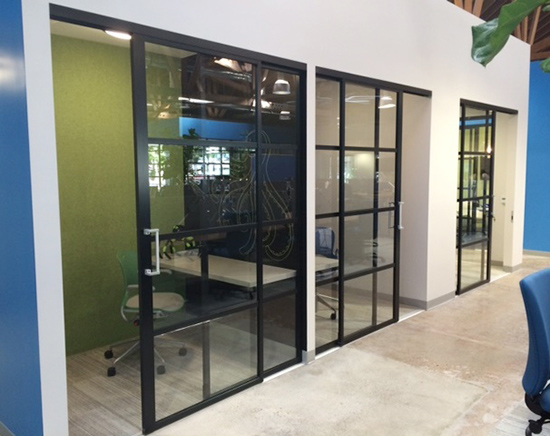 Workspace nook with ADA-compliant extended handle, these sliding glass doors are ideal for workers requiring a quiet, heads-down space or a private zone for small meetings.
"Providing locking systems in sliding door spaces, however, has been more challenging," says Kate Levine, project architect, HGA, Minneapolis, Minnesota. "Manufacturers that have a single-action locking device that meet ADA requirements are not always easy to find, but more products are starting to hit the market that allow us to provide sliding doors that are both lock and accessible."
Because state and local accessibility regulations can vary across different jurisdictions, it's important for designers to check in with the appropriate Authorities Having Jurisdiction to specifically determine what levels are required.
Another best-practice accessibility issue related to glass pertains to individuals with a visual disability or even those looking up from their mobile phone and not realizing they're about to walk into a glass door.
"It is best practice for designers to give users some indication that glass is present," advises Levine. "Generally, this means using a window film in the form of dots, patterns, or text signage at eye level. This visual indicator should not only be on the door, but also on any adjacent glass panels."
The Glass Advantage
In addition to all the aforementioned benefits of interior glass systems, the glass itself offers a number of benefits to building occupants as well.
Listing off a few, Hai-Ami relates:
Glass is perfect for green construction projects and is fully recyclable.
Glass keeps its shape and will never shrink, expand, or swell like other materials, such as wood.
There are no biotic elements that can cause mold or decay, and it does not attract insects or termites.
Glass is virtually maintenance free.
Adding a few more to the list, Chris Molivadas, managing director, project development and services, mid-Atlantic region, Jones Lang LaSalle, Washington, D.C., points out that glass is aesthetically appealing, delivering a sleek, professional look; the added daylight helps reduce artificial lighting and associated energy costs; and when used as enclosures, they eliminate the need for regular re-painting, as is the case with solid partitions.
Addressing the nuts and bolts of glass, as compared to construction with other materials, EYP's Ayres explains that deck-to-deck high construction adds cost and time, and can limit space flexibility and mechanical systems by creating several individual zones that require coordinating both supply and return air pathways above the finished ceiling. Furthermore, drywall has to be cut around ductwork, electrical, plumbing, and fire suppression systems.
On the contrary, with glass partitions, ceiling grid height walls are less expensive, quicker to build out, and may be reconfigured without wholesale demolition of the ceilings and floors. "This construction strategy is generally less invasive to the building's systems and the tenancy over the life of the building, as finished ceilings and finished floors can remain intact," she explains. "Supply and return mechanical systems may be more easily adapted to support changing space programs and environmental loads."
Sole-Source Providers
One last point that could make a difference in the quality and performance of interior glass products is going with a sole-source, factory-to-field fabricator.
"A sole-source factory will typically provide better quality, durability, and most importantly, fit and finish—essentially the best value in the long run," states Roney. "These types of systems can be more costly than a field fabricator, but if the project is large enough or repetitive, the costs are very comparable to field fabrication."
Agreeing that consistency with finishes and hardware is a big advantage, Sylvia Situ, CID, LEED AP BD+C, project designer, LPA, Irvine, Calif., explains that this leverages better control of the final design and a much more streamlined process.
Meanwhile, Molivadas suggests that the biggest benefit of such a sole provider is that one party is responsible for everything, and if there are any issues with field measuring, fabrication, delivery, unpacking, or installation, the architect has one address to call.
"When system integration and installation is the responsibility of one manufacturer and their install team, you can ideally eliminate change orders, misfit parts, schedule delays, and quality concerns," adds Bernard.
Furthermore, the manufacturer's installation team often has very in-depth product knowledge, and can anticipate and correct issues that may arise in the field.
And finally, lead times tend to be shorter—two to three weeks for standard items, and 10 weeks for custom products.
LIGHT FOR ALL
In summary, many of today's workplaces are struggling with a desire for open planning strategies to optimally encourage collaborative dialogue, brainstorming, and the exchange of ideas. However, employees would prefer this doesn't come at the expense of access to quiet zones, free of noise and distractions.
As has been established, a great way to strike that balance between open collaboration and private, heads-down work is interior glass partitions.
"More glass means more natural light filtering through the workplace," adds Stringer, "which is perceived as a more equitable solution than only allowing people next to the window have natural light access."
"But perhaps one of the greatest advantages of interior glass partitions," concludes Molivadas, "is they allow people to see one another, which increases the energy in a space and in turn increases productivity. It is similar to going to a gym to work out versus working-out by yourself at home. If you see others working-out, you are more likely to do the same."
Space Plus, a division of The Sliding Door Company
Space Plus, a division of The Sliding Door Co., offers transformative work spaces from our own factory including sliding dividers, partitions, pocket doors, swing doors, stationary walls, loft dividers & closet doors. Products are recyclable, durable & thoughtfully designed with functionality in mind. www.spaceplus.com/
Originally published in Architectural Record
Notice