Interior glass partitions: solving the open versus private workstation dilemma
Sponsored by Space Plus, a division of The Sliding Door Company
This test is no longer available for credit
Impacting the Bottom Line
For coworking facilities and other office rentals, flexible workspaces, such as those afforded by interior glass dividers, also go a long way toward making units more appealing to renters, thereby driving down vacancies and improving retention.
"Commercial property owners used to be faced with having individual offices with closed doors and limited functionality, as spaces could not be opened up or changed," explains Hai-Ami. "If the office space was vacant, the property owner picked up the tab. Now, with more flexible workspaces created by using interior glass door solutions with sliders, fixed panels, and swing doors, a space planner can design work areas that can be utilized more hours during the day as shared space."
For example, by eliminating assigned seating, Cisco figured out that it could comfortably fit 140 employees in place of 88, based upon the fact that a good two-thirds of workers are typically out of the office on a given day. The upshot is a 37 percent reduction in real estate costs.
"We have seen our clients able to reduce the square footage, per employee, significantly with glass wall solutions," agrees Bernard. "Individual workstations still feel open, and total rentable space can be decreased or reapportioned to team spaces."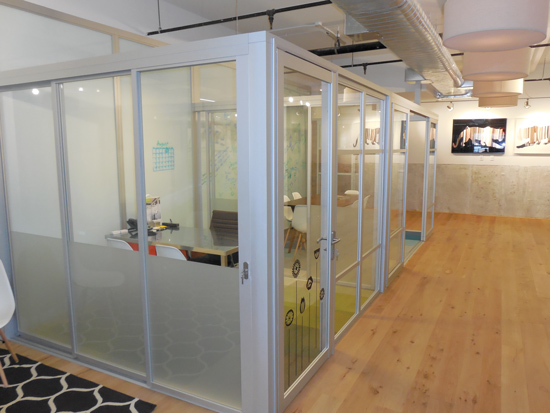 With an open air space in between the glass enclosures and ceiling, the lighting and HVAC systems are shared, offering cost savings to property managers.
Putting this into play, Hai-Ami reached out to a nearby commercial real estate company that was suffering from numbers of eye-sore vacancies in a few local strip malls. Unfortunately, the vacancies were lending an undesirable look to the neighborhood, and businesses were hesitant to lease in those locations.
Hai-Ami's suggestion entailed dividing up the spaces, with the assistance of interior glass door systems, and shifting some or even all of the capital costs into tenant improvement funds. Such a win-win solution gets rid of the vacancies, spaces can be filled, the neighborhood benefits, and the new renters can enjoy their renovated, daylit surroundings in the configuration that best suits their business.
In Brett's experience, working with owners to incorporate interior glass solutions, she found that the property became more valuable via the flexibility it afforded to prospective tenants, the ability to showcase the original building character, and an enhanced return on investment via the "wow factor" created by the sleek, daylit glass.
And because many interior glass solutions can easily be re-located—unlike drywall partitions, which required framing, new drywall, finishing, and painting—moves, adds, and changes can be more easily accommodated with lower construction costs. In some cases, it might even be possible to categorize these systems as furniture, due to their flexible nature, which then allows certain tax write-offs based on depreciation of value, explains Catherine Heath, AIA, IIDA, LEED AP ID+C, managing principal, HYL Architecture, Washington, D.C.
With some products, owners also have the option of taking their panels to a new location, if so desired, as long as new tracks and beams are purchased, if applicable. Additional panels can also be added in to make larger spaces or offer more divisions.
Interior panels also offer the advantage of reduced infrastructure costs via a wireless environment. In addition to significantly reduced cabling costs and fewer wall jacks, running a cost of $200 each, owners can also benefit from fewer switch ports, freeing up space for other resources and additional infrastructure.
That said, these configurations will only go smoothly if the surrounding infrastructure was engineered with such changes and moves in mind.
"Moving the walls is typically the easy part; the more difficult part is dealing with the utilities that need to be reconfigured when rooms are reconfigured," cautions Richard Dudley, project architect, HGA, San Jose.
For typical offices spaces, electrical, tele-data, HVAC, fire alarm, and fire sprinklers need to be considered, but lab and healthcare spaces may also require process gasses, water, and sewer systems.
Framing and Sight Lines
Another relevant issue with these glass systems is selecting sight lines and framing sizes. In order to maximize daylighting, designers recommend framing/mullion-free narrow framing members, higher finished ceiling heights, and maintaining sight lines above 42 inches from the floor to not only bring in more light, but the outdoor view as well.
"I tend toward specifying glass doors and partitions that are clear glazing and as unobstructed by framing as possible," confirms Brett. "We determine how far natural daylighting penetrates into the building and what views are critical to maintain, and place partitions accordingly."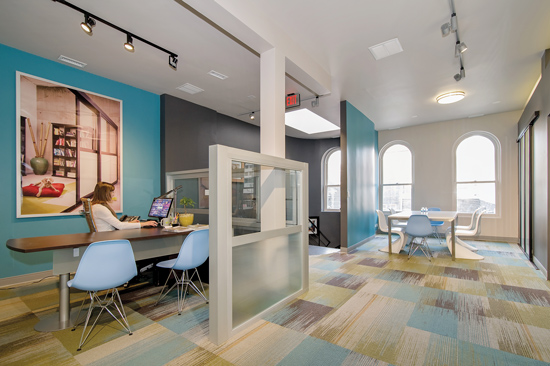 This workspace partition provides foot traffic control, but still gives the receptionist a clear view of the front door.
IKM also prefers frameless units, where possible, with butt-glazed walls and frameless sliding doors as the preferred solution. Meanwhile, to improve sight lines, HYL often specifies a T-shaped glass return element, which works to widen the angle of view and makes corridors feel wider.
While the thinner 1½-inch frames are favored, Hai-Ami explains that manufacturers do offer a variety of options—for example, 2½-inch frames or 3-inch aluminum frames for designs where more aluminum is desirable.
Screening, color, and branding elements can offer an aspect of visual separation to a glass wall, while still allowing the transmission of light, suggests Rick D'Amato, AIA, LEED AP, principal, LPA Inc., Irvine, California. "Also, careful study of internal adjacencies and departmental relations can provide a clue as to where glass may be appropriate."
Interior glass systems can also contribute to the LEED daylighting credit with the aid of a simplified glazing factor calculation, says Carroll, but although more applicable to exterior units, room geometry, window placement, transmittance of the specified glazing material, and horizon factor should all be considered in the design to control glare, solar gain, and overall daylight quality.
As a side note, Bernard points out that when the LEED rating system was conceived, the trend was to move the private, high-wall offices to the interior and put low-wall workstations around the perimeter to bring in more light and views. Now, an interesting development has evolved with executives migrating back to the perimeter, but with all glass walls. This way, daylighting and views are still transmitted to the interior work areas.
As noted, higher glass ceilings lend themselves to more daylighting, however, Rodts points out that glass generally has a height limitation, which means that gypsum walls are sometimes required to attach to the slab above. One side benefit of this situation is the fact that the gypsum helps reduce sound transmission from the open office area to the private offices.
Originally published in Architectural Record
Notice