Interior glass partitions: solving the open versus private workstation dilemma
Sponsored by Space Plus, a division of The Sliding Door Company
Learning Objectives:
Explain how interior glass enclosures and partitions positively impact employee morale and productivity.
Identify how flexible workspaces enhance health and well-being.
Classify interior glass systems as a solution to balancing open, collaborative floorplates with private, quiet spaces.
Demonstrate how interior glass partitions promote daylighting and views, control acoustics, and are ADA accessible.
Credits:
This test is no longer available for credit
An ideal way to bring in more natural daylighting, enhance productivity and well-being, and drive down vacancy rates, interior glass partitions are gaining traction. But perhaps the product's most newsworthy appeal is its ability to simultaneously offer both open, transparent spaces and private rooms.
By simply sliding the glass door shut, occupants have access to a quiet room for heads-down work or private conferences. Meanwhile, the floor-to-ceiling glass still preserves a sense of connectivity.
"We have found that some of our most successful spaces are those that balance an open work environment with shared heads-down spaces and informal relaxation space," confirms Susan Foong, senior interior designer, HGA, San Jose, California. "A properly designed glass partition system can simultaneously address privacy and openness, allowing natural light to filter into private zones while averting the stray gaze and noise of passersby."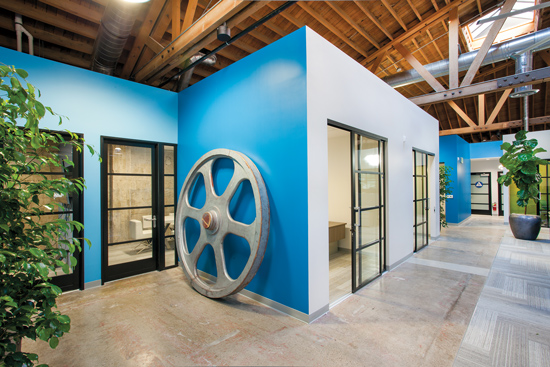 All photos courtesy of Space Plus, a division of The Sliding Door Company
Closed for privacy, open for a larger meeting. Flexible workspaces have arrived!
The Swinging Pendulum
Offering some historical perspective, researchers at Steelcase point out in an October 2014 Harvard Business Review article titled, "Balancing the 'We' and 'Me': The Best Collaborative Spaces Also Support Solitude," that back in the 1980s, the trend was to build high cubicles to support a large percentage of employees seeking to concentrate on their work without distractions.
By the 1990s, the tide began to turn, as Steelcase research found only 23 percent of employees wanted privacy, 50 percent desired to access others, and 40 percent wanted more interaction. Backed by other industry research, the real estate and design community responded by opening up the floor plates, bringing down the walls, and decreasing the square footage of private zones.
However, within the past few years, many experts are suggesting that the pendulum has swung too far. Steelcase reports a 16 percent increase since 2008 in folks having trouble concentrating at their desks and a 13 percent decrease amongst people feeling like they have access to quiet areas where they can perform focus work.
Furthermore, research coming from the University of California, Berkeley's Center for the Built Environment points to more than half of office workers feeling dissatisfied with the level of speech privacy in their offices.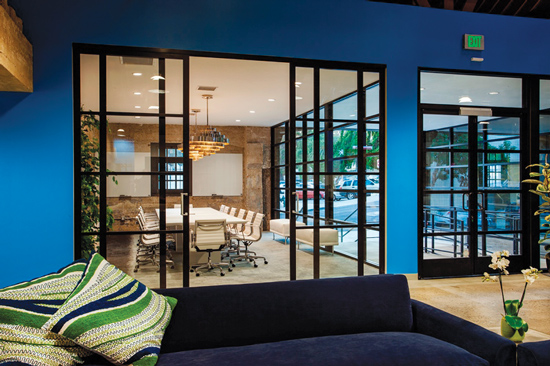 Simultaneously delivering an open floor plan, along with privacy, office fronts with sliders that lock and clear glass sliding panels can all stack to one side to optimize the opening.
"It has been my experience that many workplaces put too much emphasis on the need for open, informal collaboration and not enough emphasis on the need for quiet space to perform individual work as well as the need to meet virtually," states Leigh Stringer, LEED AP, workplace strategy and research specialist, EYP Architecture & Engineering, Washington, D.C. "In a recent study of 30,000 work points across the globe for knowledge workers, my team found that on average, face-to-face collaboration made up only 9 percent of the workday. Using glass door partitions/walls is a really good way to create space with needed acoustical privacy while making it feel more open."
Meanwhile, some of the more progressive organizations are moving toward an "activity-based" workplace that Bernice Boucher—managing director, head of workplace strategy, Americas, Jones Lang LaSalle, New York—calls a mix of task-based and social spaces, such as reservation-based conference rooms, ad-hoc huddle spaces, informal conversation zones, and private, quiet workspaces. In fact, a large organization that JLL recently worked with found 13 percent of its employees to be more engaged with the organization given this autonomy to choose their workplaces in such an activity-based environment.
"Glass partitions can be a multiple win toward this end in terms of fostering flexibility and openness," states Boucher. "After all, they contribute to healthy daylighting and promote colleague visibility, while allowing for doors-closed private meetings as needed."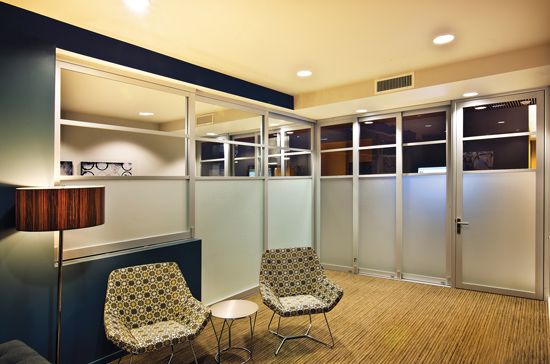 Offering some additional privacy, frosted glass fronts are a nice option for designers.
As the industry seeks out more of a balance between openness and privacy, Joel Bernard, AIA, LEED AP, principal, IKM, Pittsburgh, points to a few more variables playing into the mix. On the one hand, human resources, marketing, and design teams are big advocates of the open office. In addition, millennials emerging from highly collaborative university environments are used to highly open spaces. "This is the model they like, and it is what they seek in a workplace setting," he says.
Further emphasizing the benefits of group settings, Sheryl Hai-Ami, administration officer, Space Plus, Westlake Village, California, states, "Collaborative, creative, and inspiring workspaces result in cross-functional teams completing projects more efficiently as they work together to achieve their objectives on time."
In fact, CoreNetGlobal's 2012 State of the Industry Report places continuing demand for the workplace to serve as a central place for collaboration. Similarly, Johnson Controls' "The Smart Workplace in 2030" predicts that a permanent physical location of work will be called "the hive," creating a more agile workplace that responds to a complex and competitive world focused on collaboration, innovation, and creativity.
On the other hand, the baby boomers, although shrinking in numbers, are still attached to their private offices and resist the open office trend. Also, task-oriented jobs—such as tax, audit, legal, and engineering—still require what Bernard calls acoustically damped settings.
"Glass partitions are a key component to solving the public/private balance in the contemporary office setting," he concludes. "Managers with glass walls are more inclined to leave their glass doors open during the work day, presenting a more accessible posture to their direct reports."
Originally published in Architectural Record
Originally published in January 2016
Notice