Floodproofing Non-Residential Buildings
Safety, cost and liability in flood hazard areas
Sponsored by Smart Vent Products, Inc.
Learning Objectives:
Identify FEMA regulations, National Flood Insurance Program requirements and ICC building codes as they relate to sustaining non-residential foundations in flood hazard areas.
Describe the effects of hydrostatic pressure on building sustainability.
Analyze the differences between active and passive floodproofing measures in non-residential buildings and their impact on optimizing health, durability and maintenance.
Explain the features and benefits of ICC-ES certified engineered automatic flood vents in terms of cost, code requirements, performance in floods, and reduced liability for design professionals.
Credits:
This test is no longer available for credit
Almost everyone lives in a potential flood zone. In addition to the hurricanes and catastrophic floods that make national headlines, a damaging flood is happening somewhere in the U.S. every day, even in desert regions, caused by local heavy rainfall, dam failures, land development runoff, drainage problems, inland remnants of tropical storms and many other conditions. Nationwide, flooding is the leading cause of deaths related to severe weather, and it wipes out businesses, too. According to the National Flood Insurance Program (NFIP), almost 40 percent of small businesses never reopen their doors after a flood disaster, because just a few inches of water can cause tens of thousands of dollars in damage.
In an increasing number of areas around the country, the risk of flood is even more acute. Over 178 million acres have been designated as floodplains by FEMA. These areas are growing steadily, and more people are finding themselves within a floodplain as flood maps are redrawn. The new maps reflect changes in conditions and new development, and also improvements in scanning technology, additional years of climate, flood and topographic data, and more advanced prediction models.
Building in floodplains, or Special Flood Hazard Areas (SFHA) designated by FEMA, is strictly regulated by the NFIP, the International Building Code, ASCE national reference standards, and by local community codes, all of which are discussed in this course. Deciding on a non-residential building's floodproofing strategy will have a direct connection to the project's cost, to the safety of the building's occupants and the survivability of the building itself, and to the risk of liability for the designer and builder in case of flood damage.
National Flood Insurance Program
Standard insurance policies do not cover floods. The NFIP was created to provide flood insurance, but also to prevent flood damage in the first place by encouraging effective management and use of floodplains. Community participation in NFIP is voluntary, but flood insurance and many types of disaster assistance are only available in communities that participate by adopting and enforcing floodplain management and construction ordinances that meet or exceed NFIP guidelines. Over 20,000 communities participate in the NFIP, in an effort to avoid the skyrocketing costs of disaster assistance, repair and rebuilding.
NFIP insurance is available to anyone within the participating community, and FEMA encourages homeowners, business owners and renters even in low-risk areas to purchase flood insurance, since at least 25 percent of flood insurance claims every year come from low- and moderate-risk flood areas. In designated Special Flood Hazard Areas, however, flood insurance is mandatory. Premiums are based on the specific measures taken in the building, and can vary widely depending on what floodproofing options are used.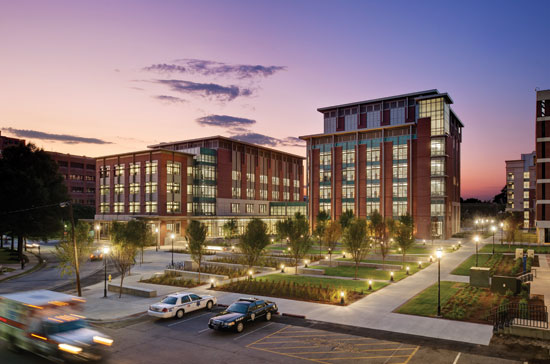 Photo by Anton Grassl/Esto
At the new James E. Clyburn Research Center, Charleston, South Carolina, foundation flood vents meet functional as well as aesthetic requirements.
Originally published in Architectural Record
Originally published in October 2013
Notice