Lightweight Precast Building Envelopes Maximize Performance
Resilient and lean, fiber-reinforced modular precast wall systems maximize thermal performance, minimize construction scheduling, and produce buildings that meet the highest sustainability standards
Sponsored by SlenderWall by Easi-Set
This test is no longer available for credit
Exemplifying Strategies for Sustainable Success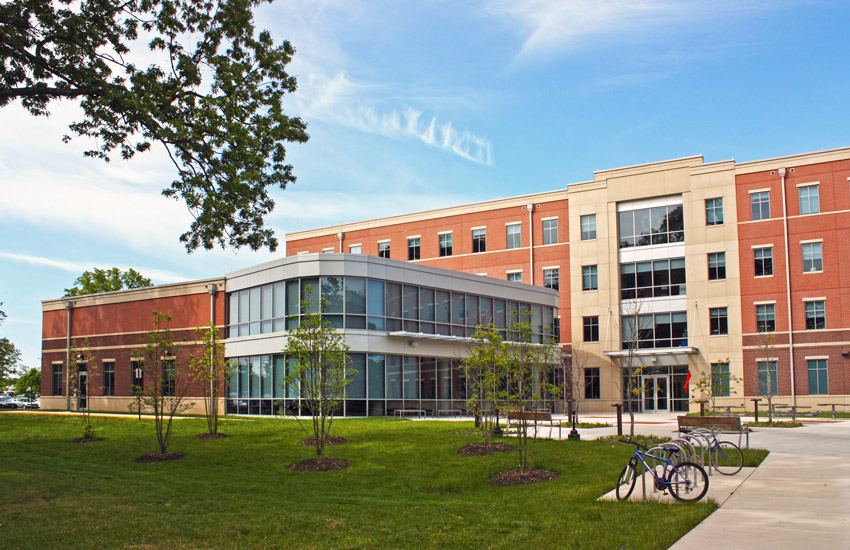 © SlenderWall by Easi-Set
By selecting a precast concrete cladding with a brick veneer finish wall system, the design team for the U.S. Army Legal Services Army Command Center at Fort Belvoir, Virginia, eliminated the need for four separate trades while meeting LEED targets.
Army Strong, Green, and Lean
A study of the Federal U.S. Army Legal Services Army Command Center at Fort Belvoir, Virginia, provides an example of how the use of lightweight precast concrete panel systems can speed up a project schedule while reducing project costs. The BRAC 132 Army Administrative Facility was envisioned as a building that would "express the permanency of the court system and the high ideals to which the military legal system adheres," according to Andrew Rashid, Perkins+Will's science and technology market leader, Washington, D.C. However, the building also needed to meet a fast-track 12-month schedule that would be difficult to meet using traditional building materials. By selecting precast concrete cladding with a brick veneer finish, this wall system eliminated the need for four separate trades while meeting LEED targets.
The U.S. Army has a serious commitment to building green buildings. Since 2001, the Army has been building energy-efficient, sustainable buildings. The U.S. Army Corp of Engineers LEED v4 Implementation Guide can be found online, and it details stringent requirements for new facilities, major renovations to existing buildings, and family housing.4
The team looked at ways to boost productivity and reduce waste while ensuring a high level of workmanship and quality, according to Chris Seveney of Suffolk Construction. "A project like this would typically carry a delivery schedule of 24 months, but it was given a congressionally mandated completion date of one year," he says. "It was essential that the team use as many lean design and construction practices as possible."
Lean design and construction management processes included the integration of all project team members, including the material suppliers and utilizing building information modeling (BIM) during all stages of the project.
The team chose to use a composite exterior panel system that allowed the contractor to enclose the 33,338-square-foot building in 14 days. The lightweight precast concrete panel combined a precast exterior panel with an integrated perimeter stud-wall system. The cladding was formed to match the local brick finish. Panel sections up to 26 feet wide and 10 feet high were installed with punched window openings. Filled with closed-cell foam insulation at 3.5 inches deep, the 169 discrete panels would also deliver high thermal performance of R-21 with a continuous air and moisture barrier.
The building also needed to meet strict blast resistance criteria. "The selected wall system was designed to meet the strict anti-terrorism criteria for security and blast resistance as required for all new government buildings by the federal departments of Defense and Homeland Security," reports Matthew Smith, vice president of sales and marketing for Smith-Midland, the precast subcontractor. "Yet it is a lightweight method of only about 30 pounds per square foot, mounted outboard of the floor slab." According to Smith, "Lean construction is a movement" that soon will be adopted widely as project teams search for more ways to build quickly and cost effectively while still retaining excellence in design.
"This project shows how the federal sector can think lean and smart in future projects," says Heidi Perham, NCARB, AICP, managing director with BCRA, the interior design firm for the project. The building achieved LEED Gold status as well as the Best Lean Construction Award from the Associated General Contractors. Materials matter when employing more sustainable, lean construction techniques.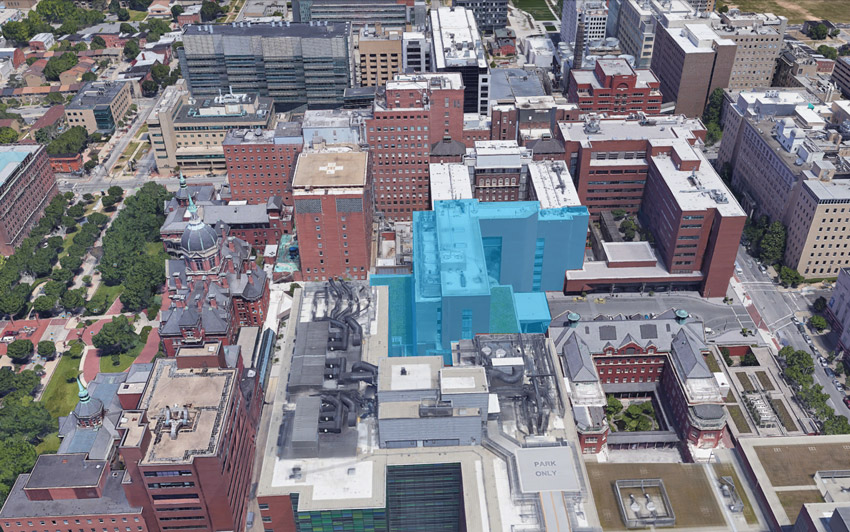 © SlenderWall by Easi-Set
Architects Ayers Saint Gross employed high-tech analysis to over-clad the existing facade at the Nelson-Harvey Building at the Johns Hopkins Hospital in East Baltimore with the use of lightweight precast concrete panels. The client required that construction allow for occupancy on the first two floors as well as access to the rest of the hospital.
Medical Insertions
With surgical precision, the Ayers Saint Gross design team analyzed and resolved the unique challenges of the over-cladding of the 1970s the Nelson-Harvey Building at the Johns Hopkins Hospital in East Baltimore. Its patient was an aging nine-story building with a sound structure in the middle of an extremely tight site. The team provided a resilient response that did not include the demolition of the hospital.
Using digital tools to analyze the displacement of the existing brick facade, the team collected data from 37 different locations over a two-day period to construct a three-dimensional model in Revit. It incorporated cloud measurement data into the BIM model to illustrate the variances in the wall plane accurately. With an accurate virtual model, the team was then able to test alternatives for a new thermal skin as well as stage construction on this tight site.
The technical challenges included the development of an exterior envelope that met Baltimore City Green Building Standard.5 Although based on the LEED process, a Baltimore Green Building Rating certificate or plaque is only granted after the Construction Code Enforcement inspectors have verified their observations through site visits during the construction phase and prior to issuing a Certificate of Occupancy. In addition to maximizing thermal performance, other project goals included:
The use of masonry as predominant cladding material to complement the existing adjacent buildings;
The installation of a 21st century air and water barrier into the new building skin;
New fire/smoke containment to enhance building resiliency;
Limiting cladding system weight (5 percent dead load threshold for steel structural members, 10 percent building lateral);
An aggressive design and construction schedule;
Maintaining occupancy of lower two floors and ensure access to entire facility during construction; and
Minimizing the noise and dust of construction disturbance to hospital operations.
The installation required meticulous coordination, scheduling, and timing. The envelope strategy included "recycling in place" of the existing masonry. A new structural frame was installed to the existing structure that supported new lightweight insulated precast panels. Steel anchors were "needled" into the existing walls through to the steel frame. Engineers compartmentalized new and existing horizontal cavities in the exterior walls to prevent stack effect. The new facade was a combination of a high-performance glazed aluminum curtain wall with aluminum louvers and insulated panels, along with lightweight precast concrete panels.
The 158 panels that spanned from floor to floor and column to column weigh 28 pounds per square foot, allowing installation without the removal of the existing facade. Fully insulated panels were lifted into place by small cranes and insulation was also added between panels after erection to provide continuity. The entire system depth was an overall 8½ inches and included a 2½-inch thin-brick mechanically bonded to a lightweight concrete panel on 6 inches of cold-formed metal framing (CFMF).
According to the design team, prefabrication reduced waste by the use of off-site fabrication of lightweight precast concrete panels. The careful installation process reduced demolition, avoiding 2,130 tons of masonry hauled in 71 trucks that also decreased airborne noise and dust for occupied buildings. The existing cladding was measured at a weighted average of R-9.61. The new cladding with the over-cladding increased performance values by 227 percent, measuring a weighted average of R-31.44.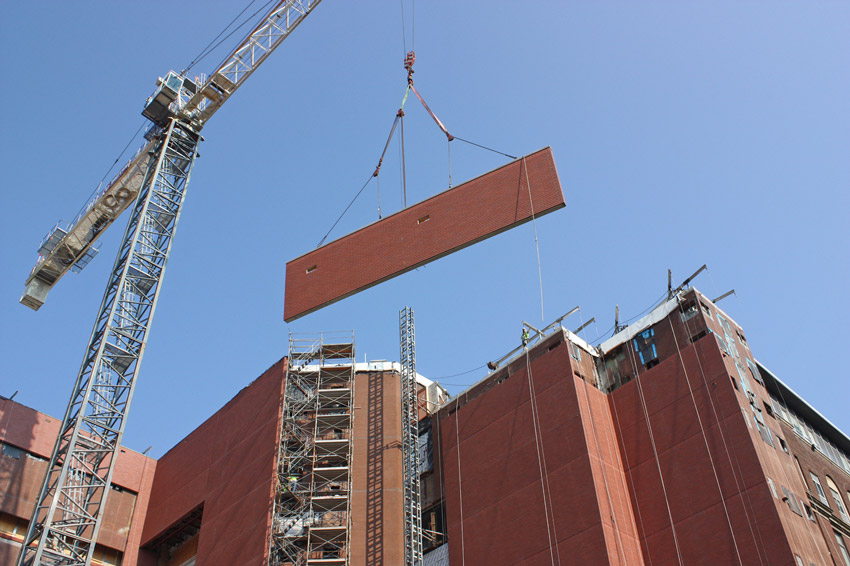 © SlenderWall by Easi-Set
Lightweight concrete panels were lifted in place using equipment designed for this tight site footprint. The architects, engineers, and contractors worked together with the panel manufacturer to meet a just-in-time schedule for panel delivery and installation.
Resiliency has become a new target for sustainable designers. This term implies that buildings will meet demands of change, whether technological, behavioral, or climate driven. The architects at Ayers Saint Gross have demonstrated a new methodology for approaching the challenges for aging building portfolios that takes advantage of the benefits of modern, lightweight, factory-controlled, panelized construction materials. More details are available in their presentation, "Over-Cladding for Thermal Performance and Building Resiliency," which is documented online.6 The improvements in performance, energy conservation, moisture mitigation, and aesthetics provides a sustainable 21st century lifeline for this aging campus.
Originally published in Architectural Record
Originally published in April 2018
Notice