Lightweight Precast Building Envelopes Maximize Performance
Resilient and lean, fiber-reinforced modular precast wall systems maximize thermal performance, minimize construction scheduling, and produce buildings that meet the highest sustainability standards
Sponsored by SlenderWall by Easi-Set
This test is no longer available for credit
Engineering Value: Reduce, Reuse, Recycle
As engineers and manufacturers continue to drive for excellence, they are using new manufacturing and technology advances that streamline modern precast concrete wall enclosures. Value in construction materials can be achieved in many ways. Building enclosures are complex systems. The life of a building depends on the durability of its enclosure. Appearance, thermal control, moisture mitigation, structural strength, and constructability are some of the main areas that a design team will investigate when selecting materials for a building enclosure.
Lighten the Load
The components of lightweight precast concrete panels maximize the durability of concrete while lightening the load of this versatile material. Computerized equipment controls and digital fabrication have modernized and simplified the creation of new materials. Hybrid lightweight precast panels weighing as little as 28 pounds per square foot may combine the following materials:
2-inch architectural precast concrete with integral water repellent in a wide array of finish, color and texture options.
Polyvinyl alcohol (PVA) reinforcement fibers dispersed throughout the concrete to form a molecular bond with the concrete. This reduces crack formation and provides multidimensional reinforcement. They also improve the concrete's resistance to impact, shatter and abrasion.
Lightweight wire mesh to increase structural performance.
Precise variable air spaces (½ to 2½ inches).
Vapor barrier placed in the appropriate location for climate control.
Continuous insulation installed in controlled conditions and guaranteed to meet required energy codes.
Galvanized steel-stud frame (4 and 6 inches).
Firestopping.
Windows properly flashed as part of a complete wall assembly.
Interior framing drywall ready.
Lightweight precast concrete panels are 66 percent lighter than traditional architectural precast wall systems. The factory control of design elements and on-time delivery methods provide surface protection as well as thermal control.
Larger panels are provided for delivery to construction sites, complete with windows, insulation, thermal breaks, and interior finishes supporting faster and more productive construction schedules.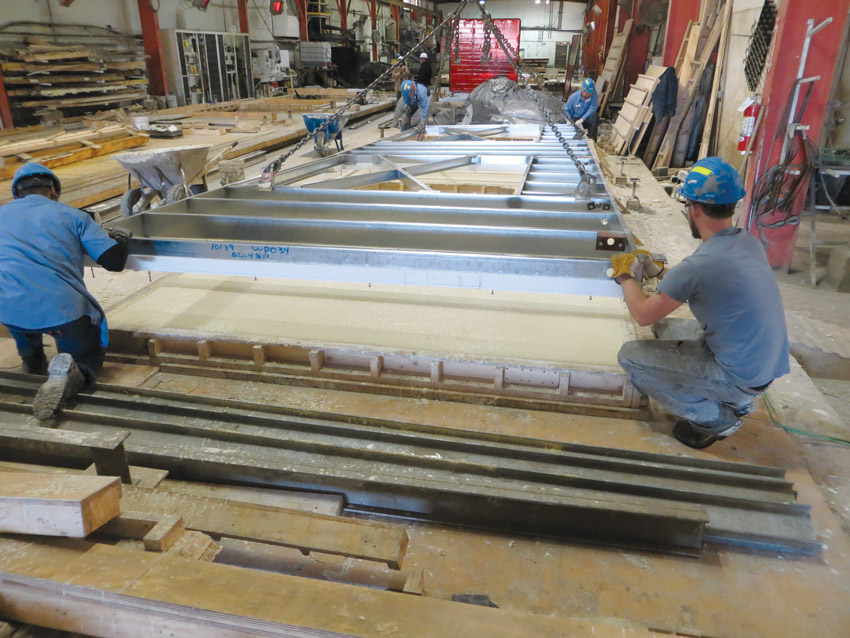 © Smith-Midland Corp.
Manufacturers can guarantee structural and thermal control with factory-built panelized enclosures that control the random factors that impact field installation.
Thermal Control
The use of an array of energy modeling programs and the ability to track performance data from similar building types across the United States allows architects and engineers to meet even net-zero energy use in buildings. Coordinating sophisticated thermal performance requirements with manufactured products is changing the marketplace.
A well-insulated thermal enclosure must attain the appropriate U-value recommended for the project climate zone. In addition, a complete enclosure meets the desired acoustic control of the interior, particularly when meeting LEED for Schools Acoustical Control Performance. The goal is to achieve continuous insulation across the entire enclosure that can be assured through factory production.
Thermal and acoustic performance is impacted by gaps that often occur during on-site installation between precast exterior skin and the steel frame, improperly attached air and water barriers, and thermal bridging from improper window or sunscreen attachments. A factory-built panelized enclosure system controls the random factors that impacts field installation. Manufacturers guarantee structural and thermal control, meeting engineers and architects' criteria through extensive testing.
The American Society for Testing and Materials (ASTM) develops and publishes technical standards for a wide range of materials, products, systems, and materials. ASTM C1363-11 measures thermal performance of panels using a hot box. The objective of this test program is to investigate how standard insulated lightweight precast concrete panels could meet the 2012 International Energy Conservation Code (IECC) thermal performance requirements for all climate zones within the United States and parts of Canada. The test is performed on exterior panels containing varying depths of different closed-cell foam insulations and gap "spacing" (the gap between the precast concrete exterior skin and the steel stud frame). These separate tests provided the foundation for developing a methodology to ensure that the panel's thermal performance (U-value and continuous insulation) will meet varying client requirements. Factory-built wall systems can be calibrated to meet this standard. The test is a measured result vs. a calculated value of the wall system.
Moisture Mitigation
In any climate zone, the impact of water, moisture, wind-driven rain, and vapor migration requires a building that breathes. Even the most carefully detailed building may succumb to early structural failures due to improper installation of materials designed to control moisture. Engineered lightweight precast concrete panels are detailed with integral water repellent, continuous vapor barriers, rainscreens, and air spaces placed within a wall cavity designed for the weather. All of these components are factory installed to provide a complete wall system that will respond to the weather and climate at its site location. Street-level leak-detection caulking systems comprised of calibrated drain strips, appropriate sealants, and a water-detection weep designed for the system are installed on-site after the panels are in place.
Material Sustainability
When working on a project that is targeting LEED credits, designers can earn up to six points in this LEED category. For example:
Construction Waste Management, Materials, and Resources: Rewards points for the diversion of construction debris from disposal in landfills. A prefabricated precast concrete wall system is constructed in an off-site plant and assembled on-site with precut steel and precast concrete. There is virtually no on-site waste associated with wall construction.
Recycled Content, Materials, and Resources: Rewards the use of materials with recycled content. Recycled materials can be a large component of the lightweight precast concrete wall systems. Architects may specify recycled material in the entire assembly of the panel, concrete, steel, and insulation. The controlled factory environment including supply monitoring and measuring will provide data as to the exact amount of recycled content in the assembly.
Regional Materials, Materials, and Resources: Supports the use of indigenous (local) resources and reduced transportation distances. The components of these systems are common materials. Panel manufacturers typically use locally sourced materials, and lightweight precast panel manufacturing facilities are often located within 500 miles of project sites across the country. Most design professionals can select the raw materials of lightweight precast wall panels locally or within the 500-mile prescribed radius of project sites.
Most sustainable design architects will attest that their goal is to not count points but to achieve buildings that do no harm to the environment. A lean, turnkey construction process with thermal and material advantages adds many benefits to a designer's toolkit.
Originally published in Architectural Record
Originally published in April 2018
Notice