The New High-Privacy Toilet Compartments
New options in commercial bathroom enclosures eliminate sightlines and provide privacy, safety, cleanliness and sustainability – along with greatly improved aesthetics.
Sponsored by Scranton Products
Learning Objectives:
Explain why traditional restroom partition systems leave large gaps and sightlines that can expose occupants unnecessarily, and how new, innovative design options can eliminate these gaps, ensure privacy, and make additional improvements in toilet compartment function, maintenance, sustainability and appearance.
Discuss the advantages of high-density polyethylene (HDPE) material in comparison to conventional toilet panels and hardware, in terms of both indoor air quality and health and comfort in a challenging environment, through its inherent resistance to bacteria, mold, mildew, and rust.
Compare the environmental performance of HDPE material to current conventional material commercial toilet compartments, including HDPE's durability, low maintenance needs, zero VOC emissions rating, fully recyclable nature, and high recycled material content.
Select HDPE systems from a range of options, including fully enclosed high-privacy toilet compartments, and specify the most effective option to provide privacy, safety, comfort, and sustainability in any commercial restroom project, or similar projects such as dressing rooms, showers and changing rooms.
Credits:
This course is approved as a Structured Course
This course can be self-reported to the AANB, as per their CE Guidelines
Approved for structured learning
Approved for Core Learning
This course can be self-reported to the NLAA
Course may qualify for Learning Hours with NWTAA
Course eligible for OAA Learning Hours
This course can be self-reported for Learning Units to the Architectural Institute of British Columbia
This test is no longer available for credit
The typical specification for the standard commercial toilet compartment in the United States does not leave much to the imagination—but not in the way that one might think. Yes, it is straight forward. The common pilaster system comprised of pilasters, dividing panels, doors, and hinges has not changed much in the past few decades, but, most surprisingly, neither have the gaping sightlines that offer more than a glimpse into and out of an occupied restroom stall.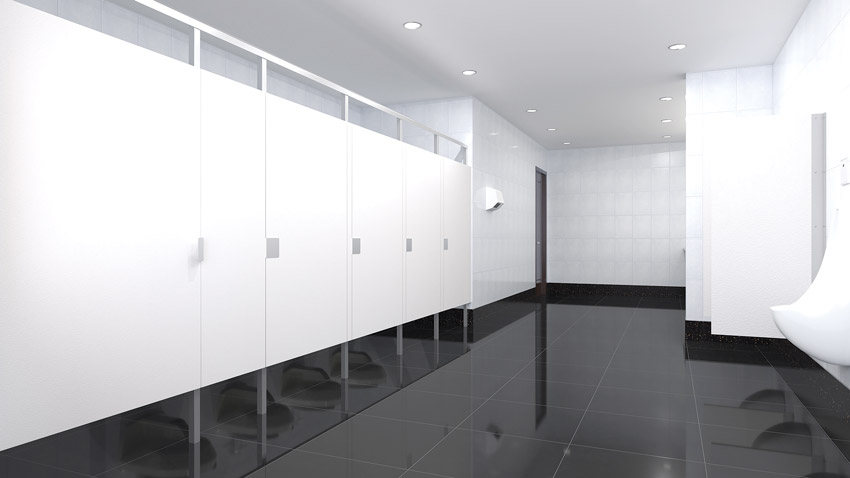 All images courtesy of Scranton Products
A fully closed toilet compartment eliminates those unsettling sightlines through use of shiplap edge and continuous edge-mount hinge and creates a high-privacy occupant experience in a public restroom stall.
Luckily, designers now have a solution that will leave people feeling less exposed. A new toilet compartment system, called the hinge and post bathroom system, has been developed to provide more privacy in this most private space. This course will explore the semi-private nature of the typical pilaster system, introduce the new hinge and post bathroom compartment system, and detail the features that make this solution a superior privacy option. The aesthetics of the two systems will also be compared, as will their support of sustainable design tenets. Finally, best practices for specifying the new hinge and post system will be shared.
The Common Pilaster Toilet Compartment
The design of the pilaster toilet compartment commonly used in the United States is based upon flat rectangular columns, called pilasters. The pilasters are secured to the floor and/or possibly ceiling, creating the basic frame for the entire bathroom stall structure. The individual compartments are crafted by mounting the doors and dividing panels to the pilasters with exposed metal hinges.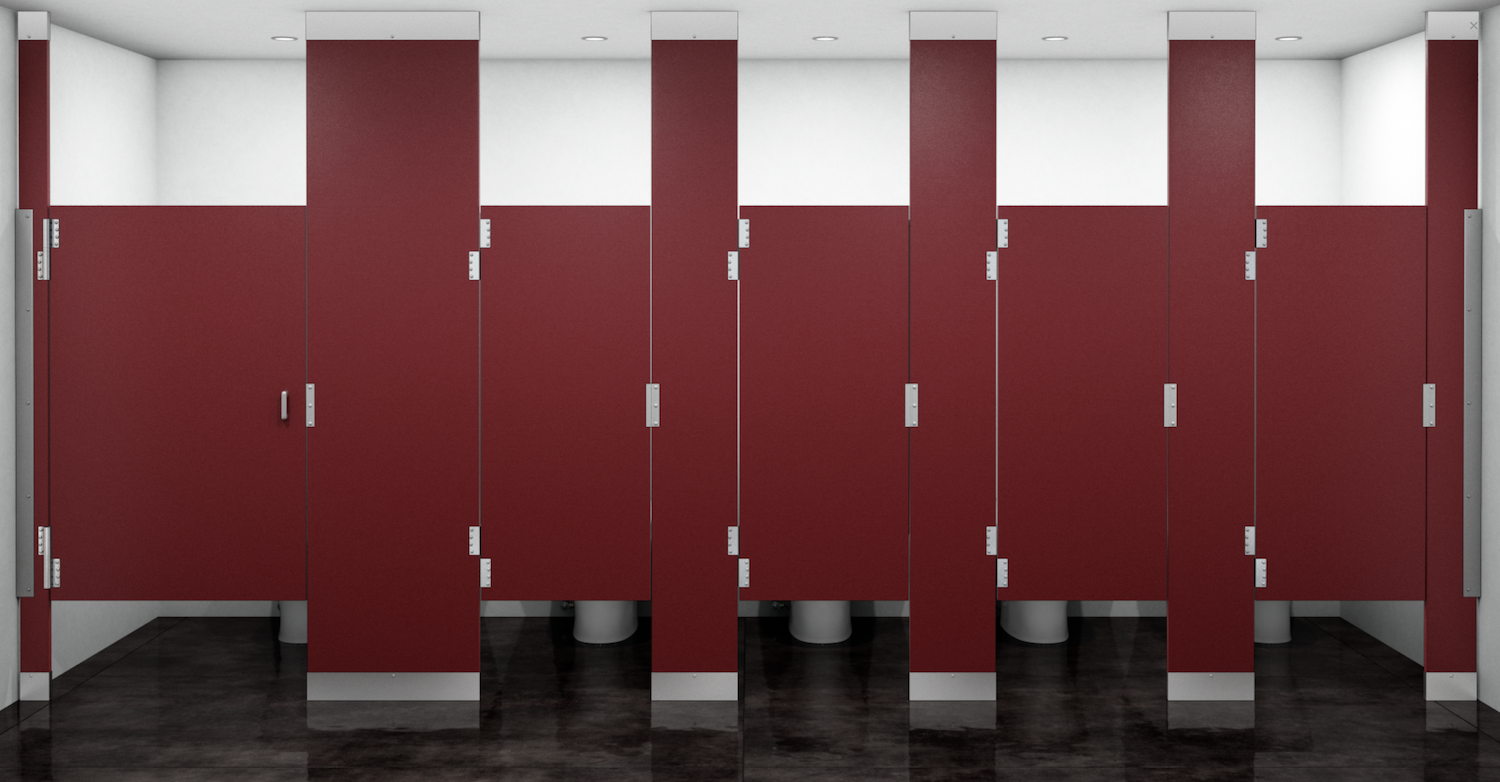 The pilaster toilet compartment commonly used in the United States is based upon flat, rectangular columns called pilasters..
In terms of assembly, the specification for the pilaster-based toilet compartment provides some guidance on how the various components must be cobbled together. The standard spec directs installers to "locate the bottom edge of doors and panels 14 inches above finished floor" and "provide uniform, maximum 3/8-inch vertical clearance at doors." While the included tips are certainly relevant to fashioning a functional and code-compliant toilet compartment, there seems to be one glaring omission. The standard toilet compartment specification does not define the size deemed acceptable for the gap that is created on either side of the stall door where the hinge or latch fastens the door to the adjacent pilaster. The gap, or how to avoid it, is not mentioned at all.
Unfortunately, the gap in a pilaster-style bathroom compartment is a function (and flaw) of the system's design. The flat, rectangular column anchors a flat, rectangular door as it swings open and shut on a heavy-duty hinge. The problem arises because space must be provided to allow these rigid and straight-edged elements to accommodate a rotation of almost 90 degrees without causing the door to stick. Providing enough space so that the door can move freely creates gaps between the door and the pilasters on either side. The typical gap in a well-constructed, pilaster-based toilet compartment is 3/16 inch, which is large enough to create a substantial sightline into and out of the bathroom stall. Installation errors and poor assembly practices can result in much larger openings at the door, leaving people extremely exposed and uncomfortable.

Only in America
While gaps in the toilet compartment may be considered business as usual in the United States, travelers from abroad are often horrified to find that the design of our bathroom stalls turns every trip to the restroom into an unsolicited peep show. In fact, there is an entire BuzzFeed thread dedicated to the topic of toilet door gaps in America.
For years, specifiers in Europe and China have rejected American-made partitions and toilet compartments because of their somewhat exhibitionist nature, opting, instead, for compartments that provide a more complete visual barrier and greater degree of privacy. In conversations with large partition dealers in China, it was explained that United States pilaster-based partitions were not an acceptable product option for their specification community due to the lack of privacy they provided.
However, even Americans are becoming wary of their potential exposure while on the pot. With smart phones now equipping every bathroom occupant with camera and video-recording capabilities, and the means to distribute those images worldwide, the demand to improve the privacy of the bathroom compartment has now reached our shores. To answer this call, specifiers need a toilet compartment solution without those unsettling sightlines and with doors and partitions that can sit closer to the floor. They need the new hinge and post toilet compartment.
Originally published in April 2017
Notice