Cutting-Edge Elevator Technology
Elevating architecture with destination dispatch controls
Sponsored by Schindler Elevator Corporation
Presenting a seldom-seen feature such as a generic keypad or addressable touchscreen currently offers a sense of value that many building owners like to capitalize on. High-tech companies, for example, like how the interface reflects their embrace of the latest technologies. The interface may someday become the norm, but for now it lends an air of prestige to the finished project. This is especially true for the touchscreen-type interfaces, which can be customized to suit the client's taste and goals. For corporate clients, the elevator display screen can be branded with the identity and messages used in other facets of operations. Yet, even a basic interface for destination dispatch connotes a modern, up-to-date facility.
Destination dispatch, though not a panacea for traffic flow, space planning and core layouts, offers a number of design benefits over non- destination controls. There are cautions for the designer as well, explored later in this article, but overall it is a valuable boost to architectural design, freedom and flexibility.
Improving Efficiency and Sustainability
Energy use, operational efficiency and overall sustainability are major concerns for all project stakeholders. Destination-based elevator control systems contribute to these top-level objectives, and offer other, more subtle efficiencies as well.
Because types of elevators, drives, braking systems, and typical traffic patterns vary from facility to facility, it may be difficult to establish a baseline from which to judge efficiency improvements. So it is useful to consider the change in performance after installation in a modernization or retrofit project context. This allows us to compare the effect of a new control system when applied to an existing lift group.
Energy Efficiency
Energy consumption among differing elevator configurations can be quite wide. Consider a modest low-rise set-up: A single hydraulic elevator in a three-story office building might average 3,800 kilowatt-hours (kWh) annually, comparable to four months of electrical consumption in the typical American home, according to one manufacturer. A traction elevator in a 10-story midrise uses closer to 21,000 kWh; in a 30-story high-rise, the figure closes in on 44,000 kWh, rivaling the annual consumption of four typical American homes.
Destination-dispatch systems attempt to reduce energy requirements in a number of ways, including by resolving a demand situation based on the elevators' configuration and design, as well as on actual traffic patterns at the time of use. In general, for example, elevators operate at optimal efficiency in both directions when at 40 percent of capacity. In addition, as intuition would suggest, cars will be more efficient going up empty – and going down full.
Destination-based controls weigh these efficiencies against one another to not only optimize travel and wait times but also to achieve maximum energy efficiency by attempting to average the desired percentage of car capacity. User-entered destination information helps gauge weight or load capacity. But what if two or three unassigned riders enter the car with the user who entered the destination floor? In some cases, the elevator systems include onboard volumetric sensors and other methods for acquiring more complete data; these also allow the cars to report to the central controls that a car is at or near capacity, so that alternate cars are assigned for new hall requests.
Phased Modernization, Midrise Office
"Our tenants love it, because they don't have to push a button," boasts Don Carter, principal of Raleigh Development Co., which owns the Capital Bank Plaza in Raleigh, North Carolina.
The elimination of button-pushing is the result of Carter's exhaustive research into controls technology, which led him to choose an advanced destination dispatch system to replace the existing controls on the building's 40-year-old elevators.
The 14-story building serves an estimated 700 elevator riders each day, many of whom no longer even need to touch the control panel, having RFID badges that identify them to the system and call a car to take them to their destination floor. Visitors without badges enjoy the experience of interacting with a sleek, tablet-style touchscreen panel; riders with badges who wish to travel to a floor other than their usual do so through the same panel.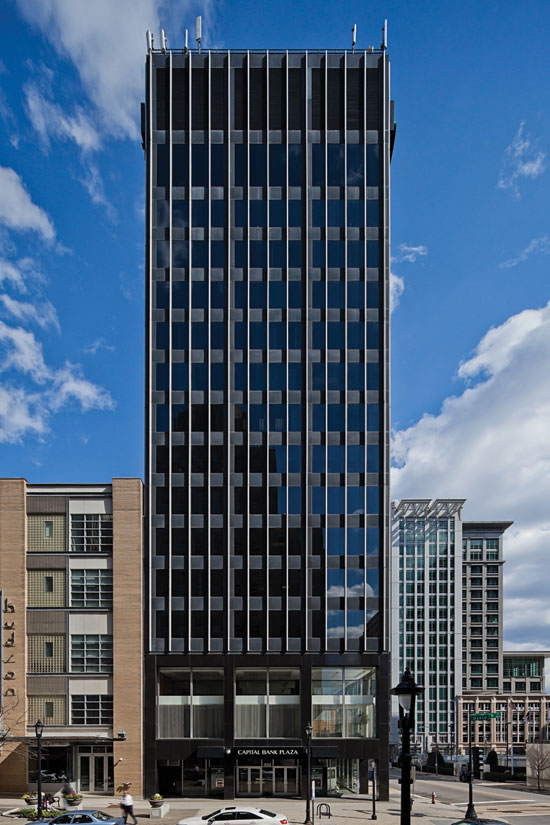 Capital Bank Plaza in Raleigh, N.C., eliminated button-pushing for elevators for the building's 700 riders per day. RFID badges identify occupants and call cars to take them to their destination floors. Visitors use a tablet-style touchscreen.
Photo courtesy of Schindler Elevator Corporation
Originally published in Architectural Record
Notice