Maximize Project Budgets with Alternative Solutions
Using value engineering to make data driven decisions to maximize budgets without compromising integrity.
Sponsored by Gordian
Learning Objectives:
Discuss the history of value engineering (VE) and the rationale behind its development.
Explain when and how VE delivers the most value.
Implement VE methodology on a project.
Discuss why independent, verified data is crucial to achieving the best VE.
Examine the benefits of VE with team members and clients.
Credits:
This course can be self-reported to the AIBC, as per their CE Guidelines.
As an IACET Accredited Provider, BNP Media offers IACET CEUs for its learning events that comply with the ANSI/IACET Continuing Education and Training Standard.
This course is approved as a Structured Course
This course can be self-reported to the AANB, as per their CE Guidelines
Approved for structured learning
Approved for Core Learning
This course can be self-reported to the NLAA
Course may qualify for Learning Hours with NWTAA
Course eligible for OAA Learning Hours
This course is approved as a core course
This course can be self-reported for Learning Units to the Architectural Institute of British Columbia
A Tool Built from Necessity
Architects, engineers, and design professionals juggle several coexisting responsibilities and desires. They want to design and build inspiring, innovative facilities. They want to create reputations for doing thorough, efficient work. They want satisfied clients and occupants. On top of all that, they also face an important reality: They must maximize their available budget.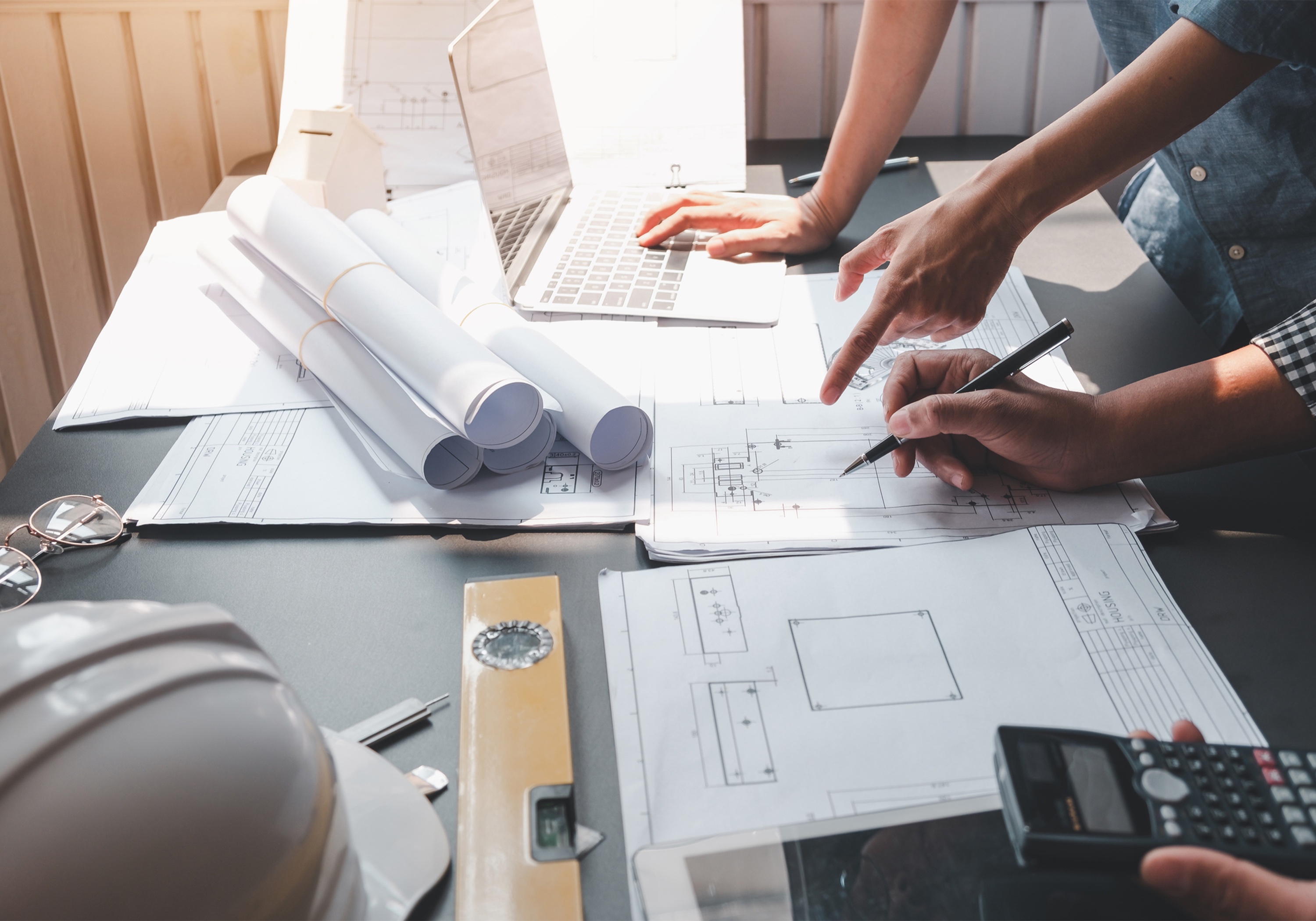 All images courtesy of Gordian
The practice of value engineering (VE) enables design professionals to realize aesthetic and performance goals in the field.
Value engineering is a vital tool in the design professional's kit for navigating this reality. Its history is one forged by the fires of necessity. The term "value engineering," or VE, was first used during World War II by Lawrence Miles, an employee of General Electric (GE). Tasked with finding production materials despite the extreme shortages during the war, he needed a creative and resourceful approach to meet the needs of GE customers. Miles developed the process of VE to evaluate alternative materials that could still meet the performance requirements of the materials GE would use in normal, peace-time production conditions. In so doing, he created a standard method to compare, contrast, and assess materials and determine their suitability.
Miles identified two elements of the value equation—function and cost—and balanced them against one another. For him, the purpose of any value analysis was to identify all elements of function and cost and express their mutual interdependency so that an informed decision could be made between the two. In his equation (shown below), value is the most cost-effective way to reliably accomplish a function that will meet the user's needs, desires, and expectations.
Value = function/cost, in which:
Function = the specific work that a design/item must perform; and
Cost = the life-cycle cost of the product.
The basic principles are simple. Under Miles's equation, an item that maximizes function with a minimal cost is of greater value than an item of lesser function with the same cost. Conversely, an item that serves little or no function but has a high cost is considered to be of little or no value. Simply defined, VE means finding ways to make design or material adjustments that still meet project goals while allowing for better value, keeping a project within budget.
According to Miles, VE is basically "a creative, organized approach whose objective is to optimize cost and/or performance of a facility or system." The intended purpose is to improve the value obtained by an owner sponsoring a constructed project.
Miles' method quickly demonstrated its promise. By 1959, The Society of American Value Engineers (SAVE) was formed as a professional society dedicated to the advancement of VE through a better understanding of the principles, methods, and concepts involved. Requirements for registration as a Certified Value Specialist (CVS) were developed by SAVE at the request of the U.S. General Services Administration in the early 1970s. Today, SAVE, now known as SAVE International, has grown to more than 2,000 members and currently has more than 350 active CVSs in the United States.
With the growing demands placed on buildings and their designers by policies and codes, VE remains an ever more necessary tool. For the design professional, VE concentrates on maximizing a project's function while minimizing costs to generate the greatest value for the client. However, to effectively value engineer, the design team must first understand where the costs lie on construction projects.
VE is not limited to the first costs of construction but should also take into account the longer-term operational and maintenance costs, creating a full life-cycle picture of the structure. With both first- and long-term costs in view, a truly informed decision-making process can be undertaken.
The Necessity of VE Today
Building a functional facility depends on smart planning. Architects, engineers, and design professionals must not only manage physical assets such as materials, labor, and equipment but also balance code requirements, certification goals, and client requests, all while maximizing operating and capital budgets. Comprehensive data and analysis create the insight needed to design a prioritized, actionable plan and budget.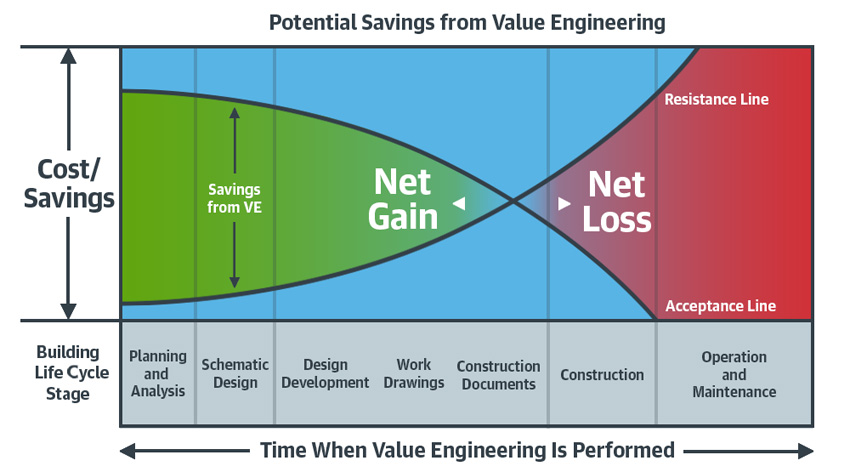 When VE takes place often determines how great the maximized savings will be. There is an ideal balance of cost and savings versus time when VE is performed.
VE helps design professionals keep within the bounds of a client's budget while preserving the client's wish list. That said, VE goes beyond mere cost-cutting. VE is a methodology that ensures the owner is not over-paying for a feature when an equally effective, less expensive option exists—just as Lawrence Miles intended. When applied to construction, VE analysis must be performed within the standards and criteria established by the owner. Both value and owner requirements can be improved by eliminating or modifying elements not essential to required functions. Performance levels, established by the owner and user, can be achieved by adding elements that meet required, yet unattained, functions or by changing elements to improve quality or performance. The goal is not to simply trim the bottom line, but to maximize function at the lowest possible cost. Product quality is still the name of the game.
VE Benefits
While VE can feel like a repetitive or time-consuming step, its benefits to both the design team and the project more than offset the few additional days spent in planning.
VE creates the opportunity to explore all possible alternatives. By sitting down and critically evaluating costs and functions, project participants are forced to address and define "value" and "function." This helps to clarify project purposes and identifies and prioritizes a client's value objectives.
Keep in mind that evaluating change is not limited to material substitutions. Each component should fall under the lens of both immediate and long-term, or life-cycle, costs and benefits. What was, on paper, a cheaper alternative material or system may actually end up costing much more over the life of the building, therefore negating its initial savings. Conversely, a greater initial investment in an upgraded system can sometimes reap benefits for the building and its occupants down the road. Thinking about life-cycle costs for the project not only helps with preliminary decision-making, but it also allows the design team and the client to project the building and its operations into the future.
VE also creates a time window to implement accepted proposals into the design, collect client feedback, and weigh alternative solutions and goals. Critically, any changes to the project at this stage have very little if any impact on schedule and redesign costs. Therefore, the project will be developed with fewer changes, fewer redesigns, and a greater understanding by all parties of what the final function and space allocations will be.
VE Challenges
While VE can harness tremendous benefits for both design professional and client, VE that is done with incomplete information or feedback can present challenges. Changes proposed to a design mean risk—even thoughtful changes that grow out of VE.
Therefore, it is important for the team to take a global perspective on any adjustment. Changing just one aspect of a design will affect other material, structural, or engineering elements. For this reason, any new component or adjusted design must be plugged into the whole plan to avoid unintended consequences. Additionally, changes made to project elements that focus on only initial savings may end up costing the building more during its life cycle.
Avoiding the risks of VE is as simple as maintaining the same thoughtful planning that went into the project design from the beginning. There are several ways in which architects can be effective managers of value-engineered change, minimizing their exposure to risk. Architects, engineers, and design professionals should keep complete, accurate records of the project's process and thorough documentation. They should also feel free to exercise their professional authority by refusing a change or requesting further information. Knowledge is power. Exercising that knowledge and expertise can only benefit the team and the project as a whole.
VE becomes necessary to meet an owner's goals, stay within budget, and maintain architectural integrity on a project. While frustrations can arise as the team works to maintain aesthetics, preserve square footage, and strategically allocate money, frustrations are overshadowed by the benefits: happy clients, high-quality projects, and maximized budgets.
Originally published in Architectural Record
Originally published in March 2020
Notice