Design Driven by Accurate Cost Data
Using independent, up-to-date sources helps assure project success
Sponsored by RSMeans data from Gordian
Learning Objectives:
Identify the common factors that influence how construction cost estimates are prepared.
Investigate the potential for using reliable cost data to drive decision-making focused on building designs that meet established budgets.
Assess the positive capabilities of value engineering as a collaborative means to evaluate options and alternatives during the design process.
Recognize the need to incorporate future pricing into cost estimates, particularly for multiyear projects or outside conditions not controlled by designers.
Credits:
This course can be self-reported to the AIBC, as per their CE Guidelines.
This course is approved as a Structured Course
This course can be self-reported to the AANB, as per their CE Guidelines
Approved for structured learning
Approved for Core Learning
This course can be self-reported to the NLAA
Course may qualify for Learning Hours with NWTAA
Course eligible for OAA Learning Hours
This course is approved as a core course
This course can be self-reported for Learning Units to the Architectural Institute of British Columbia
This test is no longer available for credit
All construction projects cost money to execute. The question the owner wants answered with some degree of predictability is, "How much?" Providing a credible response is dependent on the ability to accurately estimate costs and use that information to influence design decisions, which in turn impact the cost. Given the large number of variables and potential for changes throughout the design and construction process, many see this as a daunting task. However, by acknowledging a few fundamental principles and recognizing the value of comparative pricing analysis, cost estimating can be viewed as a valuable design tool to create quality buildings that work within the owners' cost parameters. As such, this course will look at construction cost estimating from the standpoint of using reliable cost data to inform design decision-making. In the process, it can support meeting all of the stated project design goals.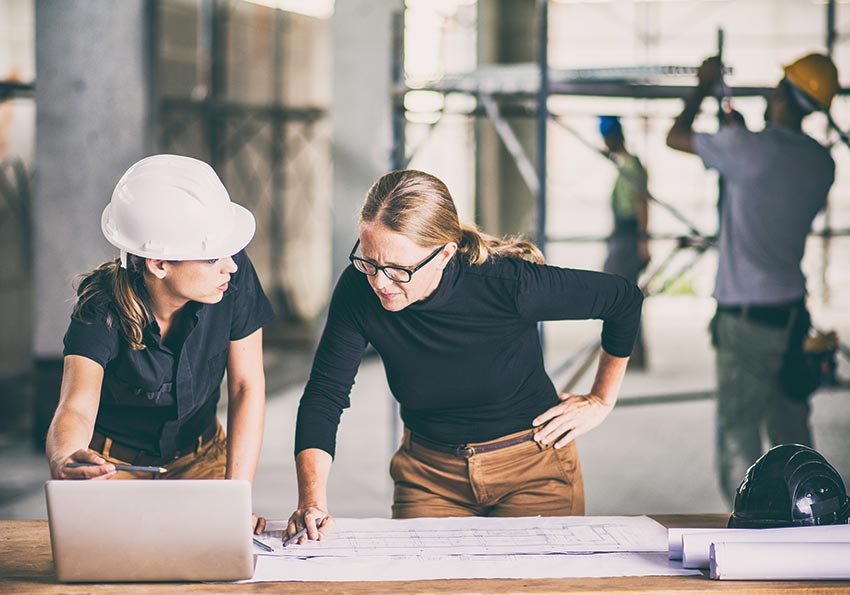 All images courtesy of RSMeans data from Gordian
Using construction cost estimating based on reliable cost data can inform design decision-making and support meeting all of the stated project design goals.
Factors Affecting Construction Cost Estimating
Different projects can present very different design requirements and construction conditions. When it comes to estimating the costs of those different projects, there are at least three common areas that can affect the process.
Client Factors
Different clients may have very different expectations related to "what" they want for cost-estimating services. A private client with the ability to finance a project within a comfortable range may require only a rough estimate of costs from the design professional and instead rely on his or her own resources to analyze costs and negotiate prices separately. Or the client may be limited in the amount of financing available and have a high need to understand and control costs, thus relying heavily on the project team to direct and assist that effort. By contrast, a public client often has a stated maximum budget that is the result of legislation or public bonds being issued, hence he or she can be very sensitive to the need to avoid cost overruns since it is a big deal to attempt to go back and obtain additional funding. As such, most public clients ask for cost estimates to be prepared and updated at each project-phase submission (i.e., schematic, design development, construction documents, etc.) if the project is managed that way. In any of these or other situations, being sensitive to the client needs for cost estimating means the project team may need to tailor the way information is analyzed and presented to suit individual buildings.
Human Factors
The question of "who" is going to do the cost estimating for a project needs to be answered fairly early in the process. In some cases, a large professional practice may have in-house personnel and well-established office standards for preparing cost estimates for all of its projects. In other cases, it may be just one or two people in a firm who do the cost estimating as part of a much broader job description. Alternatively, someone other than the design professional may do the cost estimating. That could be a construction management company that is retained early in the design process, or it could be an independent firm who focuses only on cost-estimating services. In some cases, the client may require such an independent cost estimate as a "double check" on the estimate prepared by the project team. Either way, the people responsible for the cost estimating need to be identified early in the design process, with everyone feeling comfortable about their qualifications and experience.
Data Factors
With an understanding of "what" is needed in a cost estimate and "who" is providing it, the remaining decision is "where" the cost data will come from. The obvious need is for a reliable and up-to-date source of data on which a cost estimate can be based. Such sources can include a variety of choices such as historical project data, information from suppliers, direct information from subcontractors, or other direct personal contacts. However, data from those sources may be rather subjective and probably need to be scrutinized to ensure they are directly applicable and timely for the project at hand. Further, the information available needs to match the level of cost estimating detail needed for different phases of a project. For example, early on, square-footage costs for general budgeting or schematic purposes may be all that is reasonable or required. As a project progresses and specific roof assemblies, wall assemblies, or similar construction systems are identified, the cost data needs to be updated to match the specified designs. Finally, when all (or nearly all) project information is identified, a fully detailed cost estimate can be created that is based on individual unit costs for material, labor, and equipment for each part of the construction work.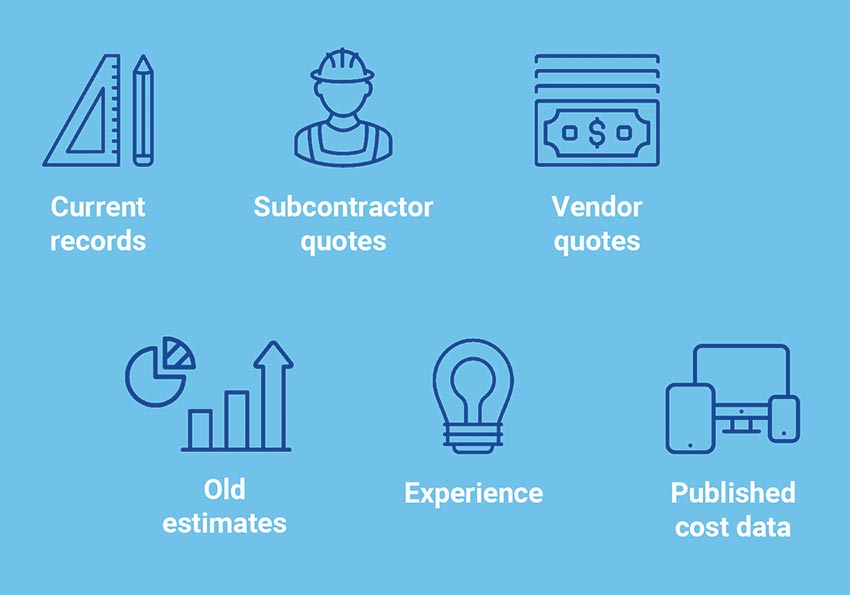 There are multiple factors and variables that go into accurate construction cost estimating. Recognizing and working with them can help produce the best results.
In light of the variety of data needs above, many estimators rely on independent, third-party, published cost data that is available in print or online. The advantage of the online sources is that they are regularly updated, while printed books may only come out once a year or so. For estimates that need to be based on the most current conditions, the online sources will make the most sense. Further, independent data typically addresses regional and local cost differences, allowing it to be customized or tailored to a particular project location, accounting for differences in the labor markets, material availability, and other factors. Perhaps the biggest advantage of these published data sources is that they are prepared by organizations that have full-time staff to focus on researching and identifying objective data for all construction trades and scopes of work. As such, they bring an element of independent credibility and experience to a project for accurate and up-to-date information. The fact that a project cost estimator can then rely on this data to apply it as appropriate to a customized cost estimate at different levels of development means the data can be useful throughout the entire design and construction process.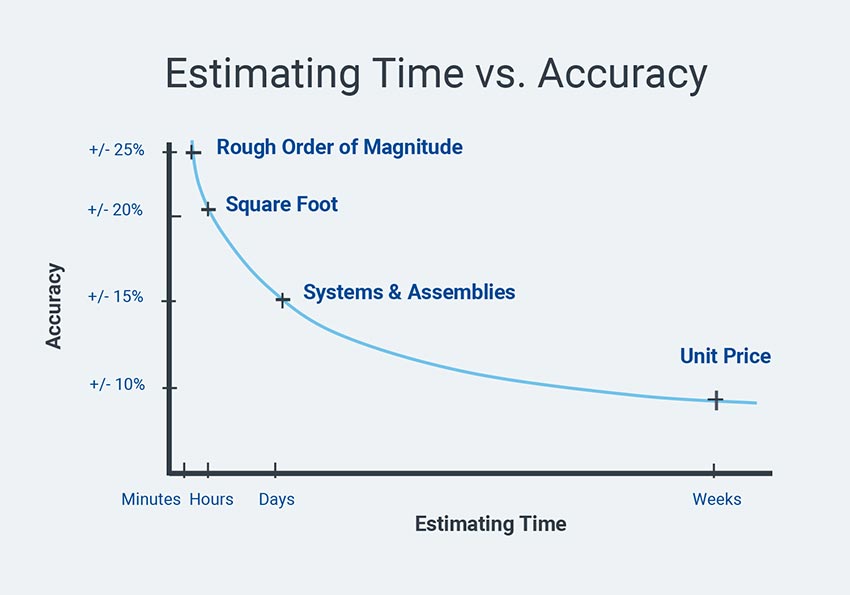 Data used to create a cost estimate is only as accurate as the information available based on the development of the design and construction documents. Hence accuracy can be expected to increase as a project progresses.
Originally published in Architectural Record
Originally published in August 2019
Notice