The Benefits of Art-Grade Bronze for Residential, Commercial, and Hospitality Applications
Architects and designers are increasingly turning to high-quality bronze finishes to give hardware a rich, contemporary feel
Sponsored by Rocky Mountain Hardware
This test is no longer available for credit
Manufacturing Process
While in the past one-off fabrication methods have represented a more complex or costly approach, today they are competitive, with experts seeing growth in custom cast designs in the commercial, hospitality, and residential fields, among others, due at least in part to an increased interest in clean-line, modern hardware choices that are often tailored specifically for a project or series of installations. The nature of a cast product—it's all made to order, and the designer can fashion the hardware in the shape of a logo, solve a specific design issue such as accessibility for the disabled, or just create a whole new style—makes it a logical choice for these types of requirements.
Generally speaking, creating a bespoke design for hardware, furnishings, and architectural materials often requires a lead time of several months, although current industry turnaround is much faster than it was even 10 years ago. For a door pull, for example, many foundries and fabricators have engineering teams working with three-dimensional CAD systems, parametric solids software, or building information modeling (BIM) to refine and verify the custom shape. A rapid prototyping system such as stereolithography (SLA)—an additive, 3-D printing process—can be used to create the hardware molds. Of course, there is still the age-old method of utilizing master carvers and pattern makers who hand carve the molds in wood or plasticine.
Sand Cast and Investment Cast
From there, the process hasn't changed that much from the Bronze Age. There are two types of casting methods: sand cast and investment cast.
Sand casting, used for about 70 percent of metal hardware according to T.V. Ramana Rao in Metal Casting: Principles and Practice, is the faster and less-expensive technique that involves packing the prototype model (pattern boards) in a mix of sand and a bonding agent. These pattern boards are pressed into two halves (cope and the drag) of sand boxes. The sand is then pounded down, pattern boards removed, and the two halves are assembled to "reverse out" the mold.
On the other hand, investment casting—also known as a lost wax and originally performed with beeswax—is costlier but results in a more accurate, repeatable, and finely detailed result for many metals and alloys, with little machining or finishing of the surface required. With this method, individual wax patterns are attached to a wax "tree," which is then dipped into a ceramic slurry, sprayed with sand, and allowed to dry. This process is repeated until there is a thick shell formed.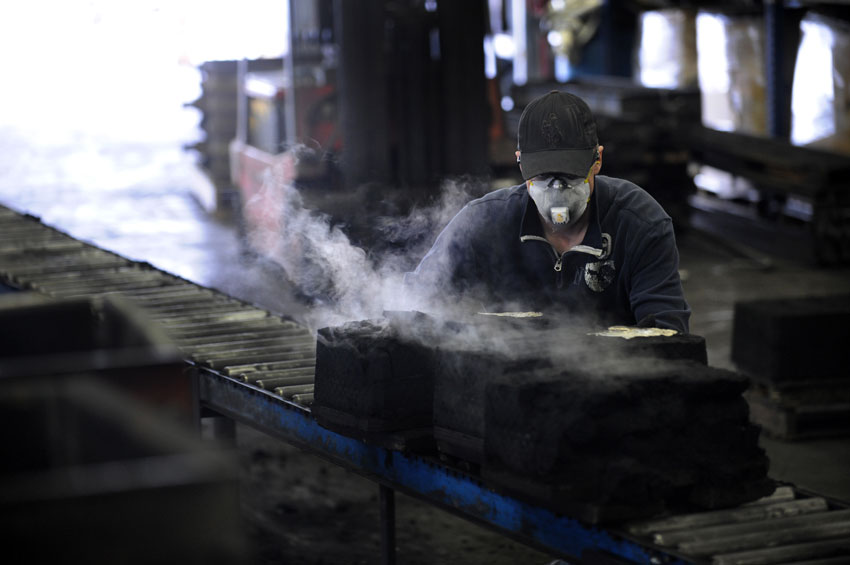 Photo by Kirsten Schultz
A foundry worker guides freshly poured sand-cast molds down a belt to allow bronze to harden. Once cooled, the sand will be removed to reveal rough-cast pieces.
The wax is then melted out, leaving a precise internal geometry in the shape of the casting. The "tree" is fired in a kiln until hardened, like with pottery. The molten bronze is then poured into the mold. Once cooled, the "shell" is broken away and the individual pieces are cut off the "tree." The finishing process is then similar to the sand-cast method. While this method takes much longer than sand casting, it allows for a greater level of detail in the casting.
In both types of casting processes, architectural hardware is typically machined by state-of-the-art computer numerical control (CNC) milling to ensure the surfaces are unblemished and all parts work as engineered. The finishing processes and proper installation help ensure that the expected benefits to occupant health are delivered as designed.
While the casting techniques manufacturers use may be 5,000 years old, the benefits of integrating relatively brand-new architectural production methods, such as integrated project delivery (IPD) and BIM, have led to faster schedules and, often, reduced interior project budgets.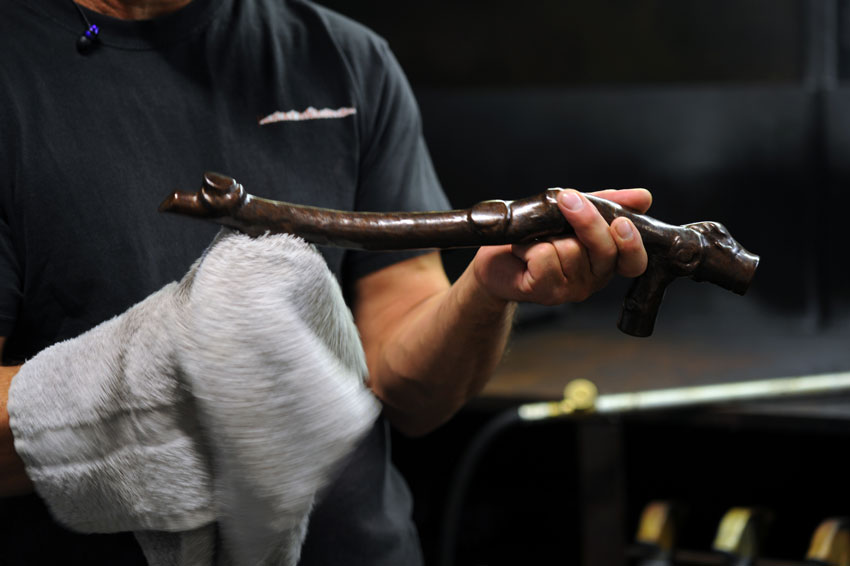 Photo by Kirsten Schultz
As many as 15 to 20 people can be involved in the casting of each piece of bronze hardware—from creating the molds to, as seen here, hand polishing each piece.
For a detailed look at the typical manufacturing process, watch the following video, which illustrates how time intensive it can be to make these high-quality products, with as many as 15 to 20 people working on refinement to get the details needed.
Meeting Local Codes and Regulations
Codes and compliance can also be considered when specifying hardware for a project. Here are some examples related to art-grade bronze hardware products.
ADA: Many art-grade bronze hardware products are ADA approved, such as levers with 1½-inch clearance as well as grips. Unlike in the 19th century when knobs were routine, lever handles today have assumed greater prominence. Ease of use, adaptability to meet the Americans with Disabilities Act (ADA) requirements, and a sleek appearance are among the reasons contributing to their popularity.
Fire code: Note that fire code is on the lock mechanism (not trim). Code compliance varies with municipalities. Levers with returns may comply with certain fire codes. 
UL: Exterior lights require UL Damp rating when covered (by a porch). Wet rating is required for lights exposed to the elements.
Emerging Trends
Contemporary design continues to drive the market with minimal or simple clean lines. The increase in clean-line, modern hardware includes custom fabrication of building "touchpoints," such as handrails, door pulls, and other metal hardware in the high-end market segments. The industry is introducing new designs to meet market demand.
Another trend is electronic locking trim designs that are available to marry with both commercial and residential lock mechanisms. Increasingly, security hardware and devices are being adapted to many different applications. This high technology trend, combining traditional latch-and-lock mechanisms with IT systems, represents a design and coordination challenge for both architects and manufacturers.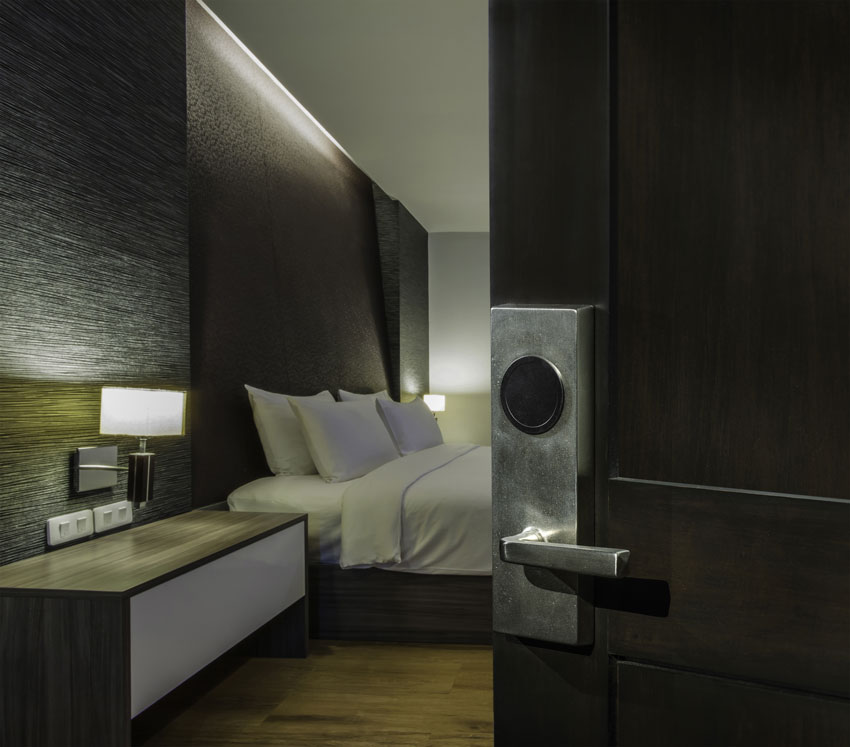 Photo by Kevin Syms
White bronze-brushed custom RFID lock hardware makes a design and quality statement at this luxury contemporary hotel.
Typically, the driving force behind selecting different hardware is based on the necessary function, with the basic distinction being between indoor and outdoor applications. Most exterior doors lock, and in many cases, the doors are larger in scale (taller, wider, heavier, and carry more hardware) than interior doors. This is especially true of entry doors. In order to hold larger and sturdier locking mechanisms, such as a mortise lock, selecting doors with larger stiles that provide more room for the trim is fundamental to having more options in hardware selection. The mortise lock, which integrates the locking and latching mechanisms into a single cartridge-style lock, is inset within the width of the door and is set within the stile, the vertical structural member of the door. With the trend toward "more view, less door," narrow stiles can be married with narrow backset mortise locks for both entry grip and lever applications.
Dead bolts are another method of locking an exterior door; however, they do not have the same security and emergency egress function that mortise locks offer. Deadbolt entries are most often used on the secondary-entry doors. However, it is recommended that high-use doors have mortise locks.
Multipoint lock doors are in increasing demand for the high-end residential market. Most often "patio" functions (no key access, locks from interior) are used for doors leading to the exterior entertainment areas. In some states (Florida, for example), multipoint locks are a requirement for all exterior doors to meet hurricane codes and are available with entry functions as well as patio.
Many interior doors contain a locking or latching mechanism, but these tend to be smaller than those that secure homes. Tubular (also known as spring latches) are available in passage or privacy functions. Mortise bolts can be married with spring latches for privacy functions as well. This varies based on residential and commercial applications. Another broad assumption is that interior doors are not required to meet all of the stringent impact codes, especially relating to hurricanes and high-wind conditions that exterior doors are often subjected to. This also varies with application, particularly for interior doors in commercial and hospitality settings.
Conclusion
Upon final analysis, the aesthetics of hardware design can strongly influence how we perceive the space we are in. The architect's and designer's selection, application, and specification of hardware can make a lasting contribution to the project's success in terms of a project's overall look as well as performance, code compliance, and sustainability. Not only have design options for hardware significantly expanded and evolved in recent years, but the complexity of hardware functions and technology has also evolved to meet the varied requirements of residential, commercial, and hospitality spaces. Architects and designers should keep this area of design in mind with specifying the details of a job and maintain a knowledge base of the latest advancements in the industry.
Originally published in Architectural Record
Notice