The Value of Stone Wool Acoustical Ceilings
A proven, natural building material is now used in ceilings providing high-performance acoustics and smooth, clean surfaces
Sponsored by ROCKFON
This test is no longer available for credit
Design Versatility: Ceiling Tile and Grids
With an understanding of the multiple performance properties of stone wool ceilings, let's turn our attention to the design opportunities. Like all suspended ceiling systems, there are choices and options that can be selected to enhance or highlight particular building designs.
Tile sizes. Stone wool ceiling tiles are made in a variety of standard modular tile and plank sizes such as 2 feet by 2 feet and 2 feet by 4 feet but a range of other sizes are possible as well. These can be selected based on design preferences and laid out similar to any other suspended ceiling system. By combining different module sizes in different patterns, it is possible to create different design impacts.
Edges. As with other ceiling tiles, stone wool can be fabricated with a variety of edge treatments. The most common is a simple square edge design that allows the edges to rest directly on the "tee" portion of the grid. A tegular edge, whether square or angular, allows the tile to protrude below the grid and provide more depth and texture to the ceiling plane. Semi-concealed or fully concealed edges are possible when the rigid stone wool panels are fabricated to cover all or part of the tee face of the grid. It is also possible to avoid the use of a grid altogether and simply mount the ceiling tiles directly to a substrate using adhesive or other means.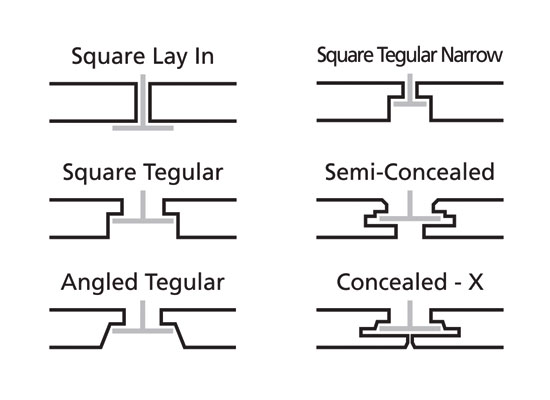 Image courtesy of ROCKFON
The edges of stone wool ceiling tiles can be selected from many standard choices to suit particular building design applications.
Color. The default color for all ceilings is white due to its reflective nature and recessive appearance. However, custom colors are possible when selecting stone wool ceilings. Lighter colors can still provide various degrees of light reflectance inside a space and may often be desirable. In other cases, a full range of darker or bolder colors are also available that can enhance the overall building design.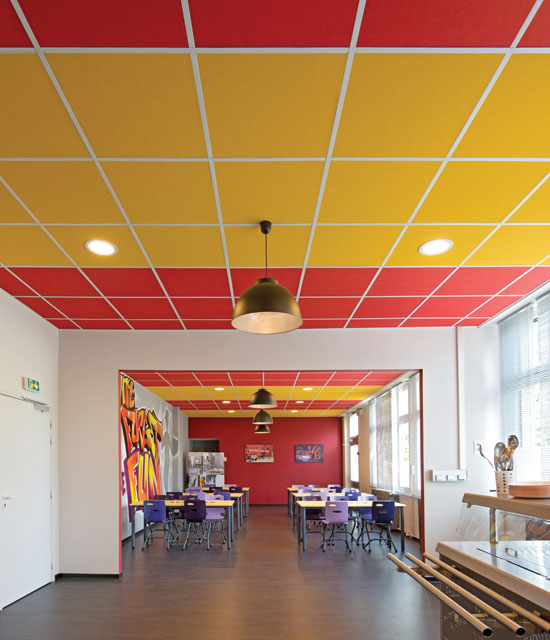 Photo courtesy of ROCKFON
Stone wool ceiling panels can be specified in a wide range of colors for different settings, particularly appropriate in educational settings that still need high acoustical performance.
Surfaces. Unlike many mineral fiber ceiling tiles, fissures are not required in stone wool ceilings to improve sound absorption since the material is naturally sound absorbent. As such, their smooth finish can provide a designer-preferred surface with a clean, uniform look.
Shape and form. Shape in this case refers to the two-dimensional appearance of ceiling tiles such as squares, rectangles, etc. Form refers to the three-dimensional possibilities such as free hanging cubes or other configurations to baffle sound in a space. The current design trend is for more use of large-format planks and three-dimensional elements to give greater design expression to spaces. Stone wool products are available to support these design trends in both shape and form.
Originally published in Architectural Record
Originally published in October 2017
Notice