The Value of Stone Wool Acoustical Ceilings
A proven, natural building material is now used in ceilings providing high-performance acoustics and smooth, clean surfaces
Sponsored by ROCKFON
Peter J. Arsenault, FAIA, NCARB, LEED AP
This test is no longer available for credit
Acoustical Principles Relating to Sound Within a Space
Sound Absorption: The amount of sound energy absorbed upon striking a particular surface. The more sound energy that is absorbed then the less that is reflected back as reverberation or a possible echo, measured as follows:
• Noise Reduction Coefficient (NRC): NRC refers to a surface's ability to reduce noise by absorbing sound. A higher score signifies better absorption. A ceiling with an NRC of 1.00 absorbs all sound. A ceiling with a NRC of 0.00 absorbs no sound. NRC is measured according to the ASTM C423 standard. NRC is important in areas where people converse in groups and high levels of noise are present, such as classrooms, open plan offices, shops, lobbies, and meeting rooms. Most stone wool products have an NRC of 0.85 or above.

• Sabin: Absorption in Sabin indicates the sound absorption property of discrete elements like islands and baffles. The number of Sabins per unit is equal to the total surface of the unit that is exposed to sound or noise (measured in square feet) multiplied by the absorption coefficient of the material. Absorption in Sabin is measured according to ASTM C423.
Sound Reflection: The intentional use of non-absorptive surfaces that enhance a lively acoustical sound quality, such as in nightclubs or music venues.
• Reverberation Time (RT): The most important factor in all regulations is reverberation time, which is defined as the time it takes for the sound pressure level to drop 60dB below its original level after the sound source is stopped. In most situations, a low reverberation time improves the acoustical comfort, such as in classrooms. However, in some situations, such as concert or conference halls, a higher reverberation time can improve listening comfort. Reverberation time depends on the size and shape of the space plus the amount, quality, and positioning of absorbing surfaces within the space. The more sound absorption in the room, the lower the reverberation time.
Acoustical Principles Relating to Sound Transfer Between Spaces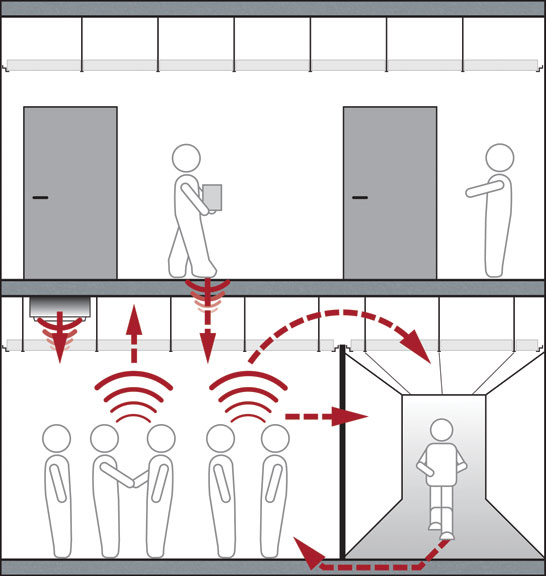 Image courtesy of ROCKFON
The basic principles of acoustical design focus on controlling sound absorption and reflection within a space and sound transfer between spaces.
Total sound insulation is the ability of a total construction (partitions, ceiling, floor, furnishings, and all connections) to prevent sound from travelling through the ceiling void and through building elements. Sound insulation of ceilings is measured using the Ceiling Attenuation Class value (CAC); sound insulation of walls is measured using the Sound Transmission Class value (STC). The higher the CAC/STC value (in dB), the better the performance. Mass, airtightness, and sound absorption are the main properties that determine the sound insulation capacity of any material.
• Sound Transmission Class (STC): Sound Transmission Class is a measure for rating the performance of a wall system (not a ceiling) for sound insulation. A wall system with an STC below 35 is considered low performance, whereas one with an STC over 55 is high performance. STC is measured according to ASTM E90 standards.

• Ceiling Attenuation Class (CAC): Ceiling Attenuation Class indicates the ceiling's ability to prevent airborne sound from traveling between adjacent rooms when the dividing wall does not connect with the structural ceiling.

• Articulation Class (AC): Articulation Class indicates the speech privacy performance of a ceiling in an open plan environment, such as a space divided by half height walls. A rating below 150 indicates poor speech privacy performance; a rating above 180 indicates good performance. AC is measured according to ASTM E1110 and E1111 standards.
Originally published in Architectural Record
Originally published in October 2017
Notice