Prioritizing Well-Being for a Healthier Built Environment
These projects show what can happen with a focus on well-being
Sponsored by ROCKFON
Learning Objectives:
Discuss two measures used for the Perkins Eastman project to emphasize occupant well-being and to pursue WELL certification.
List three ways these projects reduced overall energy consumption while improving the built environment.
Describe the approach used for the Perkins & Will project to put occupant well-being at the top of their design priorities.
Explain the challenges faced when pursuing WELL certification.
This course is part of the Health and Well-Being Academy
This webinar is part of the Health and Well-Being Academy
This course presents several projects that have put health and well-being at the top of their priority lists. Each project approached the challenge in their own unique way, some attaining the WELL certification and others focused on the same criteria but with a different end in mind. This webinar will help you to gain valuable insight into the design processes used and to learn about the many and varying ways all firms can move the built environment towards a healthier future.
The presentations will be followed by a moderated discussion focused on how these innovative custom home projects address several key issues.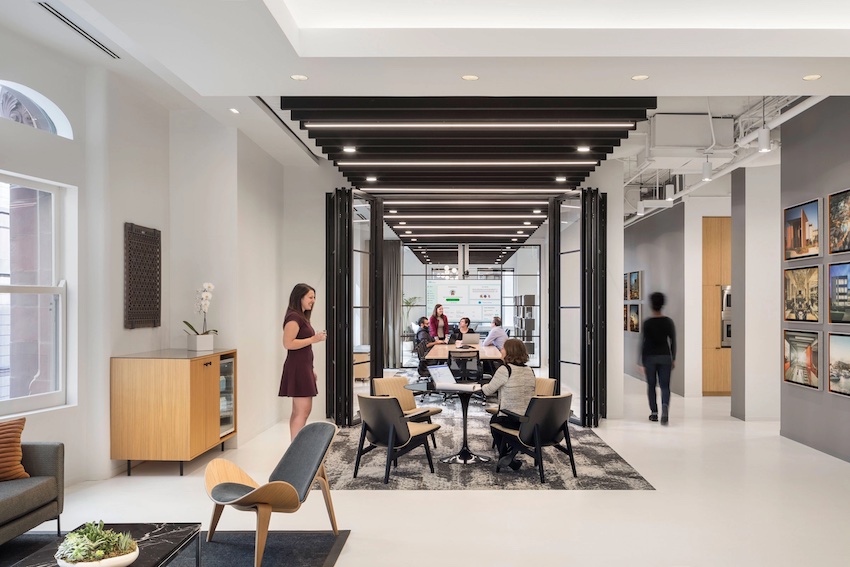 Photo courtesy of Perkins Eastman
Inside the welcoming lobby at Perkins Eastman's Chicago Studio.
| | |
| --- | --- |
| | Madona Lizi Cumar-Malhotra , IIA, Assoc. AIA, NOMA, LEED AP, Senior Project Architect and Manager, Perkins Eastman. Madona is an experienced specialist with a history of working in the architecture and interior industry. She has focused experience in workplace, hospitality, health-care, and mixed-use projects. Madona has demonstrated successful leadership in project management of small (3,000-square-foot) to large (400,000-square-foot) projects. She is a strong professional with a Master of Architecture focused in general and interior architecture from the Georgia Institute of Technology. |
| | Mary Dickinson, Regional Sustainable Design Leader and Senior Associate, Perkins + Will, and Co-Director, Material Performance Lab. As a member of the firm's Sustainable Design Council & Research Board, Mary assures that sustainable ideas are an integral part of the firm's projects and practice. Her knowledge extends and impacts multiple market sectors. Fueled by her passion in refining the role of the built environment on human and ecological health, Mary co-chairs the firm-wide Material Performance Lab. |
| | Ana Pinto-Alexander, RID, IIDA, EDAC, Principal and Senior Vice President, HKS. A highly recognized and featured designer, Ana has more than 34 years of experience designing interiors for the country's most progressive facilities. Her extensive research anchors her belief that the environments where we live, work, and play greatly reflect and affect who we are as individuals. These foundational beliefs were shaped by her childhood in Colombia, South America, and enhanced by extensive international travel that influences her unique design perspective. |
Originally published in April 2021
Notice