Architecture and Emotions: Designing for a Healthier Built Environment
These projects demonstrate approaches to a 'feeling' architecture.
Sponsored by ROCKFON

1 AIA LU/HSW; 0.1 IACET CEU*; 1 AIBD P-CE; AAA 1 Structured Learning Hour; AANB 1 Hour of Core Learning; AAPEI 1 Structured Learning Hour; This course can be self-reported to the AIBC, as per their CE Guidelines.; MAA 1 Structured Learning Hour; NLAA 1 Hour of Core Learning; NSAA 1 Hour of Core Learning; NWTAA 1 Structured Learning Hour; OAA 1 Learning Hour; SAA 1 Hour of Core Learning
Learning Objectives:
Discuss how environmentally innovative products can be specified to support the emotional and physical well-being of occupants.
Describe efficient and effective methodologies for specifying environmentally innovative products that contribute to an overall enhanced healthy space for occupants.
List successful approaches for improving occupant emotional and physical well-being when reopening office spaces post-pandemic.
Explain how improvements to the Elmira Corning Regional Airport provided direct emotional and physical benefits to customers
This course is part of the Health and Well-Being Academy
This course is part of the The Health and Well-Being Academy
Below are a set of links to building type studies from Architectural Record, which are in-depth analyses of particular kinds of buildings, with photos, drawings, specifications, detailed descriptions, and design solutions. Click on each link below, read the article then complete the quiz to earn your credit and certificate of completion.
These projects demonstrate the centrality of human emotion in the design or our homes, apartments, places of work and worship and public spaces. While the pandemic has pushed many firms towards understanding how buildings are vulnerable, it has also created new views on the connection between a space and occupant health and well-being. These articles highlight projects taking unique approaches to addressing issues such as the impact of material choices on occupant health, the best use of space for maximum occupant and community benefit, and how architecture can affect emotions in a positive manner.
Temple of Light by Patkau Architects
The lines of the surrounding landscape are abstracted in this building's curving white form.
Katharine Logan
Architects Advise Clients on Safely Reopening Offices
With varied and sometimes limited information, architects are considering how best to help their clients.
James S. Russell, FAIA
Affordable Multifamily Housing Projects Adapt to Covid-19
Congregants of this church decided to construct an affordable-housing complex for seniors on top of a new ground-level sanctuary.
James McCown
The Case for a Feeling Architecture
This future-architect makes the case that architecture is not only about structures and materials, but also of deeply felt experience.
Jacob DiCrescenzo
Elmira Corning Regional Airport by Fennick McCredie Architecture
See how these architects brought tranquility to the airport experience.
James S. Russell, FAIA
Hunters Point Library by Steven Holl Architects Opens in New York
With it's stunning view of the Manhattan skyline, this library strives to bring together a community.
James S. Russell, FAIA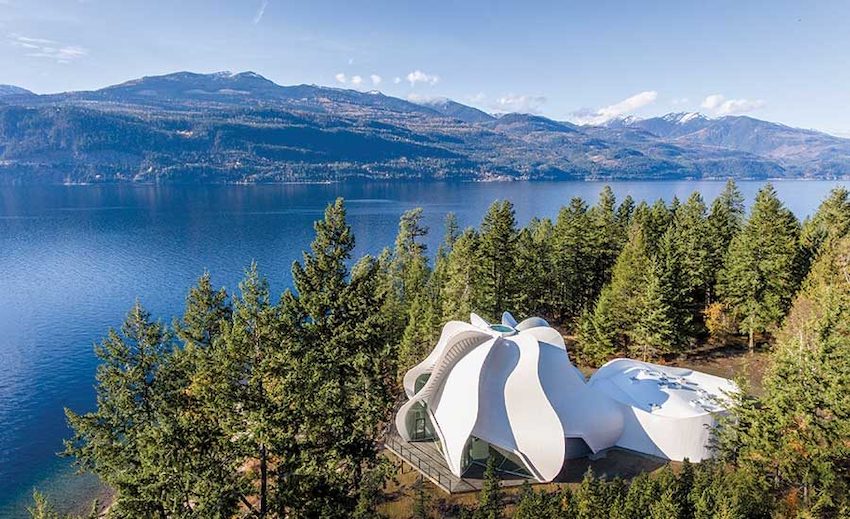 Photo © Dan Seguin
Beside Kootenay Lake, the building's curving lines relate to its landscape.
Originally published in April 2021
Notice