Building the Ideal Rainscreen: Advantages of Extruded Concrete Panels
Extruded concrete has become an increasingly popular material choice because it is thinner, offers more design options, and is noncombustible
Sponsored by Rieder North America
This test is no longer available for credit
OTHER OPTIONS: FINS, INTERIOR, DECKING, ROOF APPLICATIONS, FURNITURE—THE SKY IS THE LIMIT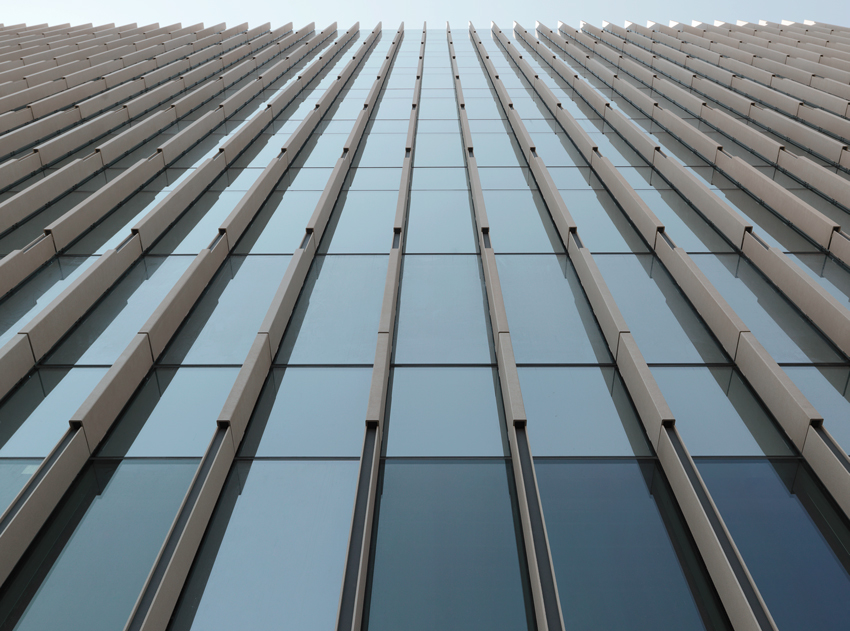 © Ditz Fejer
Extruded concrete is a versatile material. Here U-shaped ultra-thin folded fins made of extruded concrete were used for Boston University, Center for Integrated Life Sciences & Engineering.
Rainscreen and cladding systems aren't the only use for extruded concrete forms. The material can be folded when wet and made into "U" shapes, "L" shapes, or put into a mold for curved parts. These unique shapes and designs can be incorporated into both interior and exterior features.
Folded concrete can replace traditional aluminum "fins" on building exteriors. Such fins provide solar shades on tall buildings and decorative adornments to the structure. With new 3-D concrete design as an option, fins can be designed and then installed directly onto the curtain wall.
Decks and rooftops can also benefit from the strength, durability, and light weight of extruded concrete panels. As a deck surface, for example, the material is able withstand foot traffic and deflect rain and snow, making it an affordable alternative to traditional wood decks. Moreover, the difference in maintenance requirements between a traditional wood deck and a concrete panel design is impressive: where wood requires stains, sealants, and occasional power washing to keep the wood in good shape, concrete will maintain its appearance without any risk of deterioration. This fact alone makes it a good choice over wood, which regardless of how well it is cared for will at some point begin to degrade, either from exposure to the elements or from bug infestation.
Moving away from exterior cladding, extruded concrete forms can also be created to enhance building interiors, whether through interior finishes or even custom-designed concrete furniture, such as tables, chairs, benches, or couches.
Andrew A. Hunt, vice president, Confluence Communications, has 16 years of experience in green building and has produced more than 100 educational and technical publications. www.confluencec.com
| | |
| --- | --- |
| | The diversity and high performance of fibreC glassfibre reinforced concrete allows cost-saving construction of high quality, cutting-edge facade systems with long-term durability. It is authentic—in line with the current trend towards natural and sustainable materials. |
Originally published in Architectural Record
Originally published in January 2019
Notice