Designed, Sealed, Delivered - IAQ and the Building Enclosure
This course is no longer active
Sponsored by UL Environment
CASE STUDY #2
Raised Floor Building, Florida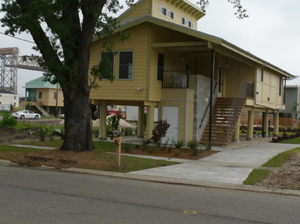 Raised floor building, Florida
A residential building in the hot, humid, coastal climate of Florida was constructed with a common raised bottom floor to keep it above the flood plain. Unfortunately, a combination of items makes this building a case study in the creation of moisture problems and poor pressurization.
The construction process required numerous penetrations of the raised floor to run mechanical, electrical, and structural items. This included rain leaders, chilled water, condensate, electrical, sprinklers, water and sewer. As it turned out the HVAC and envelope people did not talk to each other so no coordination was undertaken.
When completed, the air conditioned building was under negative pressure and had insulation that was problematic. It became apparent that the interior walls throughout were becoming wet and the condition was worse on lower parts indicating that this was not from roof leaks. On further investigation it was determined that warm, humid air was being pulled into the interior walls from the compromised floor beneath. That outdoor air was then condensing on the inside (cavity side) of the wallboard that was cool from exposure to the air conditioning on the other side. It didn't take long for the partitions to begin growing mold and deteriorate the wall board to the point where vinyl wall covering was literally falling off of the walls.
Direct repair costs were very high since the problem was across the entire building. Further, there were considerable legal costs incurred to determine who was at fault and who would be paying for damages and undertaking repairs. The clear lesson learned was not to forget the bottom of the enclosure and assure that mechanical and electrical systems are integrated with the enclosure design. In particular, the critical importance of continuity of barriers including sealing of all penetrations is evident along with the need for engineers, architects, and contractors to communicate and understand the issues.
References
Results from studies conducted as part of the state of Washington's East Campus Plus Program showed that 96 percent of the VOCs found in a large office building following construction resulted from the materials used to construct and furnish the building (Airfaqs Vol 4 Issue 1, fall 1996).
According to the U.S. Environmental Protection Agency (U.S. EPA), the most effective way to reduce indoor air pollution is to reduce or eliminate the sources harmful chemical emission. http://www.cdc.gov/niosh/topics/indoorenv/ConstructionIEQ.html
Regarding health costs associated with building materials and IAQ:
Selecting Healthy Building Materials and Furnishings for Indoor Environments
For Presentation at NeoCon 96/The Buildings Show
Chicago, IL
Marilyn S. Black, Ph.D.
Air Quality Sciences, Inc.
Peter J. Arsenault, FAIA, NCARB, LEED AP, is a nationally known architect, sustainability consultant, technical writer, and continuing education presenter. www.linkedin.com/in/pjaarch
Paul Bates is an internationally recognized speaker and author of topics related to sustainable products and services.

UL Environment works to advance global sustainability, environmental health, and safety by supporting the growth and development of environmentally preferable products, services, and organizations. They help purchasers find products they can trust. UL Environment offers environmental claim validations, multi-attribute product certifications, environmental product declarations, indoor air quality certification, product emissions testing, organizational sustainability certification, and consulting. www.ul.com/environment
Originally published in Architectural Record
Notice