Innovation and Resilience
Precast concrete advancements and attributes help designers achieve performance, life safety, and welfare goals
Sponsored by Precast/Prestressed Concrete Institute (PCI)
This test is no longer available for credit
Versatility
Precast concrete's ability to adapt to many different functions makes it a favorite of architects, engineers, and contractors alike.
Aesthetics
Precast concrete's aesthetic versatility allows it to assume virtually any color, form, and texture, facilitating facade integration and historic compatibility. Its off-site, made-to-order production cycle also means scalable performance, economical production, and allows for deconstructive and adaptive resuse.
Precast producers can translate precast concrete to fit whatever goals an architect or designer conceives. Incorporating a variety of colors, textures, and finishes makes each architectural precast concrete project a custom fit. Facade treatment options also include other treatments, such as formliners, reveals, rustications, thin brick, stone, and tile.
Precast concrete building systems are adaptable to a wide variety of orthogonal and radial forms. The array of form possibilities provides nearly limitless creative opportunities. The plasticity of concrete adds to the already enormous range of design opportunities that includes pigments, aggregates, cements, sandblasting, and acid etching.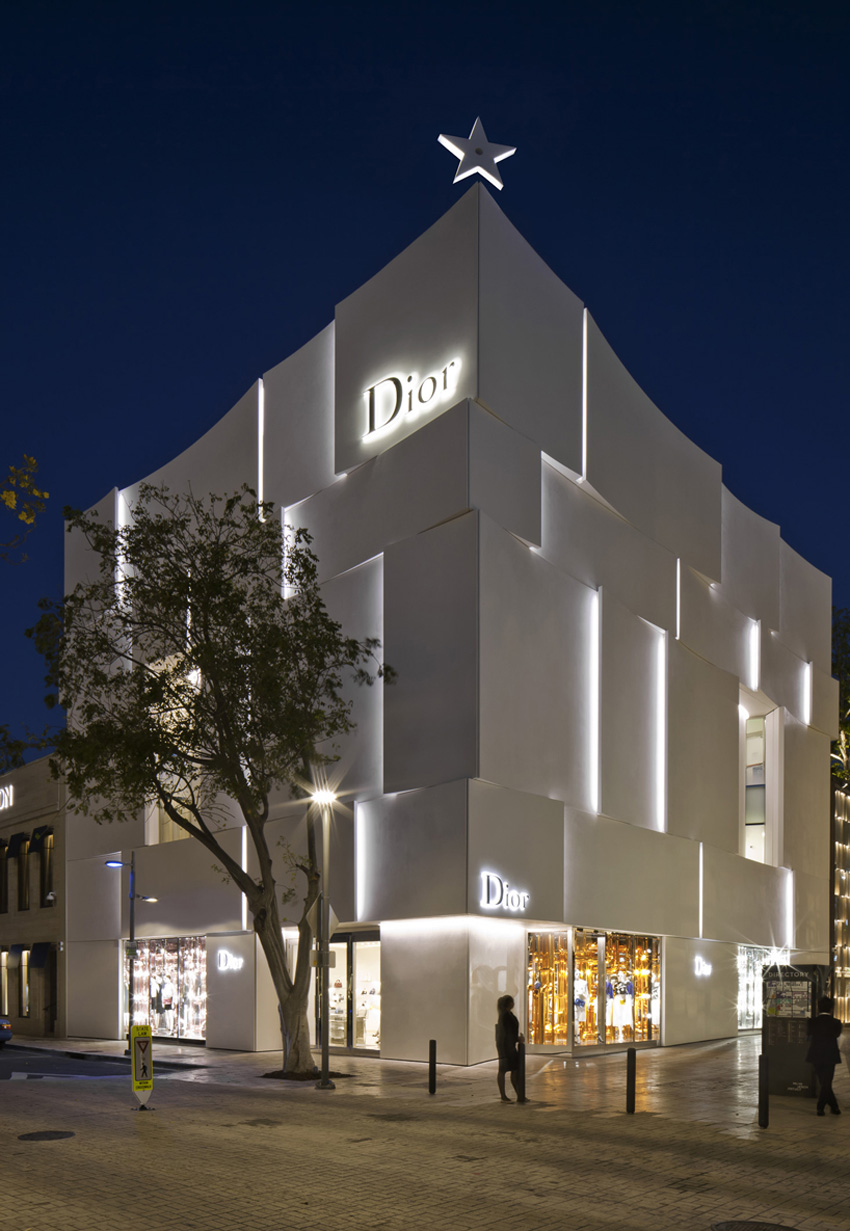 Photo: © Alessandra Chemollo
The Dior store in Miami was designed to reflect the couture brand's luxury image of refined elegance, innovation, and a sense of delight. Along with providing the flexibility to achieve the curved panel design, precast concrete also delivered hurricane-resistant performance, which is critical for the waterfront community that regularly faces strong winds, salt air, and heavy rains.
From NFL stadiums, office buildings, schools, data centers, and student housing to retail, prisons, courthouses, and much more, precast concrete can reinvent itself every time it is specified.
Precast concrete walls can be used for both exterior and interior applications. From exposed walls on the interior using insulated precast concrete panels, to a thin-brick veneer on the exterior, to precast concrete stairs, to hollow-core floor slab systems, to the double tees at the roof, to columns and beams, the places precast concrete are found in today's construction are almost limitless.

Photos: Courtesy of Wells Concrete
The final design of the U.S. Bank Stadium in Minneapolis features more than 5,000 precast concrete elements that would stretch 27 miles laid end-to-end. All of these pieces were cast at a local Minnesota plant and shipped to the job site in more than 1,500 truckloads. Long precast beams were utilized to minimize the need for columns and beam lines, ensuring great site lines from all seats.
Structure
The outline of a building's footprint can vary widely depending on several factors, including the zoning, site, and owner preferences. Precast concrete is able to accommodate a wide variety of configurations. The layout of a precast concrete wall system can maximize open areas and create flexible options for floor plans.
Owners today often specify a 100-year life for a structure. When that goal is met with a precast concrete structural system, another benefit is the adaptable shell precast provides, meaning the building can be changed during its decades of service. The structural engineer can create a variety of applications that resist hurricane forces, blasts, and seismic events for all types of buildings.
Tenants move, market conditions vary, personnel may shift, and technology advances. Through the appropriate choice of interior systems and access floors for connectivity, versatile precast concrete structures can accommodate change easily and economically.
Using an open floor plan enables a flexible interior space that can accommodate any number of tenant scenarios. Column-free space allows additional flexibility in floor plans and layouts. Shallow floor thicknesses with few beams provide unobstructed ceiling cavities for mechanical and electrical systems.
From its fluid state in a form to its varied use in and on a structure, precast concrete is adaptable and serves multiple purposes. Whether you value the wide spectrum of colors, textures, and finishes or rely on its stability, strength, and durability, it all comes down to the versatility of precast concrete construction.
Originally published in Architectural Record
Originally published in December 2018
Notice