Collaborating Through Design Challenges
The attributes of precast concrete enable realization of aesthetic and structural goals for new student life environments
Sponsored by Precast/Prestressed Concrete Institute (PCI)
Learning Objectives:
Identify new trends in university housing.
Explore how precast systems play a vital part in the aesthetic appearance, resiliency, and process-driven early occupancy of new student life environments.
Explain how precast systems work within BIM, design assist, and other occupancy-driven processes, and how it leads to aesthetically pleasing structures that are also safe, durable, and easy to maintain.
Discover unlimited aesthetic diversity through precast concrete.
Credits:
This test is no longer available for credit
If there's one certainty in life—and construction—it's that things change. But change does not have to be painful or difficult. Change can offer a superb opportunity to reevaluate paradigms, processes, and the "why" behind the way things are done. As English Clergyman William Pollard once said, "Without change, there is no innovation, creativity, or incentive for improvement. Those who initiate change will have a better opportunity to manage the change that is inevitable."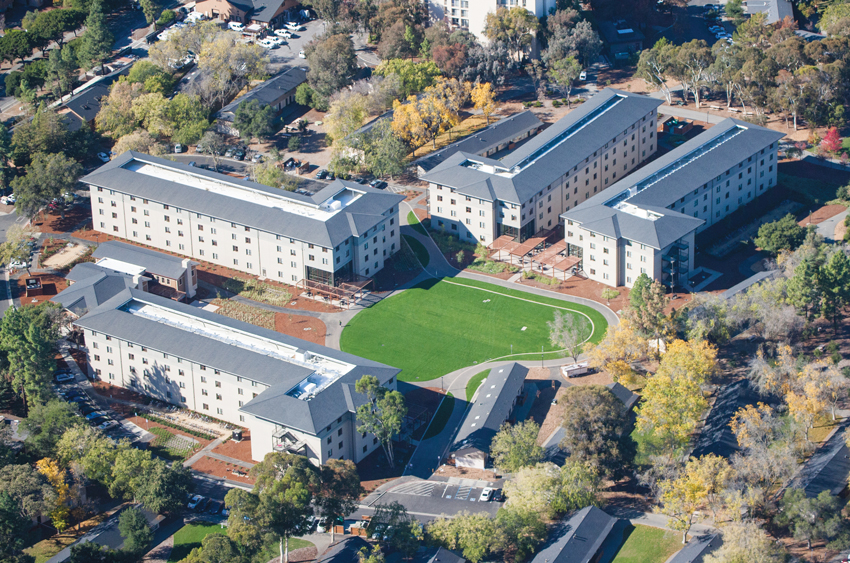 Photo courtesy of Digital Sky Aerial Imaging/Todd Quam
Comstock Graduate Housing Project
2015 PCI Harry H. Edwards Industry Advancement Award Winner
Four four-story buildings were constructed using architecturally finished structural precast concrete, vertically posttensioned precast concrete walls, and a pretopped plank system for the flooring.
A revolution is underway on today's job sites, as compressed timetables, complex trades coordination, and challenging aesthetic elements become the new norm. This change has swept into university housing, just as a majority of institutions are planning to renovate or replace aging residence halls. In addition to shifting construction demands, the concept behind student housing is undergoing its own "tectonic shift," a shift placing a larger emphasis on student living as an integral part of the learning process.1 The style of university housing also is not exempt from this wave of change. The aesthetics behind student housing are now called on more and more to extend the university's brand and lifestyle message.
"Our industry is now asking owners and designers to dream a little with them so that we can offer iconic structures that will outlast most of us," says Jim Lewis, RA, LEED AP BD+C, manager, Architectural Services, PCI. "The geometric shapes of these residential living environments is changing to help in recruiting students. It is a fun time to be in the construction industry."
From concept and design to construction and occupant comfort: change has affected them all. It is not often that such a diverse set of demands is met with a ready solution. Yet precast concrete's attributes can meet the needs of the institution, the student, and the design-build team. Precast systems can play a vital part in the aesthetic appearance, functionality, resiliency, and process-driven early occupancy in new student life environments.
Trends in University Housing and Design
The realities of escalating demands placed on student housing and the need for outstanding student housing in order to be competitive come at a time when university budgets are more constrained than ever. Complicating the issue for facility directors and student housing developers, the majority of campus housing stock is old, with a median age of 40 to 50 years.2 University housing needs new, remarkable structures to attract an increasing student population—projected to reach 19.6 million students by 2024. And those structures need to combine the attributes of aesthetics, functionality, resiliency, and compatibility with process-driven early occupancy.
Meeting the Academic and Facility Demands of Today's Students
The Center for Facilities Research, APPA, conducted a study of nearly 14,000 students to determine "the relative importance of an institution's physical assets on a student's choice of higher education institutions" and "the relative importance of various facilities in the decision process."3 The study found that "two-thirds of the respondents indicated the Overall Quality of the Campus Facilities and half of the respondents indicated the Attractiveness of the Campus were 'Essential' or 'Very Important' to their decision."
The Center for Facilities Research also asked student respondents to rank facilities to better determine which facilities had the greatest impact on initial student attraction and retention. "Residence Halls on Campus" were ranked second in order of impact, with 53.1 percent of surveyed students feeling they were important to see on a campus visit. Ranked first were facilities related to the major course of study. Respondents were asked to pick the one facility that "had the greatest impact on their decision" in selecting a college. Ranked third, with 11.5 percent, was residential space. Poorly maintained or inadequate facilities were listed as the number-one reason for a student's rejection of an institution.4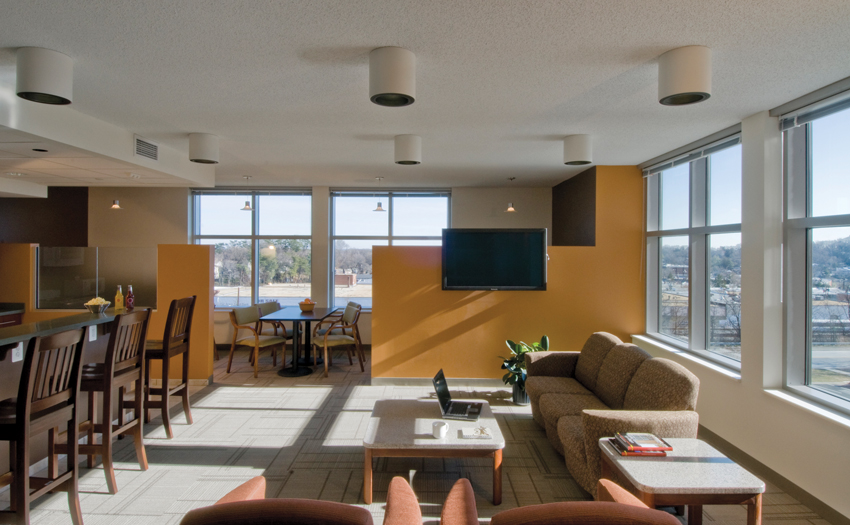 Photo courtesy of Little/© John Cole, 2009
Dining area and lounge at Opus Hall, Catholic University of America
New Designs Take Student Housing Beyond a Place to Sleep
In order to transform student housing beyond the limitations of traditional dormitories, new design strategies are emerging. In June 2016, Syracuse University announced plans to shift all student housing to its Main Campus, constructing groups of residences that will form housing neighborhoods, each with its own identity. The use of words like "neighborhood" and "community" when describing university dormitories reflects the importance of New Urbanism in forming student life communities.
When planning student housing developments, a majority of universities are embracing the tenets of New Urbanism. Broadly, New Urbanism is a design movement that takes a holistic view of development. Under New Urbanism, a planned neighborhood encompasses factors like measuring walkability, enabling a diversity of jobs, and planning a wide range of housing types. When applied to student residences, dormitories are transformed into buildings with a diversity of uses and occupants, becoming a "student-life complex." Dormitories become places where students eat, learn, sleep, study, shop, and recreate.
The University of Cincinnati's Main Street project exemplifies New Urbanism's impact: the new Campus Recreation Center combines 224-suite style residences, a restaurant, classrooms, and a convenience store.5
Designs that emphasize the social, blended nature of learning, while maintaining students' desire for privacy, hallmark housing as modern, innovative spaces. University housing directors are faced with balancing the importance of community, the need for flexible design, and the demand for amenities with today's student's desire for privacy.
This desire for privacy is important to include alongside strategies for fostering common spaces and illustrates the tensions faced in planning contemporary housing. According to college housing consultant and author Jim Grimm, former housing director for the University of Florida, 90 percent of freshmen arrive at the University of Florida campus never having shared a bedroom. "These same kids have been raised during a time of great abundance in America. They're used to seeing condo complexes with pools and workout rooms in their communities; they're accustomed to Internet access on a 24/7 basis, and having a safe place to study and hang out with friends—but that's only for starters."6
Originally published in Architectural Record
Originally published in November 2016
Notice