Innovative Sports Facility Design in the United States and Abroad
Sponsored by Pilkington North America – NSG Group
Learning Objectives:
Define the innovative, technologically advanced design strategies employed in projects drawn from several Architectural Record's Stadiums Building Type Studies and project overviews.
Explain how a variety of design approaches can be strategically used in stadium design in order to win over a crowd.
Discuss how the design teams handled energy-efficiency concerns on a number of these highlighted projects.
Describe the range of materials employed on the featured stadium projects.
Credits:
This test is no longer available for credit
This course is part of the Stadiums Academy
This course shares design insights and approaches used on several stadium and sports facility projects in the United States and abroad that have been featured in Architectural Record Stadiums Building Type Studies and/or project stories. The focus of this content is on design innovations that are meant to draw in a crowd and bring new technologies into the process.
First Look: A New Stadium in Bordeaux, France by Herzog & de Meuron
Giving 'Team Building' New Meaning: Designers and contractors rely on collaboration to complete a stadium a year earlier than originally planned.
World Record Sports Facilities
Sports facilities range from Olympic and World Cup venues and professional team stadiums to high school and college facilities. Professional sports team owners often push the envelope in their quest to build excitement for and attendance at their events.
Salt River Fields at Talking Stick
Two team clubhouses, 18 practice fields, and a Native American community park encircle the stadium, achieving LEED Gold certification for the project—a first for a baseball stadium and MLB complex.
Lamar Anderson
Newsmaker: Kengo Kuma
In December, Japanese officials announced their selection of Kengo Kuma as the architect for Tokyo's 2020 Olympic Stadium. Kuma spoke to RECORD's correspondent in Tokyo, Naomi Pollock, about the project.
Naomi Pollock, AIA
Wimbledon Centre Court
When the United Kingdom's premier tennis venue recently replaced the high-intensity discharge (HID) lamps at Centre Court with advanced LED sports lighting, the owner, All England Lawn Tennis Club (AELTC), tasked ME Engineers to revise the controls, which had been installed in 2009 along with the HIDs and the stadium's retractable roof.
Joann Gonchar, AIA and Linda C. Lentz
CHS Field in St. Paul Minnesota
Downtown sports stadiums are a mixed bag. While they can attract tourism dollars and spur development, they aren't always good neighbors aesthetically. Many rise abruptly, big, and opaque, looking like downed spaceships.
Laura Raskin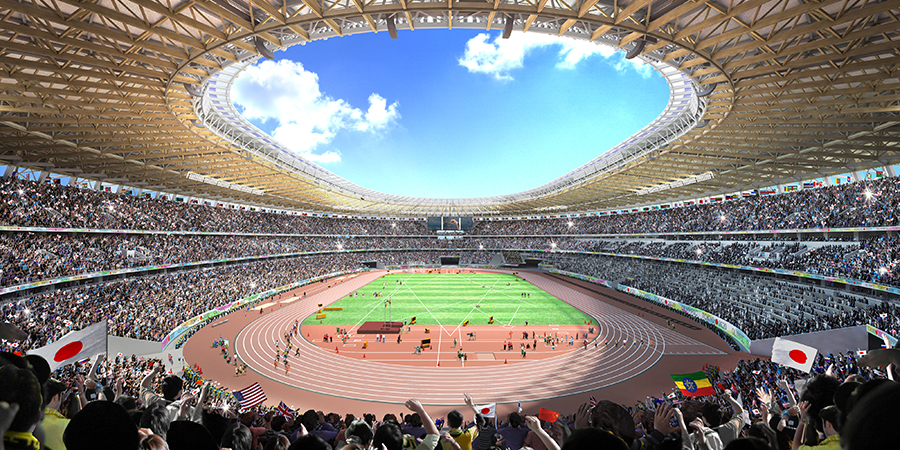 Photo courtesy of Taisei Corporation/Azusa Sekkei Co., Ltd and Kengo Kuma
| | |
| --- | --- |
| | The flat glass business of the NSG Group, operating under the Pilkington brand, is one of the world's largest manufacturers of glass and glazing products for the building and automotive markets, with manufacturing operations in 29 countries on four continents and sales in 130 countries. http://www.pilkington.com/na |
Notice