Innovative Stadium Design Hits It Out of the Park
Sponsored by Pilkington North America – NSG Group
Learning Objectives:
Define the innovative design strategies employed in these three ambitious stadium and sports facility design projects, located in major United States sports hubs.
Explain the cost impacts of innovative design for each of these projects.
Discuss how the design teams optimized the environments for such factors as fan appeal and comfort, energy efficiency, community satisfaction, and safety.
Describe the range of approaches for energy-efficient, sustainable design employed by these innovative projects.
Credits:
This test is no longer available for credit
This course is part of the Stadiums Academy
This webinar will explore innovative design practices and strategies in stadium and sports facility environments, and will profile three unique baseball, soccer, and football facility projects—all of which focus on the aesthetic, environmental, and safety goals of designers who seek to optimize the fan experience through new and exciting features and functions.
Peter Broeder, project designer for sports, recreation, and entertainment at HOK, will present on Mercedes-Benz Stadium, a 2-million-square-foot, $1.5-billion stadium, which is home to the NFL's Falcons and MLS's Atlanta United. The stadium will host some of the nation's most significant sporting events, including the College Football Playoff National Championship Game in 2018, Super Bowl LIII in 2019, and the NCAA Final Four in 2020. The stadium's innovative design includes a first-of-its-kind retractable roof that opens from the center and also features the world's first halo video board.
Phil Kolbo, senior architect/senior associate for Kansas City-based stadium experts, Populous, will present on Allianz Field, a new soccer stadium currently under construction for Minnesota United FC, Major League Soccer's new expansion team. The 20,000-seat stadium is expected to be complete by the start of the 2018 season. Among its many planned innovative features is an LED-illuminated translucent PTFE (polytetrafluoroethylene) facade that will act as a shade for spectators.
Julie V. Snow, FAIA, founding principal at Snow Kreilich Architects, will present on the award-winning CHS Field project in St. Paul, Minnesota. The overarching concept of the 7,000-seat ballpark, home to the Saint Paul Saints, is first as a park—a green space for the community. The seating bowl and playing field are located below street level, which allows a street-level walkway to surround the field. Among the project's innovative design features is a light steel-frame pavilion with a warm wood canopy that houses the suites, club, and press box. Additionally, the enclosed spaces of the ballpark are intentionally minimized in order to allow a connection to the artistic, civic, and natural features of the local community.
Kayla Natividad, Ph.D. and architectural technical services engineer, will present on glass considerations in stadium applications, including exterior envelope selection as well as interior box seating and displays. Common issues in stadium glazing and solutions will be presented with project examples.
The presentations will be followed by a moderated discussion focused on how these innovative stadium and sports facility projects address several key issues, including:
Cost: What tradeoffs, if any, are required to achieve design excellence, particularly in terms of using energy-efficient, sustainable materials, products, and practices for the optimization of stadium and sports facilities? In the featured projects, what was the ultimate value in the specific design decisions?
Community involvement: What role did the local communities play in determining the scope and main features in the stadium designs? What were the benefits? What were the obstacles?
Drivers: Did the teams, owners, community—or other players—request certain features, or did you, as the architects, propose them? If the latter, what led you to suggest using specific materials or make specific design decisions to support the end goal? How did safety and specific fan-experience goals inform design decisions?
Design constraints and opportunities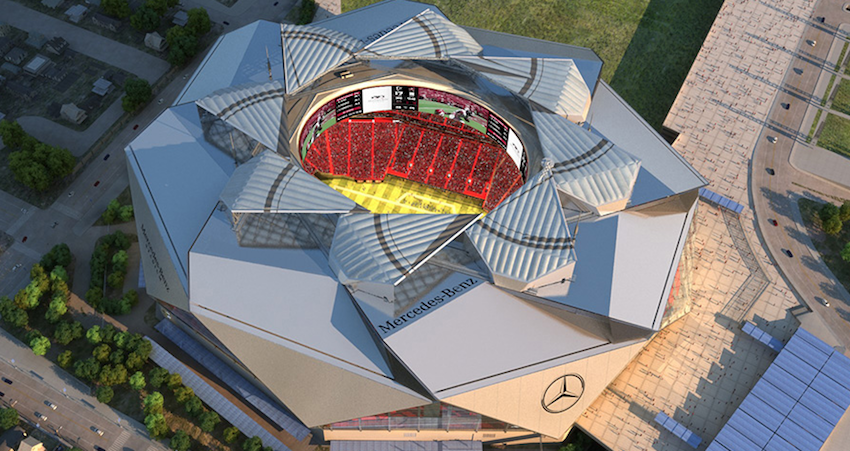 Photo courtesy of HOK Architects
| | |
| --- | --- |
| | Peter Broeder is a project designer at HOK. As a designer of sports and recreation projects, he has worked on significant structures across the world, including Mercedes-Benz Stadium, Basrah Sport City, and Mississippi State University's Davis Wade Stadium. Peter embraces an adaptive, forward-thinking philosophy toward the process and tools of design to create innovative solutions that advance the fan experience. |
| | Phil Kolbo is an experienced senior architect technician with extensive knowledge of stadium, arena, and convention center design. His passion is creating buildings that push the envelope in both design and technology. Phil graduated second in his class at Iowa State University, where he built a strong foundation of sustainability, graduating with LEED certification. He currently leads the parametric modeling and computational design group for Populous' North America region as a populous intelligence ambassador, creating and streamlining BIM tools unique to sports and convention center design. |
| | Kayla Natividad, architectural technical services engineer, received her Ph.D. in civil engineering with a focus in structures from Texas Tech University. Her past research focuses on window glass design strength. She is actively involved in the development of standards for testing and designing window glass. |
| | Julie Snow is the founding principal of Snow Kreilich Architects Inc., a studio-based architectural practice in Minneapolis. The work of the studio is characterized by refined detail, lightness, spatial clarity, and structural directness, exploring an intensity of dialogue between site and architecture. The use of innovative strategies reveals the studio's fascination with the technical aspects of building design that transform human experience. |
| | |
| --- | --- |
| | The flat glass business of the NSG Group, operating under the Pilkington brand, is one of the world's largest manufacturers of glass and glazing products for the building and automotive markets, with manufacturing operations in 29 countries on four continents and sales in 130 countries. www.pilkington.com/na |
Notice