As an extremely versatile, strong, flexible and sustainable material, metal cladding and roofing continues to gain traction
Sponsored by Petersen Aluminum
Metal Roofing
Known to be one of the most long-lasting, low maintenance roofing options around, enough studies have shown metal roofing systems to last more than 60 years with proper maintenance that the Athena Impact Estimator software, which is used to calculate life-cycle assessment for building materials, has officially adopted this statistic.
"Metal roofs of all types are an excellent choice for any climate type, and provide a weather tight and long-lasting roof solution," asserts Walker.
As a point of reference, built-up asphalt, shingles and thermoplastic polyolefin (TPO) roofs require replacement after just 15 to 20 years.
"A metal roof can be a traditional vertical seam profile, or be manufactured to resemble wood shake, slate, shingles or clay tiles," states Heselbarth. "Essentially, metal roofing is available is so many color options that it compliments all architectural elements and styles of a building. Plus, a variety of profiles allows an architect to achieve many different looks, from industrial to classic."
With such a range of design flexibility, and the ability to replace tile, shake and slate roofs, metal is a great strategy for meeting architectural specifications and zoning board mandates dictating a certain kind of a look that a local building is expected to achieve.
"As architects of fairly large multi-family residential and mixed-use projects, we like to use metal cladding and roofing systems to bring a sense of human scale to our projects," says Boley. "There is a tradition that started with many of the early 20th century Art-Deco high-rise buildings to use decorative metal detailing to give large buildings a sense of scale and a 'hand-wrought' craftsmanship quality to the construction. Now, when we design roof brows, cornices or canopies, we try to give them that crafted quality by using more high-tech rainscreen versions of those earlier metal systems."
Boley also likes the possibility of varying panel widths and the option of going with open joints, standing seams or rolled joints. The upshot, he says, is capturing a level of rhythm and detail that can't be achieved with large panel applications and other roofing materials.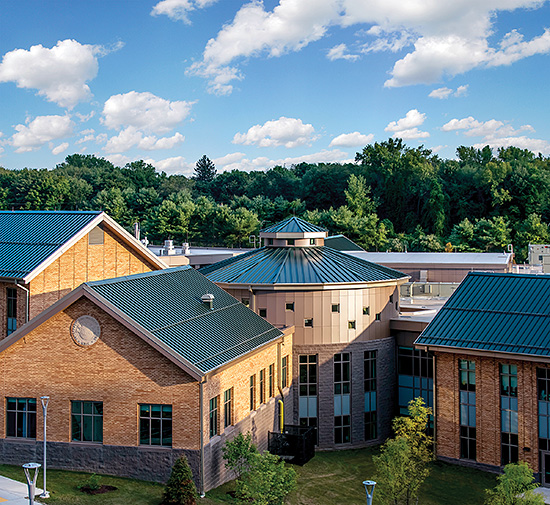 Photo courtesy of Petersen Aluminum
The versatility of metal roofing panels is displayed in Perkins Eastman's design on the International Magnet School which features a circular, segmented Snap-Clad metal panel roof surrounded by connecting rectangular pitched structures.
Beyond varying sizes and attachment options, metal can be formed into an endless number of shapes, to create striking, eye-catching designs. For example, Verner Johnson's design for Discovery Park of America in Union City, Tenn., features roof panels curved in multiple directions to achieve a striking football-style appearance. (See sidebar, "New Discoveries," for more.)
In terms of roofing design trends, Zahner observes, "on significant architectural surfaces, one is either seeing long span, structural rib type panels or the more highly engineered inverted seam systems.
As a point of interest, quite a number of metal roofing and cladding choices also rank well with the Cool Roof Rating Council product rating program, which evaluates and labels solar reflectance and thermal emittance properties of roofing products.
In fact, some cool metal roofing products are capable of achieving reflectance values of more than 70 percent and emittance values as high as 90 percent, and an Oak Ridge National Lab study discovered that painted metal roofs maintain 95 percent of their reflectance value over time. This information is very relevant as many codes assume reflective performance of all roof materials deteriorate at the same rate.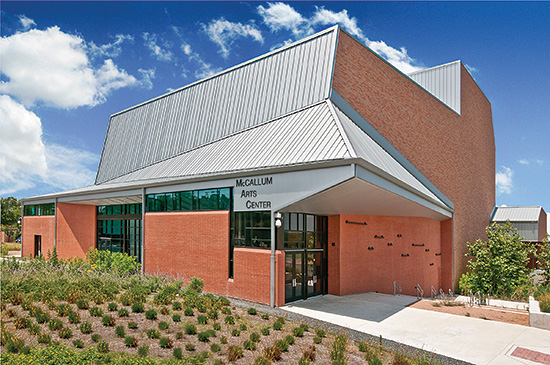 Photo courtesy of Petersen Aluminum
The 12-in. and 16-in. Snap-Clad metal roofing panels were installed in an alternating pattern design to create an unusual texture on the McCallum Fine Arts Academy building. Design provided by SHW Group LLP, Austin, Texas.
Originally published in Architectural Record
Notice