As an extremely versatile, strong, flexible and sustainable material, metal cladding and roofing continues to gain traction
Sponsored by Petersen Aluminum
To better educate architects and contractors about rainscreens and other components in metal roof and wall assemblies, MCA is currently developing a Best Practices guideline to enable building teams to properly apply these internal elements in different climate zones, relates Kriner.
"The best wall or roof installation can be compromised if improper flashing, detailing or sealing is performed. The proper choice and installation of accessories to these installations is critical to the aesthetics of the assembly, but also to the long-term performance of that assembly," he says.
Best Practices
Offering a few important points to consider when designing and installing metal roof and wall systems, McVay lists the following:
There are differences in construction tolerances between rough and finish trades, i.e., primary structure and secondary support systems as compared to the metal systems.
Metal is more sensitive to thermal expansion and contraction than some other exterior cladding systems.
There are dimensional limits of source materials for metal cladding from sheet goods to cast systems.
Care must be taken to understand the contact with pedestrian/vehicular traffic in relation to metal cladding systems. Increasing gage, reducing size of panels or introduction of materials with greater durability at high traffic areas are all solutions to address this vulnerability.
Integration of mechanical trade systems access points with metal is critical.
Contact points of adjacent glazing or fixed wall systems and how the continuity of the envelope is maintained is key. Designers must determine which systems requires redundancy, which are a single plane and how transitions from one condition to another are treated.
Another important consideration, adds Blye, is how the metal panel attaches to the substrate. In the past, metal panel sub-girts interrupting the installation were acceptable, but this is will no longer fly when it comes to meeting newer continuous insulation requirements.
In order to address this, Legat Architects recommends a route and return system where the panel forms its own structure and fastens into a receiver or a molding system where the panel fits into a pre-molded metal receiver.
With metal's unique ability to change its appearance based upon shading, sunlight and perspective, designers must be sure to best leverage this quality for the building's aesthetics. "Metal's changing color – when you change its direction – can be an advantage or a disadvantage if the metal isn't installed properly," cautions Paul Urbanek, FAIA, LEED AP BD+C, design principal, SmithGroupJJR, Detroit.
It is important to anticipate and minimize areas where dust, dirt and draining water might accumulate to avoid negatively affecting a building's aesthetics, Boley adds. Some manufacturers offer durable finishes that require only spraying the panels with water, and possibly a small amount of soap, to remove any dirt or debris. Check with the manufacturer if a color finish warranty exists and if so what is covered.
Fortunately, coating systems can offer a certain level of protection, but the finish should be carefully selected based upon the building site's climate and activity level. In cases where the base of the building is subjected to a great deal of abuse, selecting the proper gauge and type of metal is recommended; aluminum is susceptible to denting, whereas thick-gauge steel is not.
Ultimately, proper installation will make or break a metal assembly. Unlike materials like masonry, where it's clearly apparent that a well-trained craftsman must be brought in to lay the bricks, metal is deceptive because its simple appearance often leads folks to believe that it's easy to install, says Rappe.

"When utilizing metal, be sure to use a contractor who knows what they are doing and knows how to assist the designer in creating well-fitted surfaces," Zahner advises. "Contractors are like tailors. No matter how good the cloth is, if it is not put together well, it looks cheap, performs poorly and wears out faster."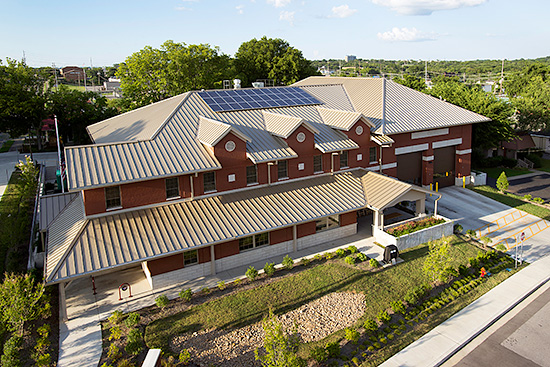 Photo courtesy of Petersen Aluminum
The long life of standing-seam metal roof panels make them the most popular option for solar panel installation. This Snap-Clad metal roof helped the Madison, Tenn., Fire Station earn a LEED Gold certification.
Originally published in Architectural Record
Notice