As an extremely versatile, strong, flexible and sustainable material, metal cladding and roofing continues to gain traction
Sponsored by Petersen Aluminum
BIM is In
In terms of how these panels are designed and applied, their application as a surfacing material is only limited by the artistic ability of the designer, asserts Zahner. This, combined with advances in building information modeling, its fuller integration into metal design and fabrication processes and more sophisticated manufacturing equipment are truly pushing the boundaries for metal in architecture.
On a basic level, when an architect, who is using BIM, embeds a metal roof file into a project drawing, for example, that file includes all the design specifications and installation requirements including illustrations, measurements and all parts required for proper installation, explains Heselbarth.
The metal industry is one of the first industries to apply BIM in an organized, collaborative manner, and as such, building teams have been enjoying the benefits of improved quality control, clash detection and the ability to easily send a BIM model with complex metal designs straight to the fabricator's machinery.
"The development of parametric modeling software in design to produce complex patterns combined with computer driven fabrication in waterjet cut, laser cut, 3 and 5 axis milling, or complex stamping or perforation is ideally matched to the ability of metal to adapt to virtually any form," observes McVay.
Interestingly, with the increased use of 3D printing in the early stages of a project, this has created a situation where the distinction between the designers and contractors, and their traditional roles, have become notably more intertwined, thereby supporting more fluidity in project activities, he adds.
Along these lines, a leading metal panel fabricator has developed a unique program which connects designers directly to the fabrication process and provides immediate pricing information. "The system is free and architects can design multiple times in the cloud and test the costs of various materials and designs in a matter of minutes," a company representative explains.
In terms of clash detection, designers and contractors can see exactly where metal cladding will clash with frames and openings before the metal is erected, thereby avoiding costly adjustments in the field.
"In addition, the advancement of joining the relationship of all components together in the model allows for quicker, more accurate and in some cases, automated modification should changes need to be made in certain areas," explains Walker. "The availability of new data within the BIM database has also allowed for the development of enhanced fabrication documentation, making it much easier for production to interpret and produce the correct building element."
Making another observation, Walker reports that erectors are more frequently referencing the BIM models to better understand the intricacies of a particular assembly in 3D. As a result, laptops and tablets are becoming much more commonplace on the jobsite, and in some cases, jobsite trailers are equipped with large flat screen TVs for the purpose of reviewing 3D details.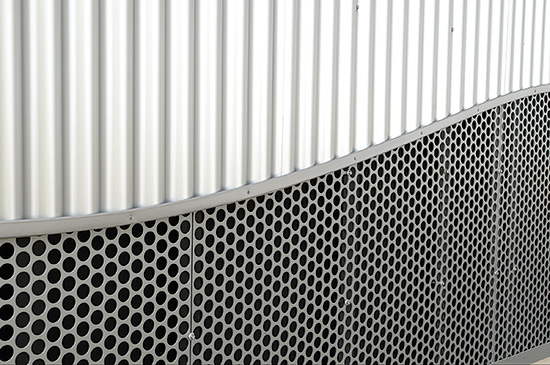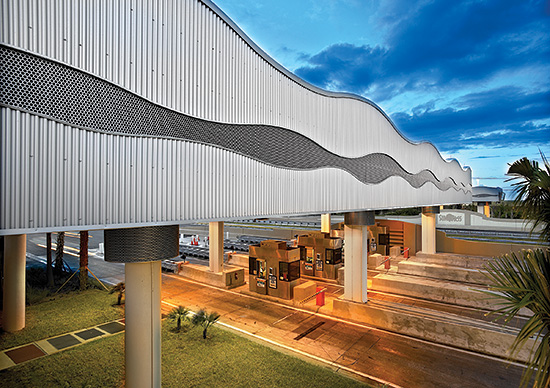 Photo courtesy of Petersen Aluminum
The Sunrise Mainline Toll Plaza was designed by RS&H of Orlando, Fla., to have a contrasting look between the silver metallic corrugated PAC-CLAD 7/8-in. panels and perforated metal wall material fabricated by Allied Architectural Metals, Inc.
Metal Composite Panels
In addition to metal cladding panels, aluminum composite panels, also known as metal composite panels (MCM), have come way down in price – thanks to advances in product technology, manufacturing efficiencies and installation techniques – making them a very viable option, particularly for designs seeking a hi-tech look.
"Slick and perfectly flat, accommodating different reveals at the seams, these panels are typically seen on the front exterior of automobile dealer buildings," relates Heselbarth.
Formed via a highly calibrated bonding process where temperature, pressure and tension is tightly controlled, two metal skins are pressed onto two sides of a highly engineered plastic core, essentially creating a sandwich panel.
While MCM production practices will vary amongst manufacturers, in one leader manufacturer's case, two .020 skins are bonded to a polyethylene or fire-retardant core. The panels are formed by a rout and return process, utilizing computer-controlled routing equipment for tight tolerances and accurate panel dimensions. Staggered angle clips are then mounted to the panel for easier installation.
In addition to their application as large wall panel systems, MCMs are also used for cornices and canopies, in addition to joining areas between other building materials such as glass or precast panels.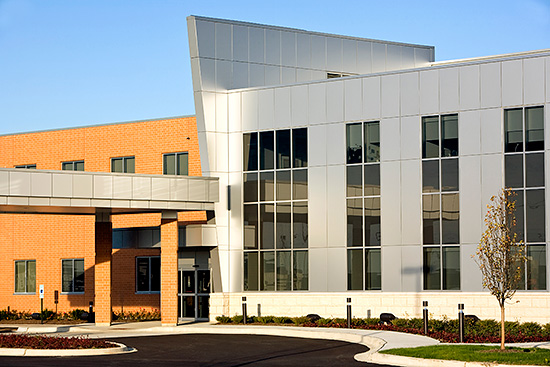 Photo courtesy of Petersen Aluminum
The Chanooka Healthcare Center uses a striking bright silver metallic PAC-3000 RS rainscreen system to create a high-tech look designed by CD Group, Mount Prospect, Ill. The composite wall panel rainscreen system was fabricated by Petersen Aluminum.
Originally published in Architectural Record
Notice