As an extremely versatile, strong, flexible and sustainable material, metal cladding and roofing continues to gain traction
Sponsored by Petersen Aluminum
"Aesthetically, metal cladding systems are virtually unmatched in their ability to convey a contemporary appearance, bolstered by their flexibility in terms of the shadow line and its visual effect," states Steve Blye, AIA, LEED AP BD+C, senior design director, associate director of healthcare, Legat Architects, Chicago. "Its manifestations range from sleek, rectilinear facilities to structures that twist and bend like abstract paintings. It can be used to build a new signature facility, or to inject a dull, dated masonry box with a sense of vitality."
For instance, Blye has seen the imaginative application of metal to create inviting elements for child-focused educational and healthcare facilities; striking metal facades to accentuate a corporate brand; public facility metal facelifts to reboot a municipality's image within their communities; and cost-effective metal cladding to lead University facilities in a new direction.
"I've also seen metal used as a kind of functional jewelry at entry screen walls," adds Blye. "At one college, for instance, a screen wall ornamented a very simple brick form. The screen formed a gateway to the school building, created a sunscreen for the lobby behind, and expressed the school's mission statement as a signage element."
For example, at Michigan State University's Facility for Rare Isotope Beams, SmithGroupJJR took assorted metal panel widths to create a unique texture on the facade, which resembles the atom acceleration and separation which occurs in such a nuclear research center.

Rendering courtesy: SmithGroupJJR
Using metal panels of varying lengths and depths, Michigan State University's Facility for Rare Isotope Beams presents a futuristic façade, in context with the nuclear research going on inside the SmithGroupJJR-designed facility.
Generally speaking, Scott A. Rappe, AIA LEED AP, principal, Kuklinski+Rappe Architects, Chicago, is a fan of the design flexibility afforded by metal. "We like the fact that we can make a subtle statement or a bold statement based on color, space between ribs or how the battens are applied."
One unique application Rappe is fond of is taking metal rooftop soffit panels and applying them as wall cladding. Flipped backwards, the panel protrudes away from the wall, while the seams stick in, thereby creating a deep reveal along the wall.
"This approach works best when the roof panels used on the walls are not also used on the roof," suggests Rob Heselbarth, director of communications, Petersen Aluminum, Elk Grove Village, Ill. "In other words, roof panels on the walls should be contrasted against some other roof material, or a flat roof where the roof is not a design element."
As an aside, Rappe recommends working with a manufacturer who is available and willing to provide the technical support required to apply a product in a non-traditional way. "It's really important that the manufacturer can partner with you. You don't want to be out there on your own using someone's product without technical guidance."
One other trend McVay sees is greater variety in paints and coatings ranging from standard matte finishes to metallic sheens, polychromic systems and exotic textures.
Special infrared reflective pigments are also being applied so that metal surfaces can reflect solar energy, thereby reducing surface temperature and building cooling needs, adds Scott Kriner, technical director, Metal Construction Association, Allentown, Penn.
"We love that the manufacturing industry continues to invent new finishes and compositions for their products, and that they take 'innovation' as seriously in the material production phase as we do in the design phases," states Boley.
Offering some insight as to how metal panels are manufactured , Heselbarth explains that large master coils of aluminum or steel are produced at a mill and then shipped to a nearby facility for coating with a 70 percent polyvinylidene fluoride (PVDF) finish. Those coated coils are then shipped to the roof and wall panel manufacturer where an industrial slitter cuts the metal to the desired panel width, up to 1,000 lineal feet in length, based on project requirements.
"The slit coils are fed onto a second spool, which is then fed through a roll former that folds and bends the coil into panel profiles as it rolls through the machine. The roll former is programmed so panels are produced to the exact length of the customer-provided cut list, and then stacked for inspection and final packaging," he explains. "Scrap metal generated in the process is sent to external recyclers. Finally, the panels are carefully packaged, protected and shipped to the job site where they are unloaded and installed."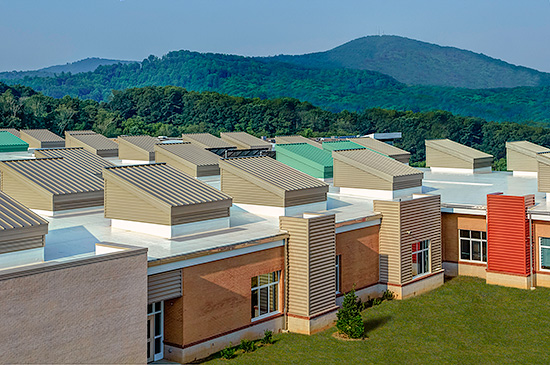 Photo courtesy of Petersen Aluminum
Sustainability was a driving directive for the design of the Eblen Intermediate School provided by Architectural Design Studio, Asheville, N.C. This LEED Silver-certified project uses 14,000 square feet of Petersen Aluminum metal roof and wall panels in Bone White, Champagne, Colonial Red and Arcadia Green. Large vertical skylights are roofed in Tite-Loc Plus panels.
Originally published in Architectural Record
Notice