Window and Fenestration Systems Selection
Choosing the best performing and most sustainable type for each building design
This course is no longer active
Sponsored by Pella and EFCO
Learning Objectives:
Identify and recognize the energy rating and certification process of window and fenestration systems as defined by national standards and codes.
Assess and compare the energy performance and other attributes of pre-glazed windows with frames made from different but commonly available materials.
Investigate the differences between storefront systems and curtain wall window systems related to energy performance and other weathering criteria.
Explore case study applications where each type of window and fenestration system may be the preferred choice for optimizing energy savings and overall performance in new buildings.
Credits:
Architects have many choices when it comes to specifying and designing windows and fenestration systems into buildings. Understanding the basic attributes of the available choices contributes to better design and specification writing. Therefore, architects who take the time to understand the differences and similarities between fenestration systems will make the best informed choice for energy efficiency, sustainability, durability, aesthetics, and cost effectiveness.
PERFORMANCE OF FENESTRATION SYSTEMS
Incorporating windows and fenestration into a building design is a fundamental and integrated design activity. Decisions about the size, shape, type, and characteristics of such fenestration are increasingly driven not just by aesthetic concerns, but by demands for energy efficiency as defined by building codes, green design standards, or even the building owner.
The International Energy Conservation Construction Code (IECCC), the emerging International Green Construction Code (IGCC), and many state energy codes recognize that there are not one, but multiple individual components of windows and fenestration systems that determine their true performance. Hence, in order to show compliance with these codes, each component must be considered as part of a truly holistic assessment. Most people tend to think first of the thermal performance of the fenestration as identified by U-value or the inverse R-value. However, it is no longer acceptable under the codes to simply look at the thermal performance of just the glazing. Rather, the entire assembly including the frame, the insulated glass spacers, and the glass are all brought into play. This means that the choice of a frame material, such as aluminum, wood, fiberglass, or vinyl can be every bit as important, if not more so, than the specification for the glazing.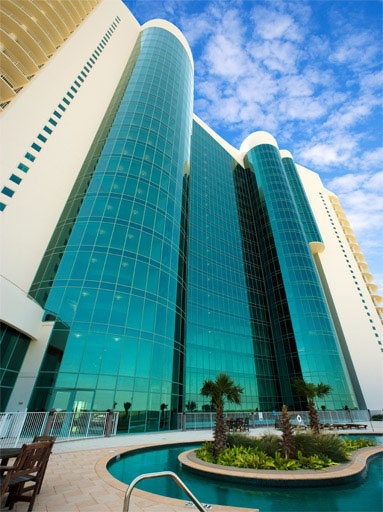 Turquoise Place Condominiums, Orange Beach, Alabama. Architect: Forest Daniell Associates, Daphe, Alabama.
Photo Courtesy of EFCO, a Pella Company
Notice