Nuanced Solutions for Greener Façades
Design details and novel technologies lead to better, higher-performing building exteriors
This course is no longer active
Sponsored by EXTECH/Exterior Technologies Inc., Fi-Foil® Company, Inc., FunderMax USA, Guardian Industries, Kawneer Company, Inc., Lorin Industries Inc., Pella EFCO Commercial Solutions, Quest Window Systems Inc., Simonton Windows & Doors, and W&W Glass, LLC
Learning Objectives:
List key energy and green building goals that impact façade design, and their underlying metrics.
Explain two or more design tools and construction processes that make building façades more predictable, durable, and energy efficient.
Discuss how various fenestration and framing technologies have been developed to meet such goals of energy efficiency, green building, and life safety.
Describe façade components, finishes, and systems that can make buildings more durable or resilient to severe weather and also improve occupant comfort.
Credits:
Complexity and nuance, say leading architects, are the hallmarks of today's best building envelope designs. From meeting key performance measures to projecting unforgettable aesthetics, their pioneering building projects benefit from the latest innovations in façade systems and exterior cladding products. In fact, the most recent crop of solutions have been designed to exceed baseline needs, protecting the enclosed spaces, improving performance, and lending unique identity to the various building types. To employ them for best effect, façade architecture must be subtle, detail oriented, and installation focused.
"Successful enclosure projects also consider occupant comfort, which has real return on investment" or ROI, says Terry Zeimetz, AIA, CSI, commercial marketing manager for Pella, listing four options for façade window renovations as an example. "To reduce air infiltration, you can leave the envelope as is but seal the existing windows. Or you can seal the façade and retrofit a basic window or a high-performance window product. Last, you can specify windows with sunshades and light shelves, between-the-glass blinds, and/or dynamic glazing to even better regulate heating and cooling requirements." All of the renovation approaches help reduce drafts and temperature fluctuations at the building perimeter.
"Air sealing is critical to maximizing the performance of the building envelope and getting the most out of the thermal insulation in the available cavity along with keeping costs within budget," says Bill Lippy, CEO of reflective insulation manufacturer Fi-Foil® Company, Inc., who has authored technical articles on radiant barriers. "That's why many architects are combining technologies that accomplish these aims—maximizing the envelope while reducing waste and enhancing durability." As an example, he points to "hybrid insulation" assemblies using enclosed air spaces and low-emittance or low-emissivity (low-E) reflective insulation, such as layers of metallic foils, along with typical insulation materials. As explained in ASHRAE Fundamentals, a 3/4-inch air gap in a wall assembly has an insulating value of about R-1; adding a low-emissivity barrier film can improve the performance to R-3. Multiple low emittance layers can boost performance even higher.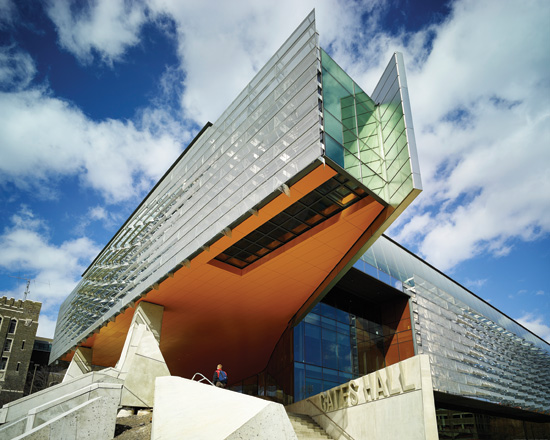 Photo courtesy of W&W Glass, LLC
Gates Hall at Cornell University, designed by Morphosis, uses a custom unitized curtain wall with a custom-perforated metal panel system.
Such methods also cut energy use, which—along with occupant comfort—is a top project objective. Overall thermal performance of a façade is reported as U-value, which is the heat transfer coefficient of the full enclosure; the lower the U-value, the better the insulating capacity and thermal performance. "Part of controlling heat transfer is insulation and the trend is toward higher-performance products being used in façades. Historically, this was achieved by reducing the window-to-wall ratio," or WWR, says Jody Cash, vice president of operations with manufacturer Quest Window Systems Inc. "But lower WWR means reducing daylighting, which is generally not preferred. So architects are seeking unitized window systems that are better insulated, especially in the non-vision areas."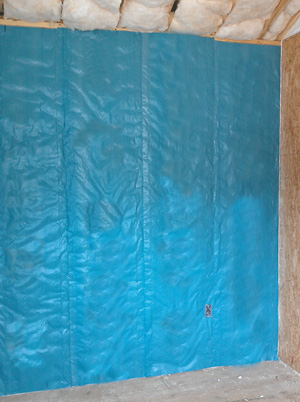 Photo courtesy of Fi-Foil® Company, Inc.
For air sealing of the envelope and to control façade system emittance and radiant heat to improve thermal performance, some projects use hybrid insulation assemblies with enclosed air spaces and low-E reflective insulation.
The increased use of unitized systems helps to control façade construction variables, and accommodates the use of thermal performing advances such as triple glazing, says Donnie Hunter, a Kawneer Company architectural promotion marketing director whose background is in architectural engineering. "The leading systems also have better thermal break pockets, such as the frames with two thermal breaks: dual-polyurethane pour and debridged or polyamide inserts, with frame depths of up to 6 inches, and up to 7.5 inches for curtain wall," he explains.
These incremental improvements benefit one of the major façade design trends of today, in fact: the desire to use ever-larger spans of glass. Yet design teams must also specify well-engineered products designed for structural performance, say experts. "Insulated glazing units, or IGUs, are engineered for energy efficiency, so the manufacturer or fabricator must have a track record of making IGUs and IGU spacers that can withstand significant amounts of deflection," says Jeff Haber, a managing partner with W&W Glass, which specializes in point-supported glazing systems.
Other material innovations are complicating these structural calculations—while also creating the means for new design expression. For example, the use of durable, shatterproof polycarbonate instead of glass—which for decades has been much more prevalent in Europe—has helped improve fenestration insulating values and reduce solar heat gain, making façades more efficient. "Compared to glass, polycarbonate panels provide about double the R-value," says David Strait, director of sales and business development at EXTECH/Exterior Technologies Inc., which fabricates polycarbonate glazing systems. "And the translucent materials admit diffused daylight, which eliminates glare and hot spots on the interior."
Another design approach gaining from the success of European exemplars has been the use of rainscreens, says Paul Schwarz, CEO of Architects' Surfaces, also known as FunderMax USA. FunderMax manufactures compact high-pressure laminate (HPL) cladding materials for the North American construction market. "The most important element of an open-joint rainscreen, which is drained and back-ventilated, is to provide a reliable and effective weather-resistant barrier on the substrate behind the rainscreen system," he explains. "The highly durable compact HPL rainscreen cladding reduces energy costs by minimizing hot and cold air and thermal movement through the wall."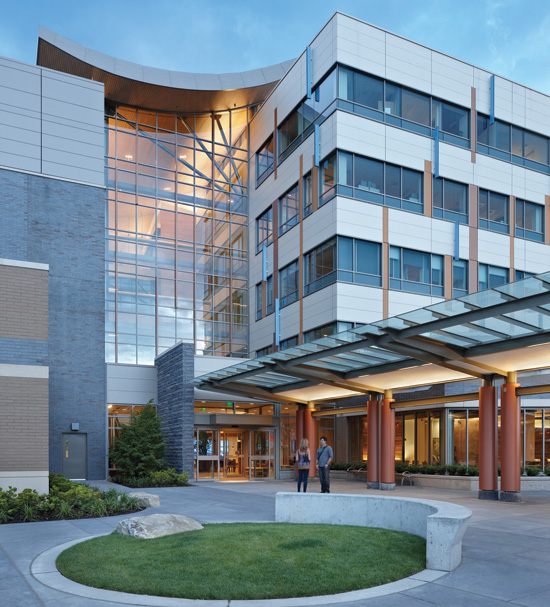 Photo by Ben Benschneider, courtesy of Guardian Industries
Using targeted glass formulations on different elevations helps optimize light transmission and thermal performance, as at the Swedish Medical Center in Issaquah, Washington, designed by CollinsWoerman Architects.
Originally published in Architectural Record
Notice