Multifamily Performance and Value
Innovative technologies and products reshape new wave of lifestyles and living units
This course is no longer active
Sponsored by Bison Innovative Products, ClimateMaster, Cosella-Dörken Products Inc., EFCO, a Pella Company, NanaWall Systems, Pella Commercial Solutions, reThink Wood, Simonton Windows®, and TOTO USA
Learning Objectives:
Describe how overall trends in U.S. multifamily housing are affecting design and building product selection for recent new construction and renovation projects.
List recent trends in fire safety, occupant health, and green building that are leading to the adoption of specific products and materials.
Explain selection criteria for energy efficiency and sustainability that affect the design of multifamily building structures, enclosure systems, fenestration, and HVAC systems.
Discuss recent case studies of multifamily housing that respond to both market trends as well as owner/occupant needs for durability and life-cycle performance.
Credits:
Is the multifamily market ready for true innovation? The answer lately has been a resounding yes. In the face of a burgeoning market for downtown rentals, luxury condominiums, and assisted living, architects around the country are experimenting with a variety of new apartment layouts and building technologies that help differentiate today's new and renovated properties. From indoor-outdoor spaces and panelized structures to geothermal systems and weather-resistant assemblies, the very fabric of today's residential construction systems would be unrecognizable to an architect working just a decade ago.
The reinvention of today's multifamily offerings may be the most important macro trend. The underlying market dynamic is driven by retrenching, according to Freddie Mac, including the increased demand for apartment rentals "related to economic stress and high foreclosures in single-family housing."
New multifamily designs reflect that: Starting in San Francisco over the last two years—and now upending the local markets as far away as Charlotte, Boston, and New York—are new ideas in micro-housing, for example, with some apartments as small as 450 square feet. In addition to offering less expensive homes for emerging professionals and seniors alike, micro-units create a need for varied building products that offer the illusion of greater volume—wall-to-wall mirrors, anyone?—as well as shared amenities in common areas and more access to the outdoors.
"In many urban markets, developers and architects are working to maximize outdoor living spaces," says Lisa von Gunten, general manager of Bison Innovative Products, Denver, which makes pedestal-mounted deck systems that are used on rooftops, as well as other zones in multifamily housing. "Recently this has included access to green roofs, pool areas, walkways to decks, outdoor movie theaters, and even a dog park on an upper floor of one Denver apartment mid-rise."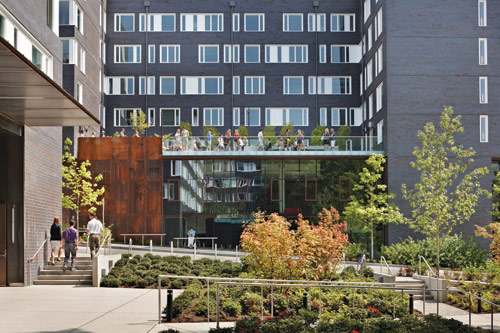 The University of Washington's new West Campus Student Housing by Mahlum Architects comprises five upper floors of Type V-A wood construction over a podium of Type I-A concrete, clad with manganese flashed brick.
Photo by Benjamin Benschneider/Mahlum, courtesy of WoodWorks
Originally published in Architectural Record
Notice