Innovations Encourage Green Renovations
Green components help meet renovation goals for both energy efficiency and modernization.
This course is no longer active
Sponsored by Bradley Corp., CETCO, Eldorado Stone, Pella Commercial and THE SLIDING DOOR COMPANY®
Learning Objectives:
Investigate alternatives for high-performance window replacements and design treatments that promote healthy indoor air quality.
Evaluate and select waterproofing systems to renovate plaza deck applications that meet tight schedules and reduce construction waste.
Discuss environmental advantages of engineered limestone and manufactured stone products that reduce waste and require less energy to ship.
State the advantages of using movable sliding doors as a daylight strategy and to promote flexibility in open office planning.
Credits:
According to the Green Outlook 2011 report, building owners cited three business benefits as the main drivers for building green: reduction in operating costs of 13.6 percent on average for new buildings and 8.5 percent for retrofits; increase in building values of 10.9 precent for new buildings and 6.8 percent for retrofits; and increase in return on investment (ROI) of 9.9 percent for new buildings and 19.2 percent for retrofits.1
By 2012, forecasters predict as much as a 17 percent increase in commercial green renovations.2 Green construction currently represents approximately one third of all nonresidential construction and by 2015, from $14 to 18 billion will be spent on major retrofits and renovations to make buildings more sustainable. Designers are finding that as credit is tightening for new projects, opportunities to evaluate and improve on the design potential of existing buildings are creating new markets for sustainable development. This article will review opportunities to use a variety of materials that have green components to meet renovation goals for both energy efficiency and modernization.
GREEN OPPORTUNITIES
The following descriptions of new windows and window treatments, waterproofing, manufactured stone and sliding glass doors demonstrate just some opportunities to use innovative products in sustainable renovations.
Energy-Saving Window Options
Maximum energy savings can be achieved by renovating an existing building through the replacement of older windows. As Terry Zeimetz, AIA, CSI, CCPR, commercial marketing manager at Pella Commercial, comments, "The sustainable renovation of an existing building often includes improving energy efficiency so heating and cooling costs are reduced. Replacing the existing windows with new aluminum-clad wood, fiberglass or vinyl windows with a broad variety of glass options can help architects fine tune the energy efficiency of the building envelope by greatly reducing air infiltration, improving insulating value, and managing solar heat gain."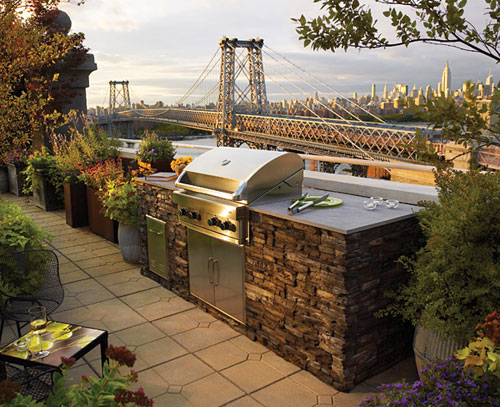 New lightweight stone veneer clad GFRC (glass fiber reinforced concrete) cabinets make this 12-story-high balcony retrofit possible.
Photo courtesy of Eldorado Stone
Originally published in Architectural Record
Notice