Fenestration Innovations for Leaner, Greener Times
Novel technologies and design innovations allow the fenestration industry to meet codes and build greener.
This course is no longer active
Sponsored by Guardian Industries Corp., SAFTIFIRST, Pella Commercial, and EFCO, a Pella Company
Learning Objectives:
List key energy codes and green building standards that impact fenestration selection, and their underlying metrics.
Explain how various fenestration technologies have been adapted or developed to meet the goals of energy efficiency, green building and fire-safe construction.
Discuss how fenestration systems and glazing materials may be specified to meet prescriptive and performance-based energy codes or green building standards.
Describe one or more case studies showing how fenestration systems can meet energy efficiency or green building goals.
Credits:
Energy codes and green building standards are not the only trends affecting how architects design building enclosures. Far and away, however, they are the most likely to spark permanent change. The new International Energy Conservation Code (IECC), like its predecessors, sets prescriptive and performance paths for achieving better enclosure performance. In addition to the growing stock of LEED-branded properties, the spanking new International Green Construction Code (IGCC or IgCC) has been coordinated with the International Code Council (ICC) family of model regulations. As with the IGCC, recent local or statewide rules such as California's CalGreen add new impetus for architects to adopt best practices for exterior insulation, air barriers and high-performance fenestration.
"The emergence of green building codes and standards is an important next step to provide communities with the opportunity to build sustainable and safe buildings," summarized ICC's chief executive Richard P. Weiland in March, as communities in Western states began to voluntarily adopt the IGCC.
The energy codes and the new green rules offer fresh, clear guidance to municipal inspectors on a variety of performance indicators. Among the most useful is the baseline performance criteria handed down for windows, storefronts and doorways—places where air leakage, thermal gain and glare from daylight can hamper the goals of sustainable, energy-efficient construction. Add to that the new recognition of fire-safety performance for glass and windows in the 2012 International Building Code (IBC) chapter 7 tables—comparing fire-protective and fire-resistive applications—and local codes will eventually offer better minimum performance than ever before alongside new pathways to high-performance fenestration.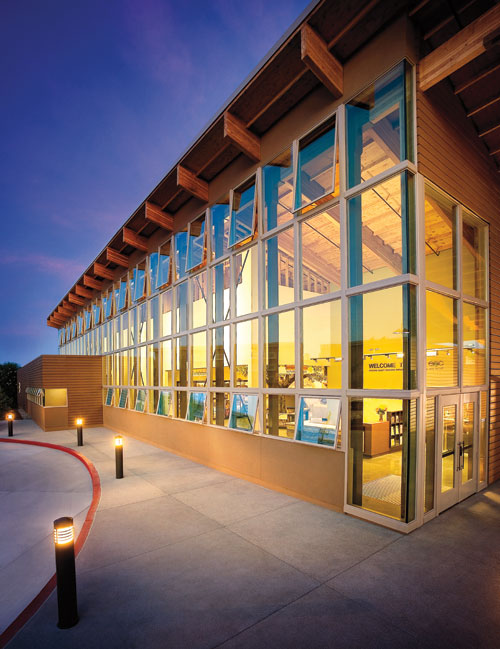 A high-performance aluminum-clad wood window wall at the Environmental Nature Center in Newport Beach, Calif., captures natural ventilation and daylight while limiting heat gain with advanced, low-E insulating glass.
Photo by Costea Photography, courtesy of Pella Commercial
Originally published in Architectural Record
Notice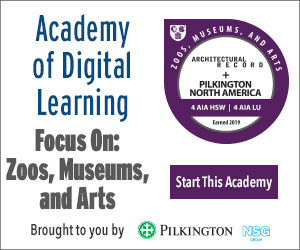 Fenestration Innovations for Leaner, Greener Times
Buyer's Guide
Advanced Technology Glazing Products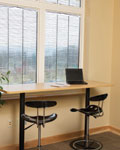 Guardian's new advanced technology glazing products-SunGuard PVGU (a building-integrated photovoltaic product, pictured here) and SunGuard EC (electrochromic)-can increase a building's energy efficiency, generate electricity through the façade and help projects achieve new energy codes. These products provide solutions that can help architects create LEED-certified, net-zero buildings.
Clear Fire-Rated Solution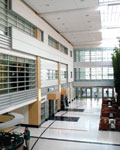 SAFTI
FIRST
offers SuperLite, advanced fire-rated glass with superior clarity and performance for every application. From fire-rated doors and windows to custom-engineered wall assemblies, you can count on them to deliver high-quality products with fast lead times and competitive pricing made here in the USA.
Unitized Curtain Wall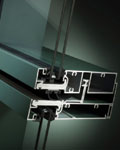 The 8750XD Unitized Curtain Wall is the newest member of EFCO's XTherm® family of products. Thanks to their strut design, with patented Duracast® fiberglass composite, they can offer a best-in-class U-factor. With their optional 875X Wall Vent, EFCO is sure to meet your design needs.