Panoramic Glass Door Systems in Green Buildings
Thermal performance can be achieved through successful building design using large openings
Sponsored by Panda Windows & Doors
Learning Objectives:
Identify the problems with heat loss and heat gain through large openings and the solutions provided by thermally broken products.
Describe the components of thermally broken products that contribute to energy efficiency.
Define the benefits of providing greater access to daylight, fresh air and occupant comfort by designing a high-performance building.
Discuss the triple bottom line of purchasing thermally broken products and the return on investment for large high-performance openings.
Credits:
This test is no longer available for credit
Living in Northern Illinois in the winter and the summer can be a challenge. The lack of daylight, snow, ice and bitter cold and conversely, the hot, humid summers increase the amount of hours spent inside. On average, most Americans spend up to 90 percent of their time indoors.i Studies show that humans may be genetically programmed to the diurnal cycle and require more daylight and the sensory variety of the natural world. Architects are responding to evidence place design with new open concepts that provide direct access to the outdoors.
In the newly renovated Oakbrook Center in Oakbrook, Illinois, Omniplan Architects created a new public space in the heart of the mall. The glass pavilion opens up to a large reflecting pool, gardens and a sheltered courtyard during the moderate seasons of the year. This pavilion includes a 32-foot-wide by 14-foot-tall, bi-parting, lift and slide door system surrounded by a large glass curtain wall. During wet, hot or bitter cold seasons, the public can comfortably sit by these large glass walls. In better weather, seating is provided next to the pool and in the gardens for both formal and informal gatherings. This massive door opening would not be able to meet current ASHRAE 90.1 codes for the thermal insulation if it were not for the integral components of its thermally broken aluminum frames and highly insulated glass. This pavilion is an example of new opportunities for designers of high-performance buildings to meet sustainable design goals for energy efficiency and the optimization of human comfort.
Architects can have a difficult design challenge when meeting both the requirements for stringent energy codes, aesthetics and human comfort. Too often, the best seat with the panoramic view of nature by the large glass window is either too cold or too hot. ANSI/ASHRAE Standard 55-2010ii defines the range of indoor thermal environmental conditions acceptable to a majority of occupants. These include strict regulations on wall to window ratios and thermal behavior of all wall systems. Advancements in aluminum frames, glass and operable doors now accommodate an ever-increasing variety of design alternatives for large openings that meet sustainable building criteria. Architects can design openings that span over 80 feet wide and range from 10 – 20 feet high. Custom door opening systems can be specified with a range of colors, finishes, glazing, sizes and materials.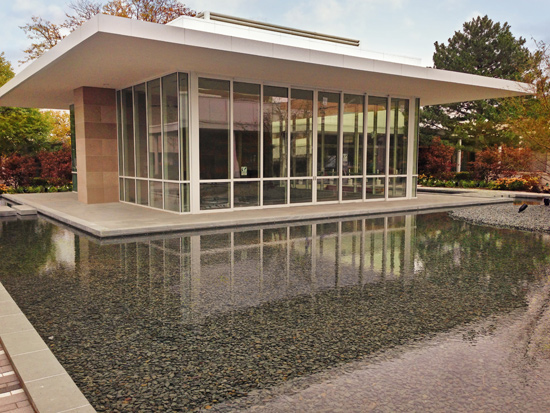 Photo courtesy of Panda Windows & Doors
The renovation of the Oakbrook, Illinois, shopping center includes a 32-foot-wide by 14-foot-tall bi-parting, thermally broken lift and slide door system that provides direct access to the mall's courtyard.
Originally published in January 2015
Notice