Destination Dispatch Elevator Systems Benefit Passengers, Building Owners, and Design Professionals
Increased elevator handling capacity, enhanced tenant satisfaction, and improved energy efficiencies are among the many advantages of elevator destination dispatch management.
Sponsored by Otis Elevator Company
This test is no longer available for credit
Building Applications for DD Systems
DD technology is increasingly being installed in all types of mid- and high-rise buildings. Most major elevator manufacturers offer simulation performance metrics of different dispatching systems that can serve as helpful comparison data. Most manufacturers also offer traffic analysis reports that can be used to determine the potential benefits of a DD system and if it is a right fit for the project—or even help solve building design challenges. The table of Recommended Performance Values provides a useful baseline for destination dispatch metrics.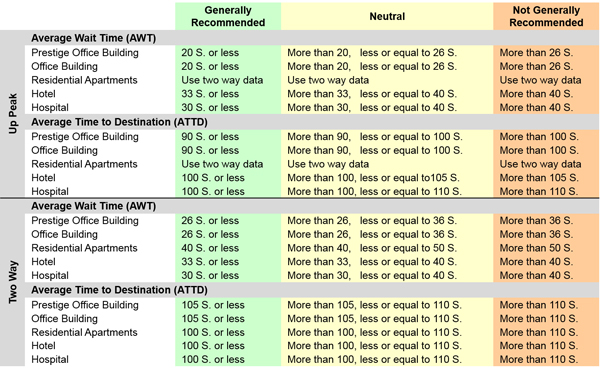 Image courtesy of Otis Elevator Company
Average Time To Destination (ATTD) is the time arriving at the elevator system to the time the passenger reaches his or her destination floor.
"To achieve the full benefits of DD requires additional expertise, planning, and coordination during elevator and building system design. This includes elevator quantities, grouping, and arrangement, as well as keypad quantities and locations, as well as access control interface, inter-floor traffic control and configuring special building and tenant features," says von Klan, who has consulted on numerous DD systems in new and existing building. In general, the bigger and taller the building, the greater the opportunities for performance, cost, and core efficiency gains with DD. But von Klan has also designed DD systems in buildings with only two elevators, such as in a group where both elevators do not serve the same floors. Indeed, one of the biggest areas of untapped potential with DD systems is "intra-group" asymmetry. With a DD system, all elevators within the group do not need serve all the same floors, nor do they necessarily need to be the same size or speed (where as a conventional "two button" elevator system typically requires all passenger elevators within the group to serve all the same floors).
Other benefits of DD have yet to be fully explored. For example, while it is generally accepted that DD elevators reduce travel time, it is often not fully understood that the passengers who benefit the most from reduced trip time are those travelling to the top floors of the elevator group. This is a significant benefit not just in office buildings, but particularly in high-rise hotels and apartment buildings where there is often only one elevator group serving many floors—and tenants, guests, or residents at the top of the building often pay the highest rent.
Hospitals would be very well served with DD systems, especially for service elevators moving bed lifts and patients on gurneys. An elevator already carrying a gurney or a person in a wheelchair would not stop for another gurney or wheelchair. Additionally some manufactures incorporate a feature known as Code Blue that enables critical medical personal to capture an elevator and reach patients during an emergency situation.
Conclusion
Destination dispatching systems increase elevator handling capacity, decrease energy usage, move people faster, and enhance customer experience. Advanced systems that manage passenger travel according to individual destinations and grouping or zoning of floors can be programmed for security requirements and customized features such as concierge passenger interface. They may be added to existing elevator systems in modernization projects and in new construction where they can save space, thereby allowing more rentable area. Elevator destination dispatching systems have become the standard and are recognized as the future for mid- and high-rise construction projects.
| | |
| --- | --- |
| | Otis Elevator Company, part of United Technologies Corp. (NYSE: UTX), is the world's largest manufacturer and maintainer of people-moving products, including elevators, escalators and moving walkways. It has been a constant, reliable brand for more than 160 years. www.otis.com |
Originally published in Architectural Record.
Originally published in October 2015
Notice